Unearthing the Pre-NBA History of African American Basketball
Claude Johnson on the Stories We Almost Lost
One summer day during the early 1970s, an elderly man showed up at outdoor basketball courts in Harlem carrying a plastic bag from Duane Reade. The drugstore bag was filled with vintage photographs and aged newspaper clippings about what he claimed—if anyone would listen—were his amazing achievements in the game more than fifty years earlier.
The man, in his late eighties, was Will Anthony Madden, the suave former "King of Black Basketball," and one of the main subjects of my book, The Black Fives: The Epic Story of Basketball's Forgotten Era. Few at the uptown playgrounds believed him though. He was odd, wearing a woolen coat in the summer heat, telling players they were playing all wrong, and rambling about "scientific basketball."
Some of the articles in the plastic bag were from the New York Amsterdam News, a Harlem-based African American weekly newspaper that began operating in 1909, when Will was already involved in basketball with a team called the St. Christopher Club, also based uptown. For weeks, Will had been trying hard to get the attention of Howie Evans, then a young sports columnist at that very same paper.
Howie's continual outspoken advocacy for proper recognition of African American basketball pioneers who preceded the NBA had gotten the attention of the Basketball Hall of Fame.
So much so, that in February 1972, the Springfield, Massachusetts institution finally decided to enshrine Robert "Bob" Douglas, the well-deserving founder and owner of the New York Renaissance Big Five, a.k.a. the "Rens." Douglas, a native West Indian, established the Rens in 1923 as the first Black-owned fully professional African American basketball team. The squad became, arguably, the greatest basketball team of the 20th century. With 2,588 wins out of 3,117 games from 1923 to 1948—a staggering winning percentage of 83% spanning 25 years—the Rens eclipsed even those legendary UCLA and Boston Celtics dynasties.
How easily all this history could have been lost, forgotten, and disappeared.
After the Hall enshrined Douglas in April 1972, Will sped up his efforts to contact Howie, all the while battling health problems. How difficult must it have been for Will to live most of his adult life carrying a truth no one recognized, acknowledged, or believed, in hopes that someone would? "It is very seldom that the pioneer in any walk of life reaps the harvest from the seed he has sown," Lester Walton of the New York Age wrote prophetically in August 1907. "Ofttimes many of them even die without knowing the real good they have accomplished."
Will was now that pioneer—elderly, frail, and racing against time to pass this history on to someone before it was too late. His bag was his baton. But to whom could he pass it? How could they verify it? All the long-time Black sports journalists who once covered Will and would have known the most about his historic exploits had passed away by the 1970s, including Romeo Dougherty of the Amsterdam News (dead in 1944), Cumberland "Cum" Posey, Jr. of the Pittsburgh Courier (1946), W. Rollo Wilson, also of the Courier (1956), and Lester Walton of the New York Age (1965).
Will was a 4X winner of the Colored Basketball World's Championship with two different teams (St. Christopher, Incorporators). He also introduced "scientific basketball" to coaching, inter-city rivalries among Black teams, promotional in-arena giveaways of novelty items, ads in major national publications, marketing through widespread editorial coverage, annual All-American lists of top African American players, an annual Black All-Star team, and what was in 1917 the longest road trip in history, between New York City and Chicago.
No one seemed to care. That was, until Howie emerged on the scene. Will eventually connected with the journalist, visiting him frequently at the News office on Eighth Avenue just off West 125th Street. Each time, the old fellow brought his plastic bag, fishing out more clippings. And telling more stories.
In February 1973, Howie wrote a Black History Week column on the major pioneers of early Black basketball in which he acknowledged that Will and his contributions to the sport ranked alongside those of Hall of Fame member Bob Douglas, Edwin Bancroft Henderson, and Cumberland Posey, Jr. (Henderson and Posey were also subsequently enshrined in the Basketball Hall of Fame, in 2013 and 2016, respectively.) A week later, Will Anthony Madden passed away in his Greenwich Village nursing home. There were no friends nor next of kin. But he had been redeemed and remembered, while alive, knowing that, finally, others knew of the real good he had accomplished.
Will's story is nothing if not a tale of redemption, and so is the entire pre-NBA history of African American basketball itself, finally unearthed.
How easily all this history could have been lost, forgotten, and disappeared. Even the seemingly simple act of carrying a plastic drugstore bag from Greenwich Village to Harlem could have gone awry if a gust of wind had caused its flimsy handles to rip—imagine Will on the subway platform, the treasured contents spilling onto tracks below. What if Howie had dismissed Will? What if Will had not been reading the Amsterdam News to know that Howie was advocating for early Black basketball pioneers? What if Will's health had failed?
Normally history gets passed down, generation to generation—carrying, handing off, receiving. But what if there is no griot? How tenuous is that process, especially for Black History? How many of us can relate to Will's struggle to bring proper recognition and truth to all aspects of Black history, beyond Black History Month, often going up against great odds, including systemic racism and even legislative censoring?
That is why I have spent more than two decades digging into Will and his contemporaries, loading up my own plastic bag, getting this important African American basketball history out into the world, to anyone who would listen. In writing The Black Fives, I wanted to pick up that baton and carry it forward. I aimed to leave no stone unturned, to go down every side street to tell these stories before they were lost. Even then, there were countless moments where things could have gone awry, where my research and writing could have been irretrievably derailed.
After finishing The Black Fives, I went to visit Rosedale Cemetery in Linden, New Jersey, where Will is buried in an unmarked grave, as I had done before. This time it was because the nonprofit that I founded and run, the Black Fives Foundation, will be placing a proper headstone there to commemorate Will's legacy. He is buried in a section of the cemetery called Villa Palmeras. This time I noticed that the adjacent section is named Redemption.
That is so appropriate. Will's story is nothing if not a tale of redemption, and so is the entire pre-NBA history of African American basketball itself, finally unearthed. My hope is that this will lead the Hall of Fame to enshrine Will Anthony Madden into its ranks alongside Douglas, Posey, and Henderson. It would also bring closure to this amazing tale.
__________________________________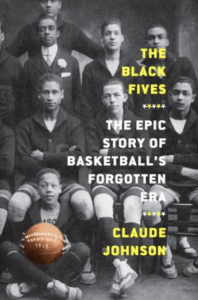 Adapted from The Black Fives: The Epic Story of Basketball's Forgotten Era by Claude Johnson. Reprinted by permission of Abrams Press. Copyright © 2022 by Claude Johnson.
---