Journalist David Neiwert said Tuesday that Twitter has suspended his account for displaying a cover image from his book Alt-America: The Rise of the Radical Right in the Age of Trump, which Verso Books published in 2017.
Here's the image: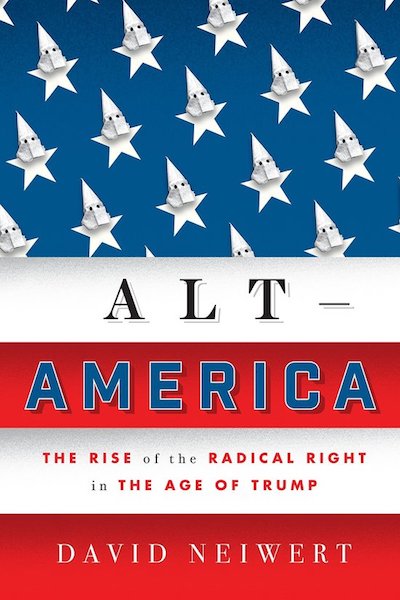 Neiwert said in a Daily Kos post that he was not able to log into his account on Tuesday and received a message that the image violated Twitter policy. He responded:
My account was suspended because of the photo of the cover of my book in my profile. This book, 'Alt-America,' is a history of the rise of the radical right in the United States over the past 30 years. It naturally has an illustration featuring KKK hoods because that is its subject. I am one of the nation's leading experts on this subject, and it is insane that you would suspend my account because of this photo. I refuse to remove it on principle.
Twitter said it had no comment on this individual case of suspension, but its policy states that users cannot show "symbols historically associated with hate groups."
Neiwert noted to Literary Hub that as tech companies grapple with how to deal with this material, journalists, especially those whose work addresses those symbols and the groups that originated them, can be caught in the crossfire. He wrote:
Twitter's recently announced initiative to rid the site of white-supremacist content has now taken the peculiar term of equating hate speech with content devoted to exposing white supremacism. It's as though Twitter sees fascist ideas as inert entities whose existence can be scrubbed with an algorithm, even if it sweeps up any content related to these ideas at all, particularly content devoted to exposing hate groups and their activities. The reductio ad absurdam of this approach to the problem would mean that the SPLC and ADL would be unable to publish their intelligence material on these groups and movements and the violent crime that emanates from them. Twitter needs to stop relying on algorithms for tasks that really require qualified human judgment. Certainly my situation reflects on how badly their judgment currently is working.