Trying to Write About "The Two John Miltons"
Joe Moshenska on the Complicated Lives the Scholar-Poet-Prophet
There have always been two John Miltons. The prophet and the scholar; the radical and the know-it-all. In fact that's not quite true, or at least it's somewhat too simple. Better to say that, since I first read Paradise Lost and began to think about his poetry, I have had these two John Miltons in mind. I don't necessarily love or like or admire or respect one of them, the prophet or the scholar, more than the other, and I don't exactly find it easier to imagine one than the other, though I do have times and moods when one dominates and distracts me from his curious doppelgänger. I don't want to let go of either of them, and yet I have no idea how to keep them together—whether to place them side by side or try to make them occupy the same place in my mind.
Part of the problem with trying to place the two Miltons is that both are, as I find myself imagining them, utterly out of place. Distinct though they are from one another, both are in different ways, to use one of Milton's own favorite words, transported—literally carried beyond the confines of themselves, whether by divine forces or by bubblings of recollection. Seated at home in their respective chairs in the Buckinghamshire village of Chalfont St. Giles, whether sleeping or waking, the two Miltons are at the same time profoundly displaced, exploring the realms of inspiration or of memory. And, if the two Miltons are in different ways both in and out of place, they are no less in and out of time: on the one hand quite precisely located, at this point, in the mid-1660s; on the other hand, locked in ecstatic communion with somewhen else altogether—with the remembered past, with the words of ancient writers dead for centuries, or with the timeless and eternal Divine.
How to understand, or write about, a life divided in this way? Is it possible to write a biography of these various Miltons? Conventional wisdom would say no: if an account of a life should stick to its known or sensibly inferred facts, then the facts of Milton's life are well-documented, unusually interesting, and have often been related. Already in 1779, just over a century after Milton's death, Samuel Johnson felt compelled to begin his rather bad-tempered and brilliantly readable biography by admitting that "[t]he life of Milton has already been written in so many forms, and with such minute enquiry," that he wondered whether he might limit himself to "the addition of a few notes" to these previous biographies rather than writing his own from scratch. If this was true in 1779 then it is truer still nearly two and a half centuries later, with every aspect of Milton's life and the traces he left having been meticulously pored over.
If Milton seems like a dream for a biographer, it is partly because—unlike the protean and elusive Shakespeare—he is so prominently and obviously in his works. When, in Paradise Lost, the narrator places himself "In darkness, and with dangers compassed round, / And solitude," surely we can only understand these lines if we know that "darkness" refers to Milton's own blindness, and that "dangers" reflect the genuine peril in which he was placed by the restoration to the throne of King Charles II, whose father's execution Milton had thunderously justified in public.
The problem with trying to place the two Miltons is that both are utterly out of place.
This Milton, who vividly presents himself to us, seems to know exactly who he is, and wants us to know too. The constant demand that we keep in mind the person behind the works if we want to understand them would seem to make some knowledge of Milton's life necessary for reading him, and so it's little wonder that there have been many attempts to tell his life story.
But, I would suggest, the urge to retell Milton's life is not only a response to his prominent presence in his writings, nor a reflection of his stature as a great poet, nor of the fact that he lived a peculiarly interesting life in particularly interesting times. It cuts deeper than this. He is a tempting subject for biography because he has seemed to many of his readers like a powerful example of what it means not only to be a poet, but to live a human life. He seems to remain consistently aware of who he is and what he is doing, and he develops in clear and distinct stages while nonetheless remaining recognizably and unmistakably himself.
Viewed in this way, I'm inclined to see Milton not just as a tempting subject for biography but as the embodiment of the biographical temptation itself: his life seems to be eminently writable because it is so thoroughly knowable, by him and therefore by us. It's perhaps for this reason that Milton's name sometimes appears on lists of great men who exemplify the allure of biographical narrative. The renowned American essayist Ralph Waldo Emerson, praising the "perfect sympathy that exists between like minds," a sympathy that biography makes possible across time and space, wrote that "Socrates, St Paul, Antoninus, Luther, Milton have lived for us as much as for their contemporaries if by books or by tradition their life & words come to my ear." Emerson captures here something of Milton the prophet's desire to escape time, to be perennially contemporary.
___________________________________________________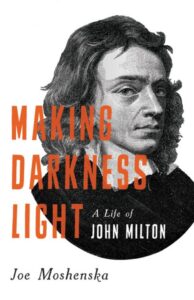 Excerpted from MAKING DARKNESS LIGHT: A Life of John Milton by Joe Moshenska. Copyright © 2021. Available from Basic Books, an imprint of Hachette Book Group, Inc. 
---