Trilogies, Thrillers, and Sci-Fi: 5 Books You May Have
Missed in February
Bethanne Patrick Recommends Sebastian Fitzek,
Zhou Haohui, and More
Occasionally, as I scroll through pages and pages of listings to find the books I highlight here, something leaps out at me. A theme, or a form, or a region of the world. For February 2021, that something was a genre. There were more than a few thrillers that sounded intriguing, and I've put together this list with attention to diversity in type as well as diversity in author identities. There's the second (but easily read as a standalone) volume in the Chinese "Death Notice" trilogy, a sc-ifi spine-tingler about people who moult, and a classic take on the Cold War, too.
*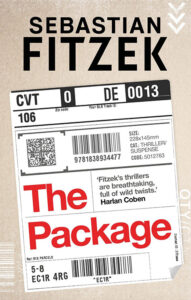 Sebastian Fitzek (trans. by Jamie Bulloch), The Package
(Head of Zeus)
Other countries, they too have their blockbuster authors who write formula fiction! Let's call Fitzek the James Patterson of Germany; Fitzek's books have sold 13 million copies, been translated into more than 36 languages and so on. The subtitle of The Package is "Nothing will deliver more thrills." Oh-kaaaaay, but if you're looking for guaranteed page-turning, here's the deets: "Emma's the one that got away. The only survivor of a killer known in the tabloids as "the hairdresser"—because of the trophies he takes from his victims. Or she thinks she was. . . all she did was take a parcel for a neighbour. She has no idea what she's let into her home." C'mon, you know you want to read more. You KNOW you're going to read more. And why not?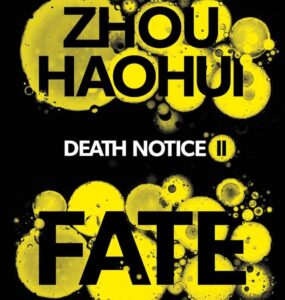 Zhou Haohui (trans. by Zac Haluza), Fate (Death Notice II)
(Head of Zeus)
We move on from the James Patterson of Germany to the Jo Nesbø of China. How could I resist, even though I am giving another nod to Head of Zeus, who publishes these global phenoms. . . Zhou Haohui's "Death Notice" series is the bestselling of its kind in China, and that's a lot of readerly eyeballs, with its online adaptation garnering 2.4 billion viewers. But is it worth a read? Here's the premise: In Death Notice I, a murderer asks his online audience to suggest candidates for judgment, which he will then mete out. (The series is loosely based on early-2000s events in Chengdu.) In Fate, the murders continue, despite the confessed murderer's capture, and you'll keep reading for the twists and turns, even if you haven't read the first book, and readers who love Scandi-noir for its atmosphere should be captivated by Haohui's perspective on modern China, its explosive growth, and equally explosive criminal culture. Start reading Haohui's books now, because then you'll be ready for an explosive boom of thrillers from China.
Silvia Moreno-Garcia, Untamed Shore
(Agora Books)
If you read and loved Moreno-Garcia's Mexican Gothic, you'll definitely want to check out her earlier, now-reissued thriller, Untamed Shore. As in the first, the author takes a young woman on the verge of her adult life and places her in a dangerous situation. Here the protagonist is 19-year-old Viridiana, who lives in Baja in 1979. Dangerously bored by days watching dead sharks pile up, she dreams of Hollywood romance, and when three rich Americans arrive for summer revels, Viridiana is dangerously attracted to their lifestyle. When she's lied once to save them, she gets tangled in a web more deadly than any fisherman's net. It's a dark, spare, noir that proves the genre needn't take place in a city, star a white man, or involve endless car chases and glimpses of gams.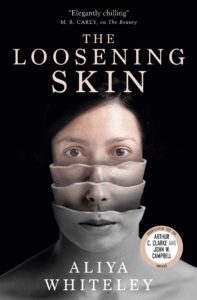 Aliya Whiteley, The Loosening Skin
(Titan Books)
Whiteley's work technically falls into a category called "weird fiction," and if you don't know what that is, that's OK, because some of its creators don't, either. It can be defined as a mode of speculative fiction in which some transgressive element is introduced. Think China Miéville, Jeff and Ann VanderMeer, and Karen Joy Fowler, but also think Poe, Lovecraft, du Maurier, and many others. In any case, the British Whiteley here introduces us to a society where humans regularly moult. Celebrity bodyguard Rose Allington has a rare disease in which her "moults" come more quickly than most, and that's difficult, because each time you shed your skin, you lose the previous one's attachments and memories. Rose's former client Max has started taking Susuctin to prevent moults. When one of his previous moults turns up on the black market, he turns to Rose to. . . save his celebrity skin.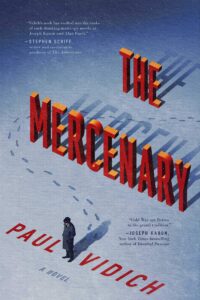 Paul Vidich, The Mercenary
(Pegasus Books)
Alex Garin was born in Soviet Russia, raised in the United States, and then worked as a KGB officer before defected to the U.S. Now, with a major exfiltration case on their hands, can the CIA trust Garin to return to Russia and bring a senior KGB officer out alive? Or do his loyalties lie there? While Vidich's latest, a cold-war thriller that uses every trope of that subgenre (beautiful ballerinas, copious amounts of vodka, clumsy assignations), seems formulaic at first, by the time you've reached a dangerous border with his characters, you'll realize that all along the author has been playing with notions of loyalty and treason in very millennial ways. Do anyone's loyalties truly lie with a state? If you can answer that question, you'll understand why traditional spycraft so often hinged on "soft" matters like family—and why that made what we now refer to as "humint" such a delicate dance during the years when surveillance technology was less sophisticated.
---