Traversing the Most Dangerous Region of the Coast of Norway (On a Cruise Ship)
Chaney Kwak on Freelance Writing, Boredom, and Too Much Excitement
Before panic united us, boredom did.
We had been sailing up and down the coast of Norway for more than a week, alternating between placid fjords and the open sea. Each day, the ship dropped anchor at a new port and unleashed all 915 passengers onto snow-packed streets and into shops brimming with hand-knit sweaters. We rode in sleighs pulled by steaming reindeers, squinted our eyes at 7,000-year-old rock carvings, and bathed in sunlight filtered through the stained glass of a titanium cathedral. And we witnessed the northern lights—the reason many of us came on this cruise.
Today was yet another stormy day without docking; we were left to amuse ourselves on this floating, 465-cabin complex. We were bored to death.
Once accustomed to the dopamine hit that a new locale brings each day, your brain begins to take the novelty for granted. You develop a sudden aversion to the mundane. I did, anyway. Yesterday, the captain blamed high winds and rough waves for the cancellation of a scheduled port-call at Bodø, just above the Arctic Circle. Today was yet another stormy day without docking, which meant we were left to amuse ourselves on this floating, 465-cabin complex. We were bored to death.
The cruise's entertainment listing had no shortage of options—or alliterations, for that matter. Would I enjoy the "calming classical compositions" brought to life by the resident cellist? Or immerse myself in the existential angst of Munch Moments, a digital art exhibit memorializing the "magic of this master," Edvard Munch?
To be honest, as I read that entertainment brochure, I was a little jealous of whoever wrote it. I was on the cruise to write a feature for a travel magazine, and though that may sound enviable, I was pretty certain the brochure writer had been paid a lot more than I would earn for my article. I've grown jaded beyond repair after a decade of carouselling in the freelance trade. It no longer thrilled me to see my name in publications I'd revered. I was constantly chasing assignments, then running after the editors all over again to get paid. I used to put up with all that hassle for the sheer joy of seeing the world. These days, assignments felt less like travel and more like procrastination before I'd start my real grown-up life.
Desperate for stimulation, I turned up for the morning quiz hour at the Explorers Lounge, the ship's glass-ensconced living room at the bow on Deck 11. I sank into a chaise with a slice of Success Cake, which, Google told me, is a Norwegian specialty of almond meringue and egg cream. Teaming up with a group of snow-haired passengers who were three, maybe four decades older, I tried to answer questions about minor Henry VIII wives and milestone World War battles. Since Viking Ocean Cruises advertises heavily on PBS, it attracts a certain demographic, the type of people who actually want to geek out on Baroque palaces and the Marshall Plan in their free time. Without Google, I was an empty vessel. Needless to say, I got my ass handed to me. So much for that Success Cake.
Earlier that morning, the dark sea and bruise-colored clouds had sandwiched a sliver of blue sky. By the time the quiz finished, the blue ribbon had disappeared and near-horizontal rain lashed at us. The ship pitched violently, rising and bouncing as we penetrated deeper into the storm. Still, from all the way up here on Deck 11, hundreds of feet above the sea, even the largest waves seemed like ripples in a bathtub.
"Wait till my grandkids see this," said one of my quiz teammates, thrusting her phone at me to film her against the window.
We were about to enter Hustadvika, the 11-mile stretch of coastline—shorter than the length of Manhattan—between the towns of Kristiansand and Molde. Intricate fjords burst into a confetti of rocks here, but unlike other parts of the Norwegian coast, there are no islands to slow down the waves. The untamed North Atlantic douses the shallow reefs hard and makes this well-traveled shipping channel tricky to navigate. Shipwrecks lie underwater, such as that of a 300-year-old Dutch merchant vessel once loaded with yellow bricks. Even experienced fishermen run aground here. The Admiralty Sailing Directions—the authoritative, 75-volume navigation reference for merchant mariners—warns seafarers of this "notoriously dangerous" region, especially when "strong winds from SW to NW raise a large steep swell with hollow breaking seas" . . . like today. Hustadvika is no place to be when a storm is brewing.
By noon, heavy planters began sliding around the Explorers Lounge like Ouija pieces. A ceiling panel dropped on a passenger. The art of building a cruise ship involves furnishing it with objects meant to remain immovable in the roughest seas. Now, pieces that were once bolted down were gliding about like ghosts.
Shipwrecks lie underwater, such as that of a 300-year-old Dutch merchant vessel once loaded with yellow bricks. Even experienced fishermen run aground here.
The ship was all funhouse corridors, shifting and turning. Workers fought to tame the chlorinated geyser that had once been the indoor pool.
As I half-crawled toward my cabin, the ship rolled so hard I had to lie flat against the hallway wall as it threatened to become the hallway floor. A young Chinese waitress, usually chirpy as she poured morning coffee, dropped her tray to grip the railing, wide eyes staring at nothing.
"Have you seen anything like this?" I asked.
She shook her head and clenched her jaw. What was her story? The only child of a middle-class couple who could afford English lessons, setting out after college from her obscure Chinese city of ten million determined to see the world on an adventure of a lifetime? Of course, I had no idea.
And what did she see in me? A suspicious man—most solo male travelers over 25 can seem shady—who's been turning up at each meal by himself, rarely talking with fellow passengers who were twice his age. Maybe a divorcé, maybe a son accompanying elderly parents, maybe just a lonely cruise geek? Well, here we were, both of us at once familiar and unknown, sharing something neither of us had signed up for. As the ship righted itself, we nodded and slid past each other.
Stepping into the shaken snow globe of a dining room, I dodged the salmon fillets and buttery buns flying around. Busboys hugged dirty plates and champagne flutes, trying not to face-plant between the outraged passengers gripping their banquettes. Every few minutes, another wave flipped more beverage carts.
I stepped around the debris and asked the woman manning the ice-cream stand for two scoops—"Chocolate and stracciatella, thanks." She looked at me, incredulous and probably a little disgusted. She still obliged. During the past month I'd spent aboard all-inclusive cruises, I'd turned into a bottomless pit, trying to fill a growing hollowness by raiding late-night poolside buffets and terrorizing night-shift staff with my jet-lagged room-service orders. So frequent and erratic were my requests that once a kind night-shift cook wrote out "Feel better soon, Chaney" in chocolate syrup on a plate of fruit I had ordered with chicken soup at midnight. No, I didn't feel better.
The beast, seasick or not, had to be fed.
There's a travel industry adage that cruises are for "the over feds, the newly weds, and the nearly deads." I certainly fit into the first category now; it seemed I was about to qualify for the last.
__________________________________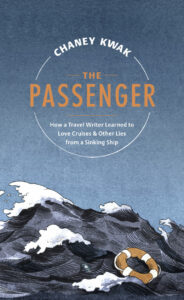 From The Passenger: How a Travel Writer Learned to Love Cruises & Other Lies from a Sinking Ship by Chaney Kwak. Copyright © 2021 by the author and reprinted by permission of Godine. 
---