Tracing the Internet's Enormous Impact on American Comics
Jeremy Dauber on Web Comics, Fan Communities, and the Rise of the Marvel Cinematic Universe
Ah, the internet. "Today, with the help of computers, anyone can be a publisher, not just a select few conglomerates. This includes you, my friend," read a book—​a book!—​speaking to the Web's glories in 1999. While webcomics had existed as early as the CompuServe days, by 2001, the year the alt-​comics Ignatz Awards inaugurated a prize for online comics, Rick Veitch was suggesting that "the daily strip format is well-​suited to the way people use the Web right now. A three-​ or four-​panel daily fits right into the browser window so it can be read without scrolling and it provides a bite-​sized blast of thrills or humor." The proof was there: Tristan A. Farnon's LeisureTown.com was getting over a million hits a month in 2001. "You just have to give them something worth the time it takes to download," he said.
Marvel put a hundred classic Silver Age comics on a CD-​ROM in 2004, separately offering other comics as digital "mini-​movies" with music and surround sound. Meanwhile, the Mobile Comics Network was bringing comic strips to mobile phones, allowing users to scroll through a panel at a time. In 2005, King Features began an online subscription service. A host of blogs and related websites sprung up, offering varying levels of journalistic scrutiny of the industry and medium.
In 2005, James Kochalka, who had moved his diary comics online in 2002, reported he was making more money from subscribers to AmericanElf.com at $1.95 a month than from his Top Shelf royalties. That September, Carla Speed McNeil announced that "issue #38 of her long-​running Finder would be the last in serial comic book publication, and that she would be shifting to an on-​line followed by print trades model." Phil and Kaja Foglio's Girl Genius went online the same year, four years after it started, and flourished there, garnering an audience and two Hugos. And Michael and Nicole Jantze took their strip The Norm out of newspaper syndication and relaunched it online. Offering subscriptions at $25 a year, they were able to raise over $60,000. Alison Bechdel mused on her blog in 2006 about doing the same: "The email version could be like HBO. I could leave all the swear words in, and perhaps even have occasional frontal nudity. Instead of the #@&*'s and artful drapery that I employ in the newspaper version."
Jerry Holkins and Mike Krahulik's Penny Arcade, which began in 1998, attracted three and a half million readers worldwide in 2005 (and a New York Times profile in 2004); it even hosted its own Penny Arcade Expo (with nineteen thousand attendees in 2006). Chris Onstad's Achewood merchandising allowed him to eschew a day job by 2006, five years after the strip started. The same year, Rodney Caston and Fred Gallagher's Megatokyo, posting over a hundred thousand views a day, became one of the top American manga—​on the internet.
And there were gems in the online mines. Onstad's Achewood: The Great Outdoor Fight, an epic satire of American masculinity where men simply bash the crap out of each other until one's left standing—​and they're all portrayed as teddy bears. Ursula Vernon's Digger, which did for wombats what Cerebus did for aardvarks, an epic (and epically funny) journey that gains somber beauty from its woodcut-​like approach. Christopher Sebela and Ibrahim Moustafa's High Crimes, a spellbinding tale of espionage, murder, and redemption played out on the upper slopes of Mount Everest.
The surreal comedy of Jonathan Rosenberg's Infinite Typewriters, which first appeared on Goats.com. David Malki's juxtapositions of old-​time photographic and lithographic cutouts with absurdist humor on Wondermark.com. Nicholas Gurewitch's blatantly ironically named The Perry Bible Fellowship and its surreal, hilarious, gut-​punch comic juxtaposition. Randall Monroe's xkcd, the kind of nerd science humor the characters from Dilbert wish they could appreciate. Kate Beaton's fractured, feminist-​minded views of English and American literature, the sharpest misuse of a classical education since P. D. Q. Bach, followed close behind by Dave Kellett's musings at Sheldon.com—​what he does to Emily Dickinson should really be a crime. Fittingly, the Eisners would add a webcomic award in 2005; the Harveys would follow suit a year later.
The medium's digital capacities also allowed works to alter, and thus comment on, other comics, with occasionally remarkable results. Dan Walsh's Garfield Minus Garfield (2007) used Photoshop "to eliminate all the characters in the Jim Davis strip save for Garfield's owner Jon. The result was an absurd series of strips that portrayed its main character struggling with insanity and existential despair"; at its height, the Tumblr site received three hundred thousand hits a day. (In 2011, another Tumblr site, 3anuts, performed similar formal magic on Charles Schulz's strip: "Peanuts comics often conceal the existential despair of their world with a closing joke at the characters' expense. With the last panel omitted, despair pervades all.") And there was The Silent Penultimate Panel Watch, a 2006–​07 blog whose name spoke for itself.
The medium's digital capacities allowed works to alter, and thus comment on, other comics, with occasionally remarkable results.
The internet also provided the opportunity for new expressions of community: artistic collectives, expressions of immediate financial support for suddenly struggling companies, venues for talented artists without connections or in-​person opportunities to be seen and employed by gatekeepers. But in many ways, the story of the period was still very much IRL. The biggest story of paper and pixels in comics went the reverse direction, when Jeff Kinney took his comics-​prose hybrid Diary of a Wimpy Kid from FunBrain.com to Harry N. Abrams and spent most of 2007 on the New York Times best-​seller list. And in terms of community, the real stories were the explosive growth of conventions, and of the fans attending them.
By decade's end, comics conventions were blossoming all over the continent: Toronto's Comic Arts Festival, Portland's Stumptown, Seattle's Emerald City. Wizard World Chicago had 56,000 attendees in 2005; Wizard World New York drew 77,000 in 2009. But San Diego remained King Con. Comic-​Con International marked close to 75,000 attendees in 2002; two years later, there were 87,000; the six-​figure barrier was broken for the first time in 2005, hitting between 120,000 and 130,000 in 2006 and 2007. In 2009, the fire marshals determined it was at capacity, even with a recent expansion. In 2004, the convention used an exhibit hall, Hall H, as a programming space that could hold 6,500. The first program, on July 23, 2004, was for Batman Begins and Constantine, featuring Keanu Reeves, and drew a capacity crowd. By 2007, entertainment magazines, understanding that comics and movies were an increasingly intertwined business, had moved from sending a single reporter to five or six.
Some of those movies, to be sure, came from the independent end of the street. Terry Zwigoff, who'd supported the undergrounders by distributing food stamps as a welfare case officer, directed a well-​received 1994 documentary on R. Crumb and adapted Clowes's Ghost World in 2001; two years later, Harvey Pekar arrived onscreen alongside Paul Giamatti's fictional counterpart in American Splendor, in one of the most formally innovative adaptations of a comic yet. But it wasn't the independents packing them into Hall H, or, indeed, the conventions in general—​especially as an original reason for convention-​going, "to find all the comics that your store might not carry, as well as to live in a world where these things were the primary order of business for everyone on hand," no longer applied, for technological and demographic reasons.
Brian Michael Bendis, still drawing caricatures at Bar Mitzvahs the day after winning an Eisner for "Talent Deserving of Wider Recognition," created an entire graphic memoir in 2000 about his neo-​noir adaptation, which was moldering in development hell. By contrast, after the cinematic version of Frank Miller's Thermopylae, 300, compounded the original's historical inaccuracies, while selling millions of movie tickets, Miller went on to codirect his own Sin City film adaptation in 2005. The comic's trade paperback got a demonstrated boost from the DVD's arrival; the same thing happened the next year with Alan Moore and David Lloyd's V for Vendetta, when the movie version, starring Natalie Portman, came out—​half a million trade copies were sold. DC reprinted over a million copies of Watchmen in 2008, the year its adaptation was released.
In terms of community, the real stories were the explosive growth of conventions, and of the fans attending them.
And it seemed people were finally cracking the code of the apparent crown jewels of the comics-​to-​movie business: the Big Two's superheroes. In the late '90s, a shrewd observer could still say of Marvel and the movie business, "The properties that they had, had just failed, over and over again, to sell to Hollywood. . . . ​The idea that Captain America was frozen in ice for fifty years was laughable in Hollywood. They weren't getting anywhere with their core properties. Asking the Talmudic continuity scholars in Marvel editorial to throw away the holy litany of Stan and Jack to satisfy Hollywood was having no effect at all." Lee, an early California transplant (for mainstream figures), had never found his footing in Hollywood; the new millennium's first years were particularly awful, as his internet company Stan Lee Media collapsed in recrimination and fraud in late 2000, leading to FBI charges of securities fraud (though not against Lee personally). "A hype machine with an Amazing Simulation in place of a concrete product," commented one contemporary observer.
But his (and Kirby's, and Ditko's, and others') characters began doing better and better: first the X-​Men and Spider-​Man, in movie series starting in 2000 and 2002, the first Marvel movies to dominate the box office. Spider-​Man would make well over ten times its $139 million budget in international box office and home video sales by 2003; the first two Spider-​Man movies took in $3 billion from ticket sales, DVDs, and TV revenue. But due to terrible previous deals, Marvel was making almost no money on them. I
nstead, thanks in no small part to turnaround specialist Peter Cuneo, they were earning money through character licensing (and not, primarily, publishing: in 2005, Cuneo told the Motley Fool that, "from a profitability point of view, about 15–​20 percent of our earnings come from the comic book business"). Licensing generated cash, to be sure; in 2006, License magazine placed Marvel fourth in its list of 101 leading licensors, behind only Disney, Warner Brothers, and Nickelodeon/Viacom, with $5 billion in retail sales based on its brands. But when it came to sharing in the smash hits' profits, the company was left out in the cold; industry analysts estimated that Marvel took home $62 million of that Spider-​Man $3 billion. The X-​Men movies made $2 billion; Marvel got $26 million.
By the end of 2005, Marvel Studios, headed by COO and subsequent chairman David Maisel, took on over half a billion dollars in debt, putting up film rights to its characters as collateral, to produce ten movies, the first to appear in the summer of 2008. The deal let Marvel keep a greater share of revenue and maintain merchandising rights. Soon enough, the first Marvel-​produced movie was announced: Iron Man, the character a childhood favorite of executives Avi Arad and Isaac Perlmutter. Not everyone was bullish. "Shares of Marvel Entertainment . . . ​have climbed 50 percent in the past year, clobbering the 14 percent return of the S&P 500. But assuming investors follow the usual script on how to play the stock, it's now time to sell," said one analyst in 2007. "Lifting its share price in coming years may be too tall a feat even for its superheroes."
____________________________________________________________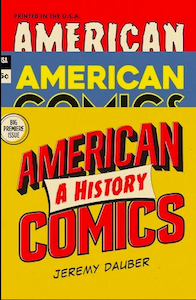 Excerpted from American Comics: A History. Copyright © 2021 by Jeremy Dauber. Used with permission of the publisher, W. W. Norton & Company, Inc. All rights reserved.
---