Tracing Bong Joon Ho's Rise to Fame, from Secret Government Blacklist to Making Oscars History
Karen Han on the Films That Made a (Cheeky) Star
Born on September 14, 1969, in Daegu, South Korea, Bong Joon Ho discovered a passion for cinema early on, watching movies on TV.
"My mother was a little bit of a compulsive germophobe," he recalls, as to why television was his primary conduit into film, "and because, in the movie theater, you don't have a lot of sunlight, she insisted that it was filled with a lot of germs." His channel of choice was the American Armed Forces Network, which would broadcast Western films, including works by Sidney Lumet, Brian De Palma, and Sam Peckinpah, albeit in censored form, leaving the young Bong to imagine what had been edited out. This early exposure to the world of cinema would blossom into obsession—after enrolling at Yonsei University in 1988, he sold donuts at the school cafeteria for six months in order to save up enough money to buy a Hitachi camera, and would fall asleep holding it.
At Yonsei (incidentally the same school one of the characters in Parasite pretends to have attended), he would study sociology, though film remained his true love. Along with a handful of other students from neighboring universities, he cofounded a film club, Yellow Door (so named because the club room door was painted yellow), and was in charge of managing the club's video collection and bootlegging films. He would also shoot his first short films while at Yonsei, a stop-motion film called Looking for Paradise (which unfortunately seems impossible to track down) as well as a live-action film titled White Man (1994)—the latter short would serve as a launching pad for Bong to attend the Korean Academy of Film Arts.
To date, Bong has made seven feature works: Barking Dogs Never Bite (2000); Memories of Murder (2003); The Host (2006); Mother (2009); Snowpiercer (2013); Okja (2017); and Parasite (2019). In speaking to the press, he hasn't been shy about revealing the real-life experiences that have influenced his films. Parasite, for instance, was born out of his (brief) time as a math tutor for the son of a wealthy family. Barking Dogs Never Bite, filmed in the very same apartment complex that Bong lived in after getting married, was inspired by his childhood memory of finding a dead dog on a building roof, as well as his brother's travails in the world of academia.
I mention this to give context to context—Bong was born into a Korea that was still under the rule of a military dictatorship, and entered college the year after the June Democratic Struggle (a period of mass protests—held in response to the then-president's military regime and the torture and death of student activists—that led to the establishment of the current government of South Korea). "Every day was the same," he has said of his time as a student. "Protest during the day, drink at night. Except for a few people, we didn't have much faith in the professors at the time." His experience was such that he has said he sometimes smells tear gas in his dreams, as it had been deployed so frequently against student protestors. (It feels like no coincidence, as such, that the image of noxious gas seeping into the frame recurs throughout his oeuvre.)
An incident for which he was arrested—joining a union demonstration—was behind his decision to take two years of mandatory military service in the middle of his enrollment at Yonsei, as that was the condition for a suspended sentence. That is to say, as much as filmmaking seems to be in his blood, so is an awareness of social structure and a puckish, anti-authoritarian streak. Even his sociology degree—which he admits to being not entirely passionate about—plays a part in his personal evolution: "Although I wasn't really interested in sociology, I was always interested in society, particularly because, at the time, Korea was going through a very dynamic period.
As much as filmmaking seems to be in his blood, so is an awareness of social structure and a puckish, anti-authoritarian streak.
When I was in college, in the late 80s and early 90s, Korea saw the end of the military dictatorship. We had our first democratic administration come in, and that's when pop culture, cinema, and pop music really exploded into the mainstream consciousness." Memories of Murder, which takes place in a similar time period, provides some cultural background for those less well-versed in contemporary Korean history, as the protests that occur as a team of detectives attempt to solve a serial murder case serve to address government corruption on multiple levels.
White Man—and the short film Incoherence (1994), which Bong produced while attending the Korean Academy of Film Arts—would place Bong squarely in the Korean New Wave. As the South Korean government pulled back on censorship and control over the country's film industry, artists who had come of age with the push for democracy began rising to prominence, eschewing restrictions on subject matter and tackling subjects that had previously been considered risky or otherwise off-limits.
Among their number was director Park Chan-wook (Oldboy, The Handmaiden), who was so impressed by Bong's first two short films that he reached out (though the two filmmakers wouldn't manage to actually work together until Snowpiercer, on which Park served as a producer). The relative success of the shorts also helped Bong land a job as an assistant director (and cowriter) on Park Ki-yong's 1997 debut feature Motel Cactus.
And yet, Bong's transition into the Korean film industry wasn't entirely smooth—for some time, he eked out a living as a wedding videographer. ("I filmed really well. If the parents cried, I did a closeup, and if there was someone who looked like the groom's ex-girlfriend, I did a closeup on them, too.") Even after directing his first feature, 2000's Barking Dogs Never Bite, his financial straits were such that one of his former college classmates would buy him rice.
Memories of Murder, released in 2003, would mark a turning point, as the film was both critically acclaimed and successful at the box office. It cemented Bong's place as a filmmaker to watch, and has even been credited with saving one of the companies that produced it, Sidus Pictures, from going bankrupt. The Host, which followed in 2006, was also a hit—in fact, it became the highest-grossing South Korean film at the time—and served as Bong's international breakthrough.
He has been fairly nonchalant about his international success, notably referring to the Oscars as a "local" ceremony.
As his stock as a filmmaker increased, the subsequent limelight would also make his professional life more difficult. The themes present in Memories of Murder and The Host—namely, government incompetence and corruption, as well as an unflattering portrait of the American political class, all common throughout Bong's work—landed him on a secret government blacklist. Created under the conservative president Lee Myung-bak, whose term lasted from 2008 to 2013, and expanded under President Park Geun-hye (in whose 2017 impeachment this would play a small role), this blacklist was meant to deprive the artists on it from receiving government funding. Fortunately, Bong had gained enough of a reputation as a director that he was able to secure private backing—though his situation was an exception rather than the rule.
That said, finding a true foothold abroad was something of a protracted process for Bong. His fans may recall this choice quote from his Best Foreign Language Film acceptance speech at the 2020 Golden Globes: "Once you overcome the one-inch-tall barrier of subtitles, you will be introduced to so many more amazing films." Though it's a broadly applicable sentiment, it also feels particularly apt considering Bong's journey as far as Western media is concerned.
Despite how his films are now lauded for their "universal" themes, a glance at contemporaneous reviews and appreciation of his films up until Parasite's historic Oscar wins (the film would become the first non-English language film to take home Best Picture, as well as winning Best International Feature Film, Best Original Screenplay, and Best Director) reveals relatively scant interest and, more dispiritingly, the sense that their status as "foreign films" equated to a certain level of inaccessibility or inherent disadvantage.
For example, the New York Times review of Memories of Murder opens with: "[The film] is such a taut, effective thriller it's a shame you have to read subtitles to gauge just how good a movie it is." Great praise—until you reach the sentence's baffling end. Though filmmakers such as Quentin Tarantino have championed Bong's work, and Bong's oeuvre has grown to include two international coproductions (Snowpiercer and Okja, the latter of which was released on Netflix), for a long time, that one-inch-tall barrier was enough to keep Bong from achieving wider recognition and appreciation. Granted, he has been fairly nonchalant about his international success, notably referring to the Oscars as a "local" ceremony.
To that end, writing about Bong for Time's feature on the hundred most influential people of 2020, Tilda Swinton, who has appeared in two of Bong's works to date, had this to say:
This is the filmmaker who, this year, has risen into the 2020 vision of the entire cinepassionate planet like a new sun. Whip-smart, highly skilled, supremely cineliterate, exuberant, irreverent, self-determining, deeply romantic, with a voracious delight in the absurd, highly principled, precision-tuned, compassionate to the last: his films have always been all this. It just seems to be time for the world to catch up.
She is, of course, right on the money, and almost amusingly so. In the wake of Parasite's Oscar win, Bong fever has reached new heights—the rise of the "Bong Hive" (of which I humbly profess to be the founder), a blanket term for the director's fans, is just the tip of the iceberg. Three of his films are now a part of the prestigious Criterion Collection (Parasite, Memories of Murder, and Okja), and conservative politicians in Daegu (which he has, since moving away, referred to as "Korea's most conservative city") have proposed everything from building a museum to renaming streets in his honor—a far cry from the contempt and condemnation that similarly minded officials demonstrated toward him before.
_____________________________________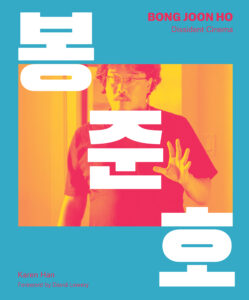 Excerpt from the new book Bong Joon Ho: Dissident Cinema by Karen Han published by Abrams. Text copyright © 2022 Karen Han and Little White Lies.
---