Too Smart or Too Pretty? The Anne of Green Gables Paradox
Elisa Gabbert on TV Beauty and Growing Up Gifted
Anne of Green Gables—the Canadian miniseries based on Lucy Maud Montgomery's best-selling children's book from 1908—first aired in the United States in February of 1986. My mother recorded the full three-hour program on VHS tape, and in 1987, when the sequel, Anne of Avonlea, aired, we taped that too. I rewatched the series, all six hours of it, probably once a year until I left home for college. I know it so well that I can almost "watch" it by memory, replaying long scenes in my head while falling asleep—the way my husband, then a teenage aspiring actor, entertained himself in the hospital after spinal surgery by reciting Shakespeare monologues to himself, and later "listened" to Tom Waits albums while stuck in an MRI.
In case you haven't seen the show or read the books—if you're not a woman about my age or Canadian—here's the plot in brief: Anne Shirley is a scrawny, redheaded orphan who has been passed between unwelcoming orphanages and adoptive homes (where she tended to serve as a caretaker for the family's birth children) throughout her childhood. Matthew and Marilla Cuthbert are aging siblings who decide to adopt a young boy to help them run their farm (the titular Green Gables) on Prince Edward Island. Through a misunderstanding, they end up with Anne instead. Marilla immediately wants to send her back, as they have "no use" for a girl, but Anne has already fallen in love with the place, and Matthew is immediately taken with her. They opt for a kind of trial run. The ill-bred, outspoken Anne gets into a series of near deal-breaking mishaps but eventually wins Marilla over and stays.
Very early in the series, we learn that Anne is obsessed with beauty. When Matthew first picks her up at the train station, she tells him that while she's ecstatic about her new circumstances, there's one reason she can never be "perfectly happy"—her hair color:
Red. That's why I can't ever be perfectly happy. I know I'm skinny and a little freckled, and my eyes are green. I can imagine I have a beautiful rose-leaf complexion and lovely, starry violet eyes, but I cannot imagine my red hair away. It'll be my lifelong sorrow.
I read of a girl in a novel once who was divinely beautiful. Have you ever imagined what it must be like to be divinely beautiful?
Anne's red hair is her bête noire, overshadowing any other potentially appealing features—at one point she admits she is vain about her nose, having once been complimented on it. (Susan Sontag, in "A Woman's Beauty," writes that "women are taught to see their bodies in parts, and to evaluate each part separately.") When she arrives at Green Gables and it becomes clear she is not what Marilla ordered, Anne assumes her hair has something to do with it:
MARILLA: How is it that you happened to be brought and not a boy?
ANNE: If I were very beautiful and had nut-brown hair, would you keep me?
Marilla, who is both plain and sensible, assures her beauty has nothing to do with it.
Later that night, Marilla more or less commands her to say a prayer before bed. Anne, being "next door to a perfect heathen," is unaccustomed to the practice:
ANNE: What am I to say?
MARILLA: Well, I think you're old enough now to think of your own prayer. You thank God for his blessings and then humbly ask him for the things you want.
ANNE: I'll do my best. Dear gracious, heavenly Father, I thank you for everything. As for the things I especially want, they're so numerous it would take a great deal of time to mention them all, so I'll just mention the two most important. Please, let me stay at Green Gables. And please, make me beautiful when I grow up. I remain yours respectfully, Anne Shirley, with an e. Did I do alright?
Her beauty obsession is as annoying to today's viewers as it is to Marilla; we cringe and roll our eyes right along with her. Of course, at the time, an ugly girl was seen as especially useless. Anne, as an orphan, simply wants to have value; she wants the world to want her.
Equally early in the show, it's made clear that Anne is intelligent—in the opening sequence, for example, we see her reciting Tennyson to herself as she walks through the woods—but we don't hear it in so many words. Instead we get euphemisms (or dysphemisms, as the case may be). Take the fourth scene, where a very mean Mrs. Hammond—Anne's last caretaker before she goes to live with the Cuthberts—is returning Anne to the orphanage. Anne, as always, is exceptionally well-spoken, if florid and somewhat inappropriate:
MRS. CADBURY: And what were your parents' names?
ANNE: Walter and Bertha Shirley. Aren't they lovely names? I'm proud they had such nice names. It would be a disgrace to have a father called, well, Hezekiah.
MRS. CADBURY: It doesn't matter what a person's name is, as long as they behave themselves.
ANNE: Well, I don't know. I read in a book once that a rose by any other name would smell as sweet, but I was never able to believe it. A rose just couldn't smell as sweet if it was a thistle or a skunk cabbage.
MRS. HAMMOND: I don't know where she picks up them fool ideas, but she's a bright little thing, ain't she? And she won't be no trouble to you, I can promise you that.
One, I have always hated the word bright for its condescension; only women and children are ever called bright. Two, Mrs. Hammond only praises Anne here because Mrs. Cadbury really doesn't have room to take her back; it's a backhanded way of apologizing for her jabbering. Three, you can see that her vanity extends to her name ("Print out A-n-n and it looks absolutely dreadful, but Anne with an e is quite distinguished"), and her concern with beauty to words and names in general, which should always be evocative more than functional—not "Barry's Pond," but "The Lake of Shining Waters."
Anne is praised by Marilla and her teacher, Miss Stacy, for her imagination, her ambition, her accomplishments—she is at the very top of her class, goes on to college, and becomes a teacher—but rarely her intelligence per se. It creates the impression that Anne is what was known in my childhood as an "overachiever," implying that a student is not especially intelligent, just a very hard worker. (To my mind, "underachiever" was more flattering, suggesting that the true potential of your intellect was not yet realized.)
This mischaracterization—because Anne clearly is smart—may be kinder than it seems, because girls at the time were not supposed to be smart; it was not seen as a positive feminine attribute. Intelligence (and the associated schooling) was a distraction from a girl's duties: obeying God and her elders, finding a husband, and taking care of the home. Too, especially in Anne of Green Gables, intelligence is bound up with the sin of talkativeness. Anne is repeatedly scolded for talking too much, for her overactive "tongue": "hold your tongue"; "bite your tongue"; "her tongue appears to be hinged in the middle"; "she has a tongue of her own"; and, when she recounts how she broke her ankle falling off a roof on a dare, "it's certain that she didn't injure her tongue." By constantly sharing her thoughts and putting her own fantastical spin on events, Anne violates the Victorian rule that children should be "seen and not heard." (Though in her case, adults don't seem to want to see her either.)
The only character who uses the word smart to describe Anne is Gilbert Blythe, her love interest and academic rival. When they meet on Anne's first day of school, he tries to get her attention by teasing her and calling her "Carrots." Anne loses her temper and breaks a slate over his head. From that day on, Gilbert chases her affections, but Anne is stubborn and unforgiving. She hears about his "smart" remark through Diana Barry, her best friend or, in her words, "bosom friend" (note: Josie Pye is a pretty, vapid brat and Gilbert's would-be girlfriend):
DIANA: Anne! You've got more nerve than a fox in a hen house. ANNE: I don't see any need in being civil to someone who chooses to associate with the likes of Josie Pye.
DIANA: You're just jealous.
ANNE: I am not. You take that back, Diana Barry!
DIANA: She's jealous of you. Gilbert told Charlie Sloan that you're the smartest girl in school, right in front of Josie.
ANNE: He did?
DIANA: He told Charlie that being smart was better than being good-looking.
ANNE: I might have known he meant to insult me.
DIANA: No, he didn't.
ANNE: It isn't better. I'd much rather be pretty than smart.
Anne, Diana, and Gilbert all understand that there's an opposition here, similar to the opposition of seen and heard—beauty and intelligence are pitted against each other, as though mutually exclusive. Anne feels cheated out of prettiness by virtue of getting smarts instead.
*
Beauty versus intelligence is a common trope in TV, books, and movies—I think immediately of Jane Austen and countless dumb sitcoms—so Anne of Green Gables was not my only exposure to it, but it's one of the first I remember. And I identify with Anne. But this is complicated by the fact that I was introduced to her at such a young age. I was six at the time, which means that I was just beginning to form long-term memories. (I remember isolated moments from kindergarten and even preschool, but I don't remember the Challenger explosion, which took place in January of 1986, so my memory was clearly selective.) Memory and identity develop at about the same age. So which came first: Anne or my idea of myself?
From early childhood, I was singled out as smart—gifted was the word they used. I learned to read at age three, and my mother claims I shocked the women at day care by speaking in complete and articulate sentences. In first and second grade, my teachers created advanced curricula just for me. (I distinctly remember having to use the word splice in a sentence.) By fourth grade, such measures were unnecessary, because my public school had a defined gifted-and-talented program. I remained on the accelerated course through my teens, but by then I no longer stood out as a wunderkind. The classes were larger, but also, I was increasingly resistant to the stigma of overachieving—I got A's easily, and that was enough for me.
My mother nurtured, doted on, even harped on my education from preschool right up until I got my college acceptance letters. She was proud and praiseful of my straight A's and good behavior—I was always a teacher favorite. My very smart but "underachieving" older brother, on the other hand, was often in trouble for mediocre grades and not eating his vegetables. My looks, which were neither exciting nor embarrassing, were very rarely commented on. If I ever disparaged them, I'm sure my mother contradicted me. But she seemed to largely ignore the way I looked, withholding both compliments and criticism. Now, having spoken to many women about the complexes their mothers gave them by putting them on diets or comparing them to their prettier sisters, I see this as a kind of parenting miracle, almost as though she was performing a social experiment on me. It awes me, especially because she wasn't unselfconscious; I remember her fussing over her hair and her weight.
The result of this unwitting experiment, and what I gathered from Anne and characters like her, was that my identity hinged on intelligence. I began to think of myself as smart and therefore, by definition, not beautiful.
*
Beauty has its own weird system of rules on TV. I find it uncanny when one TV character describes another as highly attractive—because almost everyone on TV is attractive. It's like the characters have incredible aesthetic abilities, akin to a dog's sense of smell, enabling them to distinguish among tiny gradations in attractiveness beyond normal human perception. This may be less the case for Anne of Green Gables; film wasn't really as prone to looksism then, and many of the cast members are elderly—Matthew and Marilla Cuthbert were played by Richard Farnsworth and Colleen Dewhurst, both in their sixties at the time of filming—and/or meant to be simple, unassuming small-town characters.
Anne herself is played by Megan Follows, a Canadian actress who was cast after many rounds of auditioning. The original favorite for the role was Schuyler Grant, who was suggested by her aunt, Katharine Hepburn. The director loved her audition, but there was outrage at the thought of such an iconic Canadian role being played by an American. Follows was called back in twice and apparently didn't nail the audition until her irritation over missing a flight gave an edge to her reading. (Grant was eventually cast in the role of Diana, the BF.)
Until recently, I'd always assumed that the show had been shot over several years' time, because in the span of three hours, Anne ages from 12 to nearly 17. Of course as a kid I was more susceptible to the tricks of both TV and time inflation—when you're six years old, three hours accounts for a larger percentage of your life than it does when you're 36. I know now that Follows was the same age during the whole shooting of the first series. The apparent aging is the effect of hair, makeup, costume, and acting. In an old interview I found, the actress explains how the scenes were shot out of order, so she would often have to play several different ages in one day:
At first it was difficult, because even feeling like a 12-year- old, in the beginning, would take a bit. . .  The funny thing was, I would find that when my hair would go into the braids, and I'd put on the orphan dress, or whatever, and the shoes, all of a sudden I just felt younger and I'd walk differently. . .  And then as I got older and the corset came on . . . you have to hold yourself differently. . . The whole shape of your body changes, and the hair would be different, and you're all of a sudden in boots that have got heels on them, so you have to walk a little more controlled. You're more aware of your movements, and you're more aware of the fact that you look like an adult.
Megan Follows was 17 during filming. In this interview, she looks like a typical 80s teenager—her hair is more blondish than red (she wore wigs and dyed her hair for the role); she has black plastic sunglasses pushed up over her straight, side-swept bangs. The footage is grainy, washed out—with a camcorder time stamp running at the bottom of the frame—but she appears to be wearing a sweatshirt.
You notice it here, and in her audition tapes, which are also on YouTube, and of course in later parts of the show when Anne has aged and come into her own, that Follows is very pretty, even beautiful. I used to think it was a remarkable stroke of luck that they managed to cast a homely adolescent who would turn out to be beautiful, just like in the books. How foolish of me! Now I can see she has the same face and the same body from scene to scene. So much of beauty is a social construction—smarten up your clothes and do your hair the right way and everyone starts to agree that you are pretty. When the people on screen remark on Anne's improved looks, we the viewers see it too.
On TV the contrast between the younger, stragglier Anne and the older, more poised and attractive Anne is all smoke and mirrors. I wonder—I don't know, because I never read the books—how the transition feels on paper. Reading the book, I imagine you can imagine that the young, unwanted Anne really is rather ugly, even if skinniness and freckles are no longer stigmatized. I have known many people in my life who were unattractive at 12 and very attractive at 17.
I myself was freckled and bespectacled and nerdy at 12 and much more attractive at 17. But the film version does the imagining for you, creating a disparity out of nothing. It's confusing to my memories, an illusion that begets another illusion—perhaps I did not change as much from 12 to 17 as I believed? I do not know which illusion is less true.
*
On occasion, after binge-watching a show, I have had the eerie but not unpleasant experience of feeling my self-image merge with the image of the lead actress for a time—I take on her expressions and gestures, her patterns of speech, and seem to feel her face from the inside. It's somewhat like getting off a trampoline and expecting the ground to give under your weight—or, for that matter, like astronauts who come back to earth and drop their coffee cups and toothpaste tubes, forgetting that gravity exists.
This is character identification par excellence—a level of identification seemingly unique to TV, being visual, a kind of full-body after-image, and requiring more than the typical two-hour run time of a movie to take effect. But it only seems to work on the first viewing. It didn't happen when I recently rewatched the whole of Anne of Green Gables, including the sequel. I wonder if it happened when I originally watched them at six and seven. I may have felt my self, such as it existed, commingle with Anne's. I may have taken on Anne's aspirations as my own, her perfectionism and yearning to be beautiful, so that eventually, like her, I could will a more attractive self into being. But I may not have recognized the experience as such. I always think a feeling isn't real unless you can describe it to yourself.
__________________________________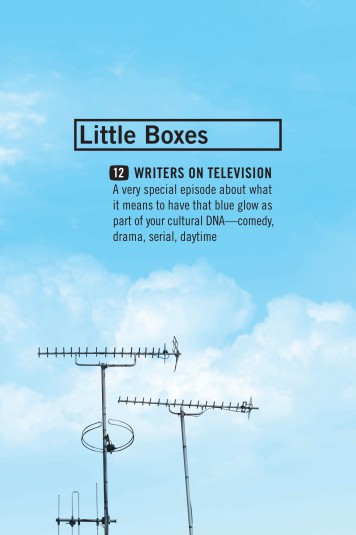 From Little Boxes: Twelve Writers on Television, courtesy Coffee House Press. Copyright 2017 by Elisa Gabbert.
---