5 Books Making News This Week: Prizewinners and Personalities
Karl Ove Knausgaard, Daniel Handler, Lawrence P. Jackson, and More
Trevor Noah's Born a Crime is a finalist for the 2017 Thurber Prize for American Humor, along with Ken Pisani's Amp'd and Aaron Thier's Mr. Eternity. And the 2017 American Poets Prizes go to Jorie Graham (the $100,000 Wallace Stevens Award for proven mastery), Ed Roberson (the $25,000 Academy of American Poets Fellowship), Patrick Rosal's Brooklyn Antediluvian (the $25,000 Lenore Marshall Prize), and sam sax's Bury It (the $5,000 James Laughlin Award for second book), among others.
Much ballyhooed Norwegian author Karl Ove Knausgaard moves beyond My Struggle, Daniel Handler (Lemony Snicket) writes an "unexpected and shocking" new novel, Jonathan Dee takes on class antagonisms in a small New England town, Vanity Fair's Bruce Handy offers a witty and irreverent take on beloved children's books, and, in a new literary biography, Lawrence P. Jackson reevaluates the life and work of A Rage in Harlem author Chester B. Himes.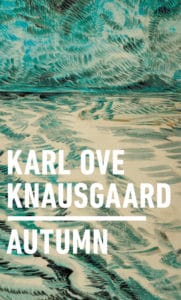 Karl Ove Knausgaard, Autumn
Knausgaard is back with a new cycle of novels, following the seasons. On not revising, he tells NPR's Ari Shapiro, "Everything I wrote is in this book. I didn't throw out anything. I didn't edit anything out. If a painter [is creating] a watercolor, you can't redo anything; it is the first take. I tried to make the same approach in writing. It is what it is."
Heller McAlpin (NPR) is not impressed. "Writing about My Struggle, critic James Wood commented memorably that Knausgaard is interesting even when he's boring. Not so here. Stretches of tedium may be part of the deal in an exhaustive literary stunt, but in a slim volume, every word needs to sing for its supper. Despite its restricted word count, Autumn is filled with freeloaders."
"I can say that I absolutely enjoyed reading Autumn and underlined copiously throughout, but this is a work that lacks any desire to add up to more than the sum of its parts," writes Scott Esposito (San Francisco Chronicle). "What made My Struggle such a sensation was Knausgaard's singular take on the memoir as a form, his unique perspective on life's big questions, and his vivid descriptions of coming of age in the 1980s and '90s. By contrast, the thoughts here feel entirely detached, as though Knausgaard has turned his back on the world and is content to churn out charming, but small, sentiments."
Parul Sehgal (New York Times) concludes:
I longed for the fearlessness of My Struggle, its unwillingness to tame "the ugly and unpleasant," its oceanic sense of life's dangers and unpredictability. But in Autumn, Knausgaard keeps us on the shore. The shells he gives us to admire are intricate, absorbing and beautiful; this book is full of wonders. But it isn't, just yet, the whole story.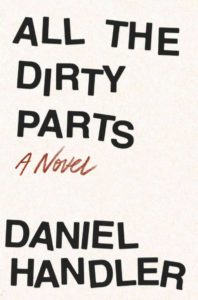 Daniel Handler, All the Dirty Parts
A mega-selling children's book author (13 Series of Unfortunate Events books, written as Lemony Snicket) turns to a more mature subject, following a teenage boy's conquest of his 12th sexual partner. While writing All the Dirty Parts, Handler revisited the authors who inspired him as a "serious reader" from the ages of 17 to 20, he tells PW's Jason Boog. "'The books were all filthy,' he says, recalling the 'bold sexuality' that drove literature by Milan Kundera, Oscar Hijuelos, and Anaïs Nin. 'I remember [sexuality] being such a huge part of the conversation internally. And I thought it was really alluring; it was really terrifying; it was really exciting—all these things at once.'"
Handler's new novel prompts Totally Hip Video Book Reviewer Ron Charles (Washington Post) to ask, "Where are the good parts? . . . Where's the galloping thrill of sexual passion?" He pronounces the book safe for teenage boys, a relief to their parents.
"Puerile portrayals of aroused teenage boys are nothing new in any medium, from 1980s sex comedies like Porky's to novels like C.D. Payne's Youth in Revolt (1993)," points out Kirkus Reviews. "But this interesting experiment by Handler (We Are Pirates, 2015, etc.) may be the most clear-eyed and honest portrayal of the sexuality of adolescent boys in recent memory—it's raw, authentic, fitfully funny, and tragic all at the same time."
Michael Schaub (Los Angeles Times) calls All the Dirty Parts "an unexpected and shocking novel" and "one of the most original and realistic depictions of the sex lives of young people to come around in a long time."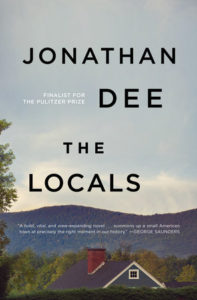 Jonathan Dee, The Locals
Dee's new novel is eerily timely. "I started writing the book in 2013, and I delivered it last August, so a few months before the election," Dee tells Vox's Constance Grady. "And as you say the chronological field of the novel is between 2001 and 2009 or '10, so I really wasn't thinking about [Trump] specifically. I was thinking about a lot of the cultural forces of resentment that wound up putting him into office, but those existed before that. As did the idea that rich people may be suspect, but really, really rich people are judgment-proof and morally pure because they're not beholden to anybody."
Dwight Garner (New York Times) notes, "This is a novel, to no small degree, about class antagonisms. The people in this novel's small Massachusetts town, Howland, are struggling. They deride the rich weekenders who attend the expensive sessions at Asana, an opulent retreat, but they wonder what it's like inside."
Ron Charles (Washington Post) writes:
[Dee's] prescient sensitivity has never been more unnerving than in his new novel, which describes a billionaire running for office and taking over a small town. Given that premise, it's tempting at first to interpret this story as some kind of parable of our present political plight, but the timing makes that improbable. After all, a complex novel takes years to compose, and, more important, there's no parallel between Dee's hyper-competent billionaire and the one flailing around in the White House. Instead, The Locals feels attuned to the broader currents of our culture, particularly the renewed tension between competing ideals of community and self-reliance.
Lucinda Rosenfeld  (New York Times Book Review) concludes, "The Locals is a quietly engrossing narrative that dishes out its food for thought in sly, quotable lines — as when Gerry, trying to 'bring his own life in line with his political principles,' determines to be humbler: 'The distinction between humility and self-loathing was, in practice, a slippery one.' Or, my favorite: 'Tough times brought out the bad side of people, it seemed, and this internet was like some giant bathroom wall where you could just scrawl whatever hate you liked.' Clearly, Dee has been paying attention."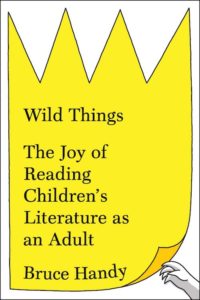 Bruce Handy, Wild Things: The Joy of Reading Children's Literature as an Adult
A long-time Vanity Fair senior editor (and now contributing editor) writes with humor and warmth about children's books he loves. P.S. He's not a fan of Peter Pan, he tells Vogue's John Ortved, his former Vanity Fair assistant. [http://www.vogue.com/article/bruce-handy-wild-things] "There's this unrealistic notion of youth, and it's in the first paragraph already: '. . . henceforth Wendy knew that she must grow up. You always know after you are two. Two is the beginning of the end.' It's such an adult point of view, such a sentimental idea. When you're that little, you're excited about growing up. I don't think that's a 2-year-old's experience, I think that's J. M. Barrie's version of what it's like to be 2 years old."
"In Wild Things, returning to the books he read as a boy and to the books he discovered while reading to his children, Handy finds himself in a heightened realm of response—intellectual, conspiratorial, comic, quizzical, charmed, heartbroken, thunderstruck," writes Laura Jacobs (Vanity Fair). "To what is he responding? Handy starts with Goodnight Moon, ends with Charlotte's Web, and in between explores Beatrix Potter's principled anthropomorphism, Sendak and the fairy tale, Seuss's anarchy, C. S. Lewis and God, and the revelation that is Laura Ingalls Wilder. . . . Literary criticism through the prism of memoir, Wild Things is a read—a ride!—of pure pleasure."
Annalisa Quinn (NPR) writes, "Bruce Handy's generous, warm voice is just the kind you would want reading you bedtime stories. His style is emotional and intuitive, with pleasant jolts of irreverence ('Portnoy's Complaint is the Runaway Bunny turned rancid')."
Jeff Baker (Seattle Times) points out:
The opinionated, biography-with-zingers approach plays to Handy's strengths as an editor for Vanity Fair and a former writer for "Saturday Night Live" and is great fun for those interested in colorful facts about their favorite children's book authors. Did you know [Margaret Wise] Brown, the author of Goodnight Moon and an Auntie Mame character of some renown, died when she did a cancan kick and a blood clot dislodged and went to her brain? Her last word was "Grand!" and her epitaph was "Writer of Songs and Nonsense." Handy, who can't give anyone the last word, suggests "Goodnight Nobody."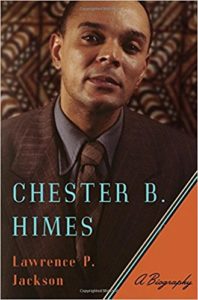 Lawrence P. Jackson, Chester B. Himes
A new literary biography of Himes, who published his first story in Esquire at 25, while in prison, and wrote a series of Harlem novels (A Rage in Harlem, Cotton Comes to Harlem) starring black NYPD detectives Gravedigger Jones and Coffin Ed Johnson, fleshes out his prison years and argues for his originality.   
Maureen Corrigan (NPR) notes:
Himes as a biographical subject is also something of a tough sell. He always seems to have been spoiling for a fight, alienating family and making enemies of both his white supporters and his black literary mentors and colleagues, like Langston Hughes, Richard Wright and Ralph Ellison. As Jackson says, Himes "specialized in biting the hand that fed him."
But Jackson also argues that it's worth hanging in there with Himes, not only because he produced some of the most original novels we have in the American canon, but also because his own life story is just as wild as anything he ever dreamt up.
Michael P. Jeffries (New York Times Book Review) lauds Jackson's work:
Many of the details of Himes's life appear in other books, but Jackson's research is unimpeachable. The biography is based on a kaleidoscopic mix of archival materials, close readings of Himes's published writing and personal letters and conversations with people who knew him. Himes had a mercurial personality and led a thrilling life that might tempt a biographer to conjure a book in the spirit of its subject, but Jackson avoids this pitfall. The book is neatly written and accessible, without cheap tricks to build suspense or sway readers' opinions.
"Himes's conduct could be shameful," writes Kevin Canfield (San Francisco Chronicle). "How should this affect our relationship with his artistic output? Should we try to disentangle the work from the man? Readers grapple with questions like these whenever we're confronted with disturbing facts about esteemed writers. As always, there are no easy answers. This much, however, is certain: Jackson's book—big, intelligent and unflinching—is what literary biography looks like when it's done right."
---