Tommy Orange on Vulnerability and Familial Love
"The bridge over which we span is not as connective
as we believe it to be."
GUANGZHOU
The hooks in the nexus of my solar plexus rhyme with what remains when I remove them. All my loved ones who love me wrong float like comic ghost tails in my periphery. I don't look like them, and don't look at them directly like I don't look at the sun but see its loose rays. I love my loved ones wrong too. Then like comic genie third wishes I wish for more wishes and for more of everything and am never fed. Hunger is not the word I would use for what I am, though I eat to it. The bridge over which we span is not as connective as we believe it to be. It is so wide as to not be a bridge at all. The expanse does not connect but makes vague our relation. There can be no water under a bridge that is not a bridge, which means we will never forgive each other for not ever being enough. Split pea soup soul that I have no ham hock, no meat or bone soaked flavor but green green blandness. I used to have taste but became too new again. This is all to say that I'm lost but only now know that I am. This is all to say we are unmade and supposed to be. I fold like cardboard on a daily basis, break silent-soft underfoot of people who don't know me, who are supposed to know me most. Best? It's because I've always been hiding and show like I'm open, like I'm willing to be vulnerable-open and honest. These are lies. Almost everything can be. I am vulnerable-open but for reasons they can't see. I am dying. You are too. But I'll never become a ghost because I've always been one. Something is going from me I have begun to early-mourn. Is it more years that I won't have, because of the way I live my life? Do I deserve them, want them? It's not that. I've known they would leave me for some time now. Leaning back against the wall of my mind, posture like I don't give a shit because I do so much give a shit, I know not to show that I do, because of what people do with that, when you tell them you love them, when you give them what they want it's exactly what they want and they want more. I'll give it all away. I never wanted to keep it. I'll put their hooks back in my sides. I'll drag them if I have to. Where? To Guangzhou. Or to wherever we're all going. Wherever all of what this is has always been going. I'm going too.
__________________________________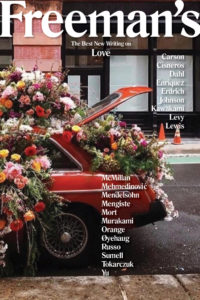 From Freeman's: Love, edited by John Freeman. Used with the permission of Grove Press. Copyright © 2020 by Tommy Orange.
---