Tom Zoellner on Gatsby, Judy Blume, and Brown Bear, Brown Bear, What Do You See?
Rapid-Fire Book Recs From the Author of The National Road


Welcome to the Book Marks Questionnaire, where we ask authors questions about the books that have shaped them.
This week, we spoke to the author of The National Road (out this month in paperback), Tom Zoellner.
*
Book Marks: First book you remember loving?
Tom Zoellner: Those YA novels that dealt with childhood honestly—Judy Blume's work was transformative for me, as was Irving and Me by Syd Hoff. Props, too, to the Alvin Fernald series by Clifford B. Hicks.
BM: Favorite re-read?
TZ: I keep coming back to The Sportswriter by Richard Ford, a book that inhabits the middle-class male dilemma of dreaminess and disconnection better than any other narrative voice. Ford introduced me to thoughts I could not articulate on my own.
BM: What book do you think your book is most in conversation with?
TZ: The National Road is an acknowledged tribute to Inside USA, a magnificent 1948 narrative compendium of this beautiful and beguiling nation by John Gunther.
BM: A book that blew your mind?
TZ: My sense of reality itself—and how we perceive it—was shaken by The Alphabet and the Goddess, by neurosurgeon Leonard Shlain.
BM: Last book you read?
TZ: Because I'm writing a book-length narrative portrait of my native Arizona that includes a survey of the novels set there, I tracked down a copy of Maigret at the Coroner's, the mediocre 1949 detective novel set in Tucson by Georges Simenon.
BM: A book that made you cry?
TZ: When Breath Becomes Air by Paul Kalanithi. I wept openly on a flight from Sacramento to L.A. No apologies.
BM: What book from the past year would you like to give a shout-out to?
TZ: I loved Republic of Detours by Scott Borchert, and said so in a LARB review. Also deserving of notice is Lydia Otero's memoir In the Shadows of the Freeway.
BM: A book that actually made you laugh out loud?
TZ: Though it is a serious and troubling book, Men We Reaped by Jesmyn Ward contains a hilarious scene of the author's brother chugging an entire bottle of Tabasco sauce. And for those who think the Bible is a dour document, I challenge them to read Judges 13-16 without giggling madly.
BM: What's one book you wish you had read during your teenage years?
TZ: Man's Search for Meaning by Viktor Frankl. It makes sense of angst.
BM: Favorite book to give as a gift?
TZ: On Tyranny by Timothy Snyder. It can be read in a half-hour and puts our national crisis in bold and simple language. To journalists, I have also given a neglected novel called Home Fires Burning by Robert Inman.
BM: Classic book you hate?
TZ: Never understood The Sun Also Rises. Was also mystified by Housekeeping.
BM: Classic book on your To Be Read pile?
TZ: I will one day read Bleak House by Charles Dickins.
BM: What's a book with a really great sex scene?
TZ: I have never come across one that does it justice. I'm convinced it can never really be rendered.
BM: Favorite book no one has heard of?
TZ: I cite Tucson Salvage by Brian Jabas Smith not because nobody has ever heard of this incredible collection of nonfiction stories—Smith is well-known among Arizona literati—but because he deserves a national audience and wide fame. He is Joseph Mitchell with a punk rocker's sensibility and a huge heart.
BM: Favorite book of the 21st century?
TZ: Big Magic by Elizabeth Gilbert, a wellspring of inspiration that I have assigned to MFA students.
BM: Favorite book you were assigned in high school?
TZ: The Great Gatsby. No contest.
BM: Book(s) you're reading right now?
TZ: 1861: The Civil War Awakening by Adam Goodheart, which is evocative and deeply researched enough to make me want to throw in the towel on writing forever.
BM: Favorite children's book?
TZ: We have an 18-month-old son, and have discovered the famous hypnotic qualities of Brown Bear, Brown Bear, What Do You See?
BM: Book you wish would be adapted for a film/tv show?
TZ: I immodestly think my own account of the final uprising of enslaved people in Jamaica, a history called Island on Fire, cries out for filmic treatment. It is a mystery to me why this consequential global event has never been portrayed on screen.
*
Tom Zoellner is is the author and coauthor of seven previous books of nonfiction. He teaches at Chapman University and Dartmouth College and serves as the politics editor of The Los Angeles Review of Books. His writing has appeared in The Atlantic, Foreign Policy, The American Scholar, Men's Health, The New York Times, The Wall Street Journal, Harper's Magazine, and many other places. Find out more at tomzoellner.com.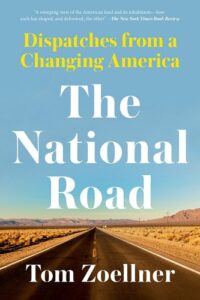 Tom Zoellner's The National Road is out in paperback on November 30 from Counterpoint
*
---