Together As We Burn: On a Complicated Maternal Bond and Intergenerational Love
Ashley C. Ford Considers the Struggles of Her Mother and the Familial Ties That Bind
My mother wanted to be with her boyfriend. He wanted to be with her too, but there was distance, and youth, and there always seemed to be some other woman involved. It would not last between them. He'd come into her life quickly, and he left the same way. The culmination of the first phase of that relationship, the baby, my second brother, was born without ever breathing. My grandmother said he was born small and gray, with an exposed serpentine spine. When she repeated this story, she would push up her glasses, wrinkle her nose, and use her index finger to make a wavy line in the air to illustrate the curve of his body. She said my mother held him for hours, kissed the top of his head, rocked him against her chest.
My mother hadn't wanted to have another baby, not without being married. But abortion wasn't an option, and he kept growing inside her. My mother could not fathom what kind of good Christian woman would end the life of a child, even if she was in no position to provide for him, and my mother very much wanted to be a good Christian woman. Still, she did not want to be pregnant. And when the baby was born already dead, she blamed her desire to be free for his passing. She named him after his father. She did not mark his grave.
My mother came home to us raw and all alone. My grandmother told me she sat in the bathtub for hours, bleeding into the water. She stared into the space between herself and the walls, her body purging its sin, staining the off-white fiberglass. Her silence worried my brother and me for reasons we couldn't grasp just yet. He and I would sit close enough to hear the water make small splashes when she adjusted herself, making sure she wasn't giving up on breathing or living, that she wasn't giving up on us.
On the other side of the door, my mother sent noiseless prayers into her bathwater, repenting in spontaneous expulsions, oblivious to the world growing red around her. Grandma and my mother's sisters wanted her to be well. They took her back to see the man who had delivered baby Darrell and the hole in his back. They told him my mother's symptoms because she'd lost her voice somewhere down in her chest, somewhere they couldn't reach in and grab it. She'd stopped trying to find her voice days before. She was content in her silence, in her bleeding, and in her inevitable demise. The doctor told my grandmother it was psychosomatic. My grandmother called him a quack and a demon.
He said, "There's no reason for her to be bleeding anymore. She's using her mind to punish herself. She won't get better until she chooses to get better."
Someone decided my brother would stay with my mother, and I would leave with my grandmother. We moved to her father's, my great-grandfather's farmhouse in Columbia, Missouri. A few years later, when I couldn't quite remember the worst of this time, I'd ask why I was sent off with Grandma Billie before kindergarten. I would be told, "Because you said you wanted to go."
I disappeared into a new life in Missouri—a life without either brother, living or dead, and a grandmother who put strawberries and whipped cream on my waffles without blood under her nails. There was no one for me to protect or worry over. I missed my mother, but less and less every day. To keep me company, I had a dog, a goat, and a great-grandfather who threw hammers at wild pigs in the backyard then paid me two dollars to collect the tools and bring them back in the house. It was a game I thought my brother might enjoy, but I tried not to think of my brother too much. When I did, I felt sick with missing him. I couldn't forget him if I tried.
My mother came home to us raw and all alone.
My grandmother and I had our own routine. I had school and day care all week, and I got to see a movie and get one toy on Saturdays. We alternated picking the movies, and when it was my turn, I could pick whichever movie I wanted, all by myself. I was electrified by the power of my choice, and made my decisions based almost exclusively on the posters outside the theater.
That's how I ended up picking films like Lorenzo's Oil, Passion Fish, and Groundhog Day. I was easy to please, and never protested my grandmother's picks, even after Fire in the Sky made me cry myself to sleep for a week. My grandmother was loving, but being comforting wasn't her gift. Each night she taught me to read alternating between the Holy Bible, Barbie comics, and supermarket celebrity tabloids. I thought Princess Diana and Mary Magdalene would have looked similar. I thought the same about Billy Ray Cyrus and Jesus.
When the thought of alien abduction kept me up, the Star magazine I kept under my pillow reminded me to stop holding my breath. Living with my grandmother and her father in the fields of Missouri, I learned to think only of myself for hours at a time. Spending half a day alone, free of the company of people who would distract me from my being, I learned to think about who I was, who I was becoming, and what I wanted.
I spent my free time exploring my great-grandfather's land, roaming farther than I was allowed. Too young and dumb to be scared of them, I made a game of sneaking up on and catching garden snakes by the tail. I caught them fast enough to shock them, and then dropped them before they caught my skin between their fangs. I was only bitten once. It was fast and painful, but I did not scream. My eyes got wide and my arms flailed around until it let go. After the garden snake released me, I closed my eyes and leaned against a tree. I steadied my breath and soothed myself by speaking directly into the two puncture wounds in my first finger.
"It don't hurt, Ashley." I cradled the stinging hand with its opposite. "If it hurt, you'd die. You won't die."
*
On our Christmas visit to Indiana, my mother accused my grandmother of turning me against her.
"She acts like she doesn't even know who I am."
My mother's tongue was coated in venom, her familiar anger rising in the back of her throat.
A few days before Christmas, my mother came into the living room and saw me playing with a doll. It was the same doll she'd bought and wrapped for me under the tree. It was a doll she knew I'd love, something she hoped would remind me of the games we used to play, and the life we'd had together back when we lived in the studio apartment. Now she was renting a two-bedroom house with enough room for me to return, but I was still in Missouri. No one thought it would be a good idea for me to move back to Fort Wayne in the middle of a school year. But my mother missed me, and wanted me home.
She screamed at me for opening the present, a gift she had to have worked overtime to purchase. I did not only feel distant from my mother, I felt angry with her, and unsure of what she wanted with me. She sent me away, called me back, and now she seemed mad that I was here. I started to walk away from her and found myself buried face-first in her living room carpet. My mother kicked me. I didn't cry.
After a few moments, my mother picked me up and held me against her. Being held was rare, and precious, an offering in and of itself. I rejected it, making my body go limp. I hoped she thought I was dead or paralyzed. I wanted her to think she'd really hurt me. I wanted her to apologize like her old boyfriend did. My grandmother walked into the room, took a look at us, and asked what happened. My mother told her I'd opened my gift. My grandmother explained that she'd bought me the same doll in Missouri. My grandmother knelt beside me.
"Are you okay, baby?"
I looked toward the front door. "I'm fine. It don't hurt. I'm not dead." My mother walked into her bedroom and shut the door.
"Grandma, tell her it's okay. I'm not dead. I'm alive."
When my grandmother and I returned to the farmhouse, I jumped out of my grandfather's car and ran into the house. I ran into the sitting room where my tea set was always on the back table, then into the bathroom where my good toothbrush was still in the pink cup behind the sink. I touched all the things that reminded me of my new life in Missouri where no one hit me, I could read as much as I wanted, and there were no rusty red stains left in rings around the bathtub. I spoke to my grandmother without looking at her.
"Don't ever make me leave again, okay? I don't want to leave again."
She looked down at me, then into the backyard, into the places I played without permission. She grabbed my hand and walked me out toward the trees, grabbing a shovel and a burlap bag next to the grill on the way. We walked farther and farther back until we were in the part of our land where my great-grandfather let the grasses grow long. My grandmother stomped around a bit, then staked the shovel's blade into the dirt. She dug slowly, and with purpose, like she was sneaking up on the earth spread out before us. The ground was soft so it wasn't long before she told me to come closer.
My mother's tongue was coated in venom, her familiar anger rising in the back of her throat.
I leaned over the hole and saw a garden snake. No. Two, three, four… a lot of garden snakes. They were in some sort of a knot, though not stuck together. They moved quickly and deliberately over and around one another. They were not fighting, and they did not seem to be trying to get away from us or anything else.
"What are they doing, Grandma?"
My grandmother stared into the hole.
"They're loving each other, baby."
She reached into the bag, poured lighter fluid into the hole, then a lit match. The grass in and around the hole burned, and then, so did the snakes. My first instinct was to reach in and throw them as far as I could, to safety, but I hesitated when I remembered their bite; I waited too long to do them any good.
The snakes did not slither away or thrash around as they burned. They held each other tighter. Even as the scales melted from their bodies, their inclination was to squeeze closer to the other snakes wrapped around them. Their green lengths blackened and bubbled, causing the flesh that simmered underneath each individual metallic hood to ooze. They did not panic, they did not run. I started to cry.
"You will have to go back. We'll both go back home. Your mama misses you."
My grandmother reached over and grabbed my hand, both of us still staring into the hole.
"These things catch fire without letting each other go. We don't give up on our people. We don't stop loving them."
She looked into my face, her eyes watering at the bottoms.
"Not even when we're burning alive."
__________________________________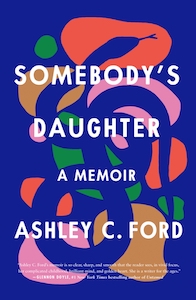 Excerpted from Somebody's Daughter: A Memoir. Used with the permission of the publisher, Flatiron Books. Copyright © 2021 by Ashley C. Ford.
---