To Write Fiction with a Psychotherapist's Mind
Lisa Williamson Rosenberg on What the Profession Gives Writers
When I was in graduate school, one of our primary textbooks was called Human Behavior in the Social Environment. It cost about $75 (in 1996), was quite dense, quite dry, and had beautiful cover: a print of Pierre Auguste Renoir's café scene—which depicts Humans Behaving in an Environment which is highly Social. The pages of this volume distilled everything they needed us to know about anyone—anyone at all, regardless of age, race, nationality, religion, ANYONE—interacting with anyone else everywhere!
The reason I'm mentioning this book, focusing on the title, is to illustrate how uniquely positioned social workers are for making the leap into novel writing. Both clinical social workers and psychologists become psychotherapists, depending on their post graduate training, but psychology studies the mind, where as social work focuses on the person and their interface with the world. Which is kind of my thing. How each of us takes our own set of experiences of being and becomes our own unique story—I've been aware of that all my life. As an only child, I learned early on that observation was the key to understanding my peers. There were no other kids in my family—no siblings, no accessible cousins anywhere near my age—so I had to study—my friends, my enemies, my friends' families, their enemies. I studied, imitated, empathized and learned.
I was still learning people in grad school. How every one of us was shaped by our early childhood environment, interactions with family, community, loved ones, authority figures, peers. Experience, good and bad, dull or thrilling makes us who we are. The aforesaid textbook had sections devoted to immigration, institutional racism, poverty, and homophobia. All contexts for experience. Temperament is the enzyme that decides how those early prolonged or chance encounters shapes us. Temperament plus experience makes a person. Mental illness is part nature, part nurture, both genetic and trauma-born.
I was an English major in college, which, to me is just as logical a step toward becoming a psychotherapist as if I'd been a psychology major.
My favorite novels, from the time I could read, had powerful characters, meaning that I knew them, I felt them; they mattered to me. In Virginia Woolf's Mrs. Dalloway, Clarissa, having lost the love of her life in Sally Seton, submerges her desires by flinging herself into a life of convention, pulling the lever afforded her by polite British society. I can trace my recommitment to becoming a writer along with my interest in psychotherapy directly to my collegiate fascination with Virginia Woolf: the process of character creation she outlined in Mr. Bennet and Mrs. Brown, but also her mental illness. I was truly obsessed, which is why my senior thesis was accompanied by a ballet entitled Yours, Virginia, in which I performed a solo against the narration of her suicide note.
Fiction writing and psychotherapy have opposite goals.
I feel the same intensity about Toni Morrison's characters—she spares them nothing. Their realities are so raw you can feel them. I'm thinking especially about Milkman Dead in Song of Solomon, Sethe in Beloved. Their emotions become yours in a way I've never experienced with another author. Her characters become themselves viscerally, through brutal emotional trials but also messages absorbed from their environments. This is especially true with The Bluest Eye, which I read for the first time during an adolescent summer and have since re-read several times.
Claudia observes the way the world embraces little white girls like Shirley Temple and learns to love herself in defiance. Incensed by seeing Shirley Temple on film, dancing with Mr. Bojangles, whom Claudia thinks of as "My Daddy," Claudia commits to her rage and her sense of deserving Black adult love. All this is in contrast to Pecola, whose worship of whiteness only deepens her self-loathing.
Character comes across to me through what the person wants or doesn't want. It's not just about what they hunger for or what's in their way, which creates tension on its own, but additionally: How old is this hunger? Is it rooted in the character's past alone or is it part of a larger history? It's a therapist's way of reading.
*
As a family therapist, the most important  early principal one learns is that of "joining." Entering the family system, learning the speech patterns, the style of interaction, along with the family story. You are an outsider, of course, but you have to be able to get close enough to gain trust, to challenge with love and empathy. It's not an easy task, but I think I'm good at it for several reasons. Being a performer in my first career—a black performer in the overwhelmingly white discipline of classical ballet—gave me the sensitivity to observe and imitate and become a chameleon in every situation. Also, being multiracial, Jewish, Black, I have a flexible identity that can shape itself to its environment.
What ties my therapist-self to my writer-self is the ability to translate emotion into words. Words connect my clients' experiences with me; my written words connect the stories I dream up with my readers.
How do you describe a feeling so that another human being can feel it too? In stories, you create a situation which elicits that feeling, something a reader will recognize or be surprised by. Either way, you discover what the situation brings up for the character, what desires, defenses, memories.
I want my characters to learn and grow too, but I want them to fumble and screw up first.
Narrative therapy asks the clients to tell their story to the therapist, and then, if it's a scenario that reinforces a client's negative beliefs about themselves, to tell it again from a more benign perspective.
"I'm so pitiful. I can't believe I screwed up that job interview. I'm the worst excuse for a human being."
"Is there anyone in your life who might see it differently?"
"My grandmother, I think. If she were still alive. She's the only one who ever made me feel special."
"What would Grandma say if she were here right now?"
"She would tell me it not to beat myself up. She'd say, big deal. I made a mistake because I'm human, not because I'm an awful person."
So people learn to think differently about themselves and one another. With fiction, I might write a story and then imagine it from a different perspective to give it the texture of humanity. Everyone loves and can relate to flawed and nuanced characters, because we all are that. No matter how reprehensible, there is something to love about everyone. Some aspect to laugh with and potential for growth.
Of course, fiction writing and psychotherapy have opposite goals. I want the best for my clients. I want them to learn and grow from their mistakes before repeating them. I want them to identify harmful patterns in their lives—maladaptive habits, deeply held harmful beliefs about themselves—to recast, to re-name, to heal. I want my characters to learn and grow too, but I want them to fumble and screw up first. If everything goes well for my characters, there's no story. And that is where my two identities part ways.
__________________________________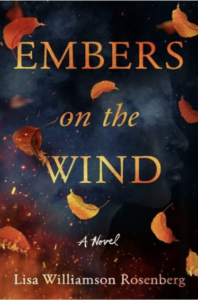 Embers on the Wind by Lisa Williamson Rosenberg is available via Little A.
---