"Ninth Sign of Zodiac." A Poem by Jaamil Olawale Kosoko
From Their New Collection Black Body Amnesia: Poems and Other Speech Acts
Ninth Sign of Zodiac
Black belt of heaven unbuckled.
Told Venus to push me out—
galloping and cursed, a centaur,
firing his weapon of war.
November opened my universe.
Vulva like a volcano, her afterbirth
exposed red ropes of lava. Was I dying
or being born? Being torn from refulgent flesh—
a body inside a body melting its way
out. Loosened heaven, or are you
just another unfastened place?
Too open, too vast even for your angels.
You've let them escape, unkempt gates.
Keys dangling around the jinn's neck.
And now we see them, like superstars,
falling nova and catastrophic,
falling like comets, trailblazing prophets.
The earth hasn't enough space for saints.
So we pin them up on crosses,
dip them in gold, turn them into logos,
incandescent heroes of the '80s.
Sagittarians. You hungry, hot-blooded
assassins. You take aim, shoot down
the night. Call it your sport.
_____________________________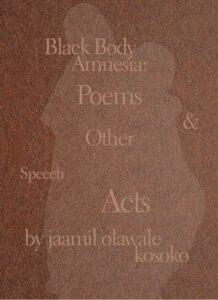 From Black Body Amnesia: Poems and Other Speech Acts by Jaamil Olawale Kosoko. Used with permission of the publisher, Wendy's Subway. Copyright 2022 by Jaamil Olawale Kosoko.
---