To Abandon Civilization with Glee: Tracking Tigers in the Russian Wilderness
Jonathan Franklin on a Rafting Trip in the USSR with Tom Brokaw and the "Do Boys"
The world is only as big as we allow it to be. Wild places and animals pass along their secrets only if we listen. A touch of danger would help. You need to know you can die: a surprise rapids the size of Lava Falls, a bad stretch of black ice across an ice chute, a whiteout on a glacier, or maybe a bear or, especially, a tiger.
–Doug Peacock
*
In the early 1990s, as Russia opened for capitalist development, a unique economic boom occurred—a crazy period that many observers compared to the lawless Wild West. As the legions of staid, gray bureaucrats were overrun by a crop of freshly minted oligarchs, Yvon Chouinard snagged an invitation to visit a little-known Russian wilderness area. It was one of the last remaining habitats to observe wild Amur tigers, and Yvon was eager to explore. There were rumors the forest would soon be clear-cut. Tompkins jumped aboard the trip, also excited to explore the wild coastlines and thick forests. Hyundai and International Paper were plotting to buy the old-growth forest and cut it down, a source in Russia told them. "Maybe, if we like it, we'll buy it," Tompkins declared.
Jib Ellison had experience running rafting trips behind the Iron Curtain and was among the few adventurers with the street smarts to snag highly coveted travel permission. Ellison applied for hunting visas; this would raise little suspicion, and though he knew his group would travel far outside the limited permission given to hunters, it would allow them to legally enter Russia with expedition gear.
Ellison, Tompkins, and Chouinard were eyeing an area in the Russian Far East, near the Sea of Japan, which their contacts in Russia described as a wilderness cornucopia flush with roaming pods of wild boar, spotted leopards in the trees, Asian brown bears scraping off the bark below, and prowling the forest floor the world's largest and most powerful wild cat—the Amur tiger.
Ellison was a river rat. Years earlier he had founded RAFT—"Russians and Americans For Teamwork"—and taken travelers into the then–Soviet Union. He'd met Tompkins at a slide show about RAFT at San Francisco's famous Zuni Café, and Tompkins later accompanied Jib exploring the USSR in kayaks and rafts.
On that previous trip to the USSR, Jib had saved Doug's life. On the verge of descending an unknown river, Doug insisted that they raft down a boulder-clogged river with Class V whitewater rapids. Jib resisted. Although he was among the youngest member of that expedition, he was insistent that the descent was too dangerous. After a heated discussion, Doug's idea was rejected. Several days later, on a helicopter overflight, they passed above the rapids and it was clear that Jib had saved them all from certain death.
"The Russians leave these lands to fend for themselves, protected by remoteness. The wild corner of my soul is envious."
Doug called his fellow adventurers "The Do Boys." It was a phrase he filched from a Japanese comic book with terrible translations, and the moniker fit. At the heart of these Do Boys trips was a deep faith in individual self-reliance. There was no expedition leader. "It's like, saddle your own bronc," explained Ellison. "It's your job to look out for yourself. And if you abide by that ethos, and people take it seriously, it's ultra-responsibility, right? Nobody is in charge. It's much more old-school. Essentially, it's 'don't fuck it up.'"
The Russian coastline along the Sea of Japan held dozens of protected inlets that served for Russian Navy bases. Vladivostok held a strategic submarine base, while the Sakhalin Peninsula was home to ICBM missile launch sites. From the beginning of the Cold War in the late 1940s the area had been largely off limits to US citizens for the ensuing sixty years. Soviet strategic military zones didn't interest Tompkins; he wanted to explore the larger neighborhood—the lower reaches of the Bikin forest stretched across 1,500 square miles making it the world's largest untouched forest of broad-leaved cedar and the only natural corridor through which the Russian and Chinese populations of wild tiger bred.
Ellison arranged logistics for the trip as the Do Boys needed flights, estimated transit times, and travel dates. Doug was free for six weeks, but others in the group had only three weeks. The Do Boys could arrive in June, Jib explained to their contact in Russia. "That makes no sense," insisted the Russian. Tiger studies were always conducted in winter, he pointed out. The snow made it possible to track and study the giant cats. Jib said he understood, but the Do Boys were busy and finding a common date was difficult. June was the only three-week window when everybody could go.
"That's fine," the tiger expert chuckled. "We will make sure there is somebody in camp to meet you. But if you do see a tiger? It will be the last thing you ever see. You don't go looking for tigers in the summer, because the grass is five feet high—everywhere." Jib went back to the Do Boys and repeated the message: "The tiger biologist says that if we see a tiger it's going to be the last thing we see, because it's going to be eating us." Jib never forgot the response. "The Do Boys were all like, 'Well . . . that's when we can go. Let's just go anyway.'"
In June 1992, Doug, Jib, and Doug Peacock boarded an Aeroflot flight from Seattle. Landing in Khabarovsk, Tompkins, Ellison, and Peacock were met by a representative of Greenpeace who smuggled them via train to Sovietskaya Gavan, a highly restricted city where nuclear subs were based. They were almost certainly the first Americans to visit in years.
They arrived late and went immediately to meet with three mafiosos in a dark basement with a single hanging bulb for light. The Russians smoked and tried to shake down the Americans who needed a boat. The conversation went explosive several times until a vastly reduced price was agreed upon. They would use a boat from the Red Cross.
Tompkins, Ellison, and Peacock had ten days to explore before their other friends arrived, so they rode the boat down the coastline to explore a nature reserve. When the men lowered their kayaks into the Russian river it felt like they were paddling into a new world. "The reserve here is unlike American parks with our administrators and wilderness visitors; nobody's out here," Peacock wrote in his journal. "More mammal species live in these woods than any place I've ever traveled. The Russians leave these lands to fend for themselves, protected by remoteness. The wild corner of my soul is envious."
Peacock and Tompkins had radically divergent lifestyles, yet were aligned in their love of the wild. Peacock had camped with grizzly bears in the wild national parks of the western United States. Tompkins had just spent twenty years running a multinational corporation, yet in wilderness, they both found an antidote to urban ills. Modern society was a sickness, they agreed, and wilderness experience the remedy. They both worshipped beauty, and Peacock knew firsthand the face of evil.
As a special forces medic for the US Army, Lt. Peacock had been awarded two Bronze Stars for his courage in combat. He returned to the United States in 1968 amid the grisly revelations of the My Lai massacre. Peacock's psyche was marked by events in the Vietnam highlands. He had left a slice of his soul in Vietnam. Flashbacks to the deaths of Vietnamese civilians, friends killed in combat, being shot at too many times to count—it all haunted him. Back in the US, Peacock found human civilization unbearable. To tame his demons, he migrated into the wild. He camped in Utah, then in Montana, where he lived alongside wild grizzly bears. A PBS documentary entitled "Peacock's War" showcased his bravery and singular love of the wild.
Peacock maintained a deep friendship with the naturalist author Edward Abbey, who took Peacock's campfire tales, changed the name to protect the guilty, and converted him into George Hayduke, a fictional ex-Green Beret "wilderness avenger" and hero of his novel The Monkey Wrench Gang. In Abbey's eco-warrior fantasy, Peacock is a saboteur, wreaking vengeance on bulldozers and dams alike. Peacock was so close that after Abbey died, it was Peacock who helped leave his body in the desert to be recycled by nature, his corpse eaten by wild birds, and then his bones chewed up by animals.
*
After chugging down the coast, the men camped near a remote village. In the evening as they ate by a campfire near the riverbank, they met a local hunter named Gorbachev. They hired him on the spot. Who better to track wildlife? Gorbachev took them to his homestead and offered a local delicacy: moose heart, fresh baked. The scene was out of a movie. His clothesline sagged with hundreds of dried fish. Children smoked the fish over a campfire wearing boots and shoes made from animal skins sewn so that the fur was on the inside. After sunset, the men gathered. Drinking was the common language.
Peacock wrote up the scene when the hangover finally wore off. "Tompkins proposes yet another toast from the end of the table: 'Screw Hyundai!' I watch him pour the contents of his glass into the planter he has chosen to conveniently sit next to, while I gag down my poison," wrote Peacock. "Doug does these toasts five more times, five more big shots of vodka, which he dumps out when no one is looking. I pray he doesn't kill the plant and hope I don't offend my new friends by puking on the table. Tompkins has a big, shit-eating grin on his face."
Entering the forest, Tompkins scouted the terrain. But within forty-eight hours the Americans were forced to abandon camp. They were being threatened with expulsion for not having proper visas. Local gangsters extorted them, demanding huge sums to keep their visit secret. The three explorers abandoned the forest in a rush. Tompkins was crestfallen. In his trip diary Peacock jotted, "This man loves forests."
Returning to Khabarovsk, they picked up their three fellow expedition mates: Yvon Chouinard, Rick Ridgeway, and the relative newbie Tom Brokaw. They were now joined by Dimitri, a biologist they had met at the nature preserve and whom they had convinced to join them. The Do Boys worked via an amorphous sense of leadership. Their credo was "learn on the run." They didn't slow down or teach rookies. "Doug taught me to kayak. He basically put me in a boat and said, 'Follow us,'" recounted Chouinard. "Same thing with Brokaw. We took him on some climbs without any experience—he couldn't even tie a knot. But he was tough."
A lifelong outdoorsman, Brokaw was known to millions of Americans as the host of NBC Evening News. As chief political correspondent for America's leading TV network, Brokaw broadcast live as the Berlin Wall fell, and held the first interview by a US network with Mikhail Gorbachev. On their first day in Khabarovsk, Brokaw was also the first to shout "foul" when KGB officers tried to shake down the Do Boys with a $2,000 demand for a "tourism permit." Brokaw ignored all diplomatic protocol and bellowed "This is banditry!"
Facing a shakedown from the secret police force, the Do Boys huddled. Was it time to ditch the handlers? The decision was unanimous: they would sneak off on a rogue helicopter flight. "We gave a helicopter pilot a bunch of Marlboro cigarettes. The pilot was stoked. We threw in some Playboy magazines and off we went," Peacock recalled. "The KGB wouldn't know where we were going."
Inside the helicopter, the Do Boys celebrated as they sat alongside Russian military men. The rusted helicopter felt overloaded and decrepit. Peacock, who carried years of experience patching together battlefield casualties in the Vietnam War, wrote that it felt like being stuck inside "a flying boxcar."
Free of handlers, the Do Boys looked nervously at the rows of metal jugs sloshing with milk, which only added to their worries that the chopper was dangerously overweight. There were no seats, and the helicopter regularly stopped in villages to drop off milk. It was hot and the windows were open, but their helicopter escape had worked. "I thought we'd never be seen again," said Brokaw. "We got out of there in a manner that was totally illegal."
The Do Boys worked via an amorphous sense of leadership. Their credo was "learn on the run." They didn't slow down or teach rookies.
The men now celebrated the first goal of every Do Boys journey—to abandon civilization with glee. Flying low over the forests, Tompkins looked out the window and studied the woodlands below with the eyes of a pilot. He had seen this wilderness on maps. This was a vast, uncharted, green territory, sliced through by birch forests, wild rivers, and small clans of pioneers living in frontier villages scattered over an area the size of Portugal.
Dimitri, the biologist who they had invited along, studied their only topographic map as the helicopter rattled above a sea of trees. They were searching for a place to enter the Bikin River. What was the most challenging entry point? Could they begin on the uppermost section of the Bikin? Peacock asked for the map, moved to the window and instantly the map whooshed out the porthole. Peacock stared in disbelief. In each hand, he gripped a third of the map. The portion in the middle showing the upper Bikin was missing. "Everybody started high-fiving and saying, This is a much better trip," recounted Brokaw. "The Russian guy was laughing. He said, 'I know where the headwaters are. We can find that. Rivers always flow downstream.' Doug could not have been happier. We were out there on the edge, not knowing where we were or where we were going."
Landing in a field near the river, the Do Boys set up a campsite along the riverbank and explored the forest. The men saw wild boar. Scratches on trees were signs that bears lived nearby, and they heard what sounded like wolves baying at night. Human settlements were few and far between. "There's a jungle tom-tom working," noted Brokaw, "because when we pulled into these tiny, tiny temporary camps for hunters and gatherers, they knew we were coming."
Camping in the front yard of a rustic family, the Do Boys shared a bathroom with their hosts, bathed in the freezing river, smothered local bread with fresh honey, and wolfed down a smorgasbord of smoked fish as trappers paddled past with furs on their way to market.
Camping by the water's edge, the Do Boys found a pool of pungent tiger urine. Paw prints a half foot across suggested this was a young male tiger, a dominant predator that left scratches and marked its territory every few hundred yards. With few settlements for hundreds of miles, the Amur tiger ruled this forest. The Do Boys knew that walking through the tall grass where tigers roamed was dangerous, so they strapped on masks. One Do Boy wore a Ronald Reagan mask, while another donned a mockup of Gorbachev. They spun the masks to the back of their heads, hoping to ward off marauding tigers. "We'd heard that farmers in India put a mask on the back of their heads," said Chouinard. "Tigers will only attack from the back, not from the front. You can stare them down. So, we bought these masks."
Walking in the forest, Brokaw was convinced the tiger was straight ahead of them. "It wasn't very far away, it was clear. The odor from the urine and the whole sense that the tiger was here was very evident to us. We were out of our minds," said the newscaster, "because in the next year or two years after that, there were these accounts of this marauding tiger wiping out hunters, and settlers, and everybody else."
___________________________________________________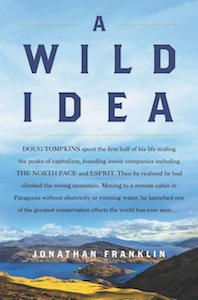 Excerpted from A Wild Idea by Jonathan Franklin. Reprinted with permission from HarperOne, an imprint of HarperCollins Publishers. Copyright 2021.
---