How does one visualize a writer's style? You can close read and accumulate observations; you can map the structure of a text through drawing; and now, a new web tool allows you to visualize any piece of writing by stripping away everything but its punctuation.
In 2016, researcher Adam J. Calhoun saw a series of stylish posters that took all the punctuation from famous novels and arranged them in a spiral, and was inspired: he wrote some Python code to strip the words from famous novels, and compared the novels' punctuation via graphs and color visualizations. Calhoun found that novels' differing styles were easily mappable via, yes, punctuation: for instance, Blood Meridian and Absalom, Absalom were easily distinguishable because of their differing amounts of commas.
Now, you can try Calhoun's project yourself. Writer Clive Thompson, inspired by Calhoun's Python program and data visualizations, has made a free web tool—"just the punctuation"—where you can paste in any piece of text and receive the punctuation. Looking at just the punctuation of a text can tip you off about, among other things, how long and lyrical the sentences are and how much the text uses dialogue. Thompson himself input the opening of Zora Neale Hurston's Their Eyes Were Watching God into the web tool, and could immediately see the punctuation graphic mapped onto what he already knew about Hurston's prose: paragraphs of declarative description and narrative leading into dense passages of dialogue.
I tried the tool on some contemporary short story writers—and found it similarly rewarding. Here's the punctuation graphic of Garth Greenwell's short story "Harbor":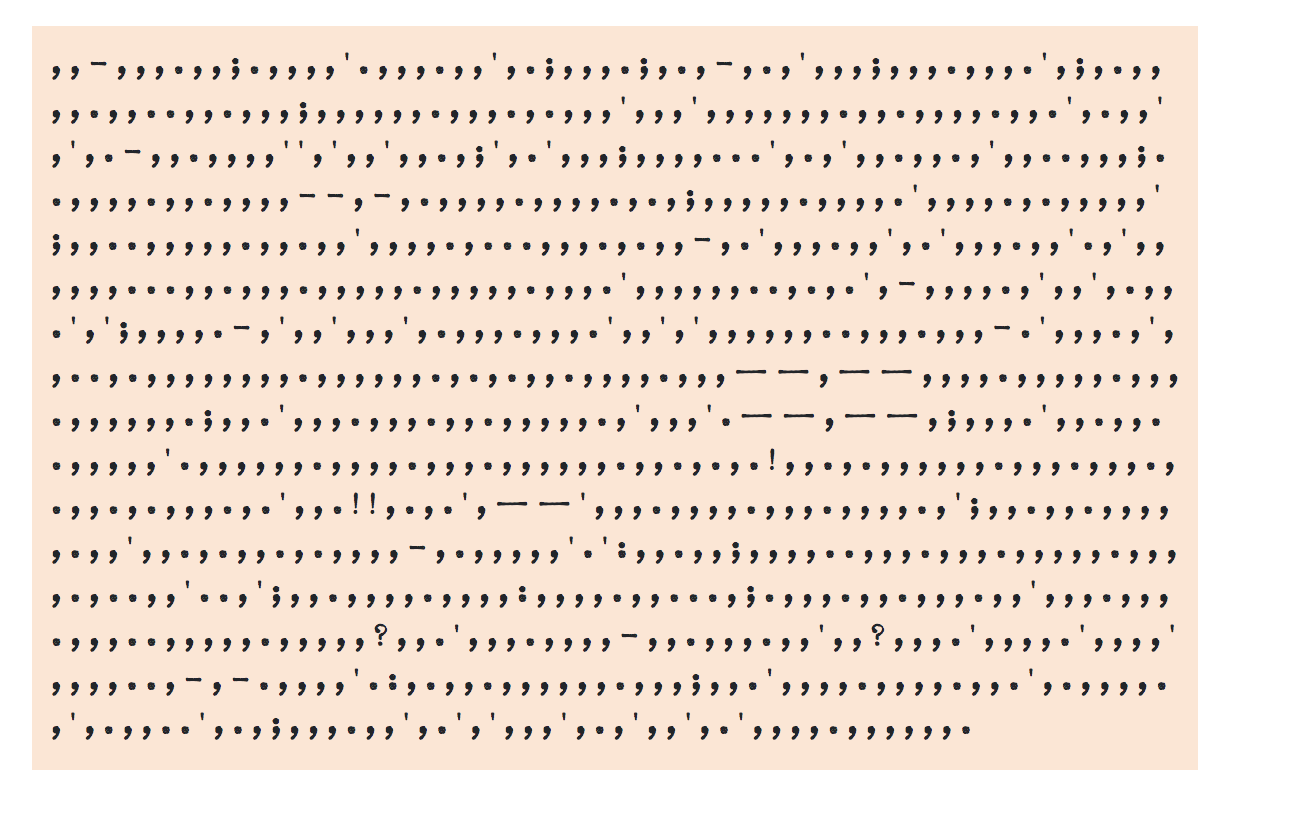 We can see Greenwell's distinctive, much-remarked-upon style here: the abundant commas and em-dashes are representative of his long sentences that snowball with each clause, punctuation a tool of rhythm as well as grammar. We also can tell the dialogue isn't separated by quotations. The graphic of Greenwell's story "An Evening Out" is similar: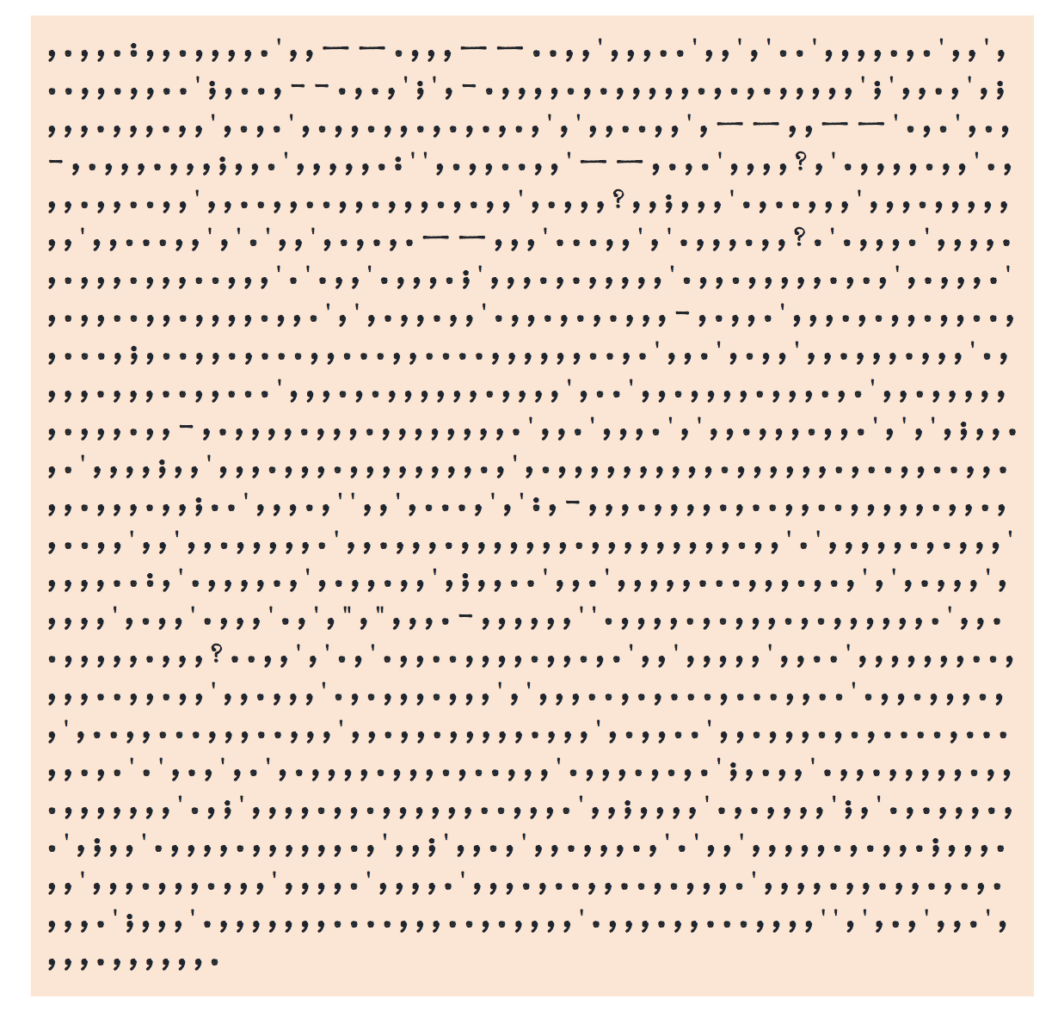 Greenwell's writing looks very different than, say, George Saunders's "The Mom of Bold Action":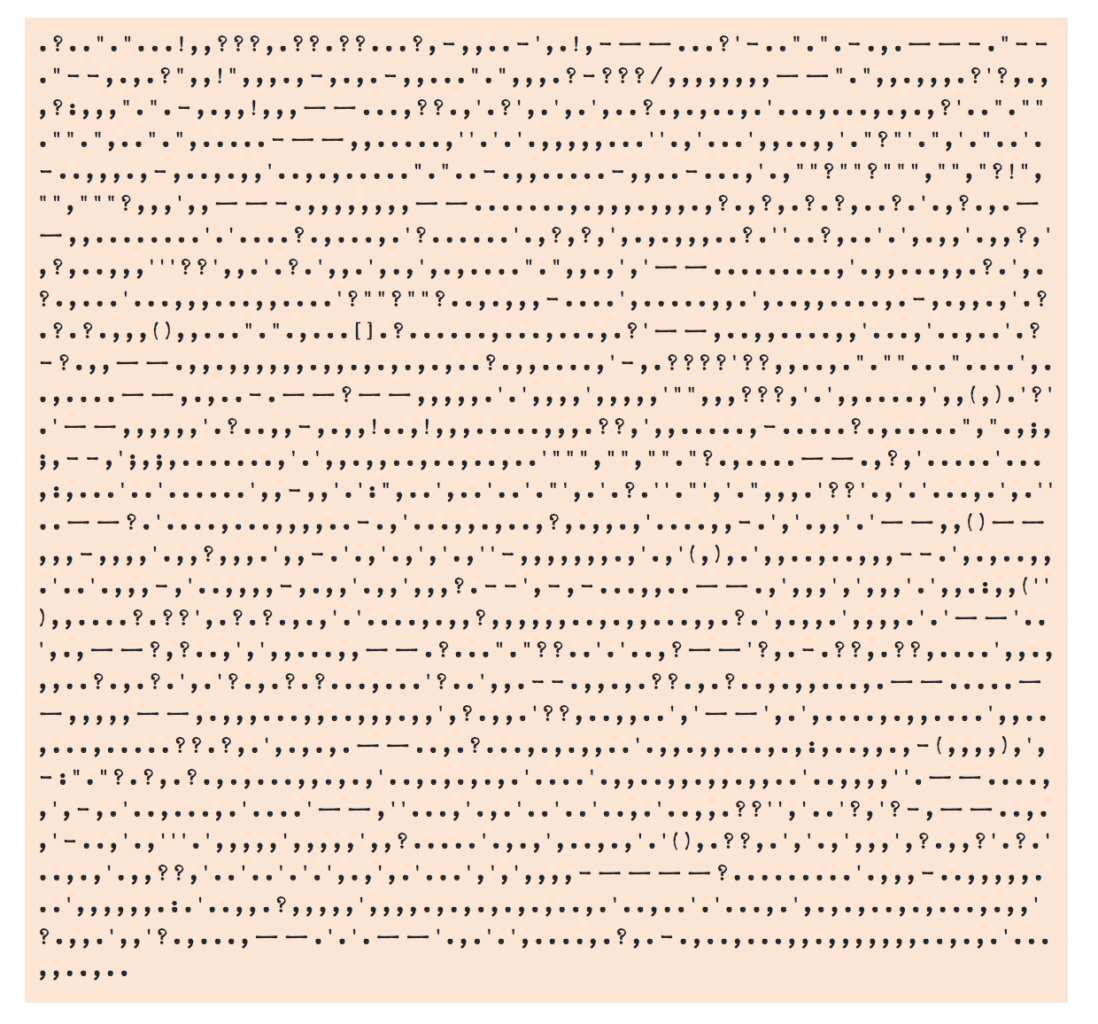 Humorous, voice-y parentheticals; a narrator working through their ideas by posing questions; dialogue that drives the story's action. All this—attributes characteristic of Saunders—is visible in the punctuation. The graphic resembles that of another Saunders story, "Escape from Spiderhead":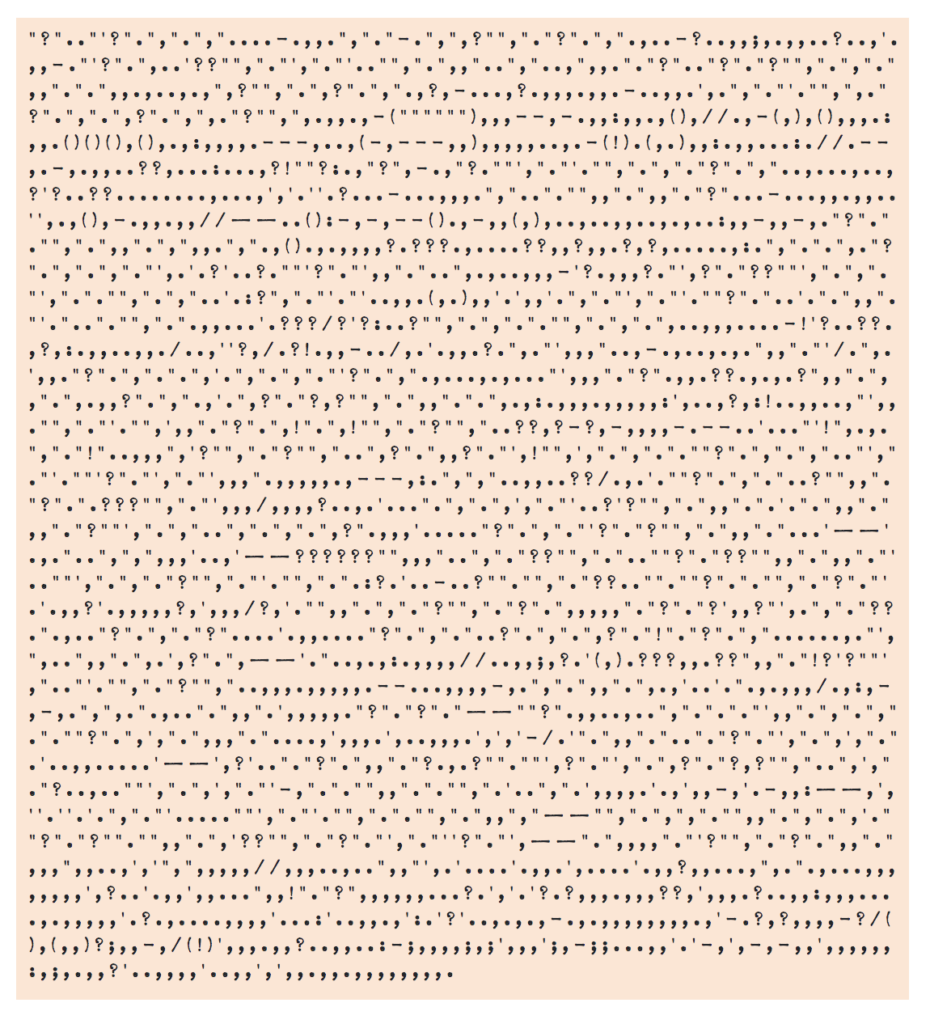 (Through the increasingly frequent commas, we can see the Spiderhead narrator's rapid epiphany at the end of the story.)
Here are a couple more, because why not? It's fun to compare your impressions of writers against their punctuation. Here's Ottessa Moshfegh's "The Beach Boy":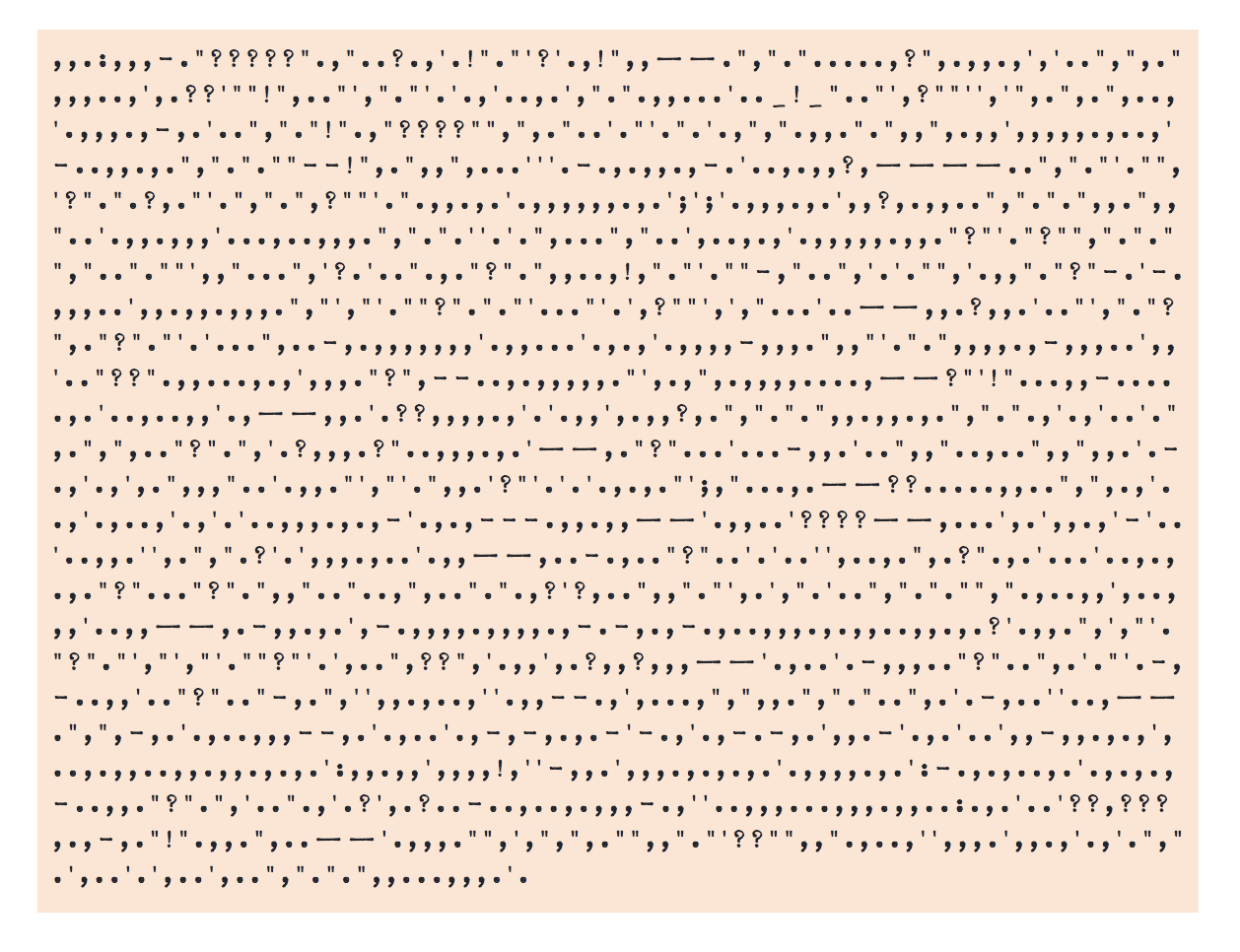 Here's Sally Rooney's "Unread Messages," an excerpt from Beautiful World, Where Are You: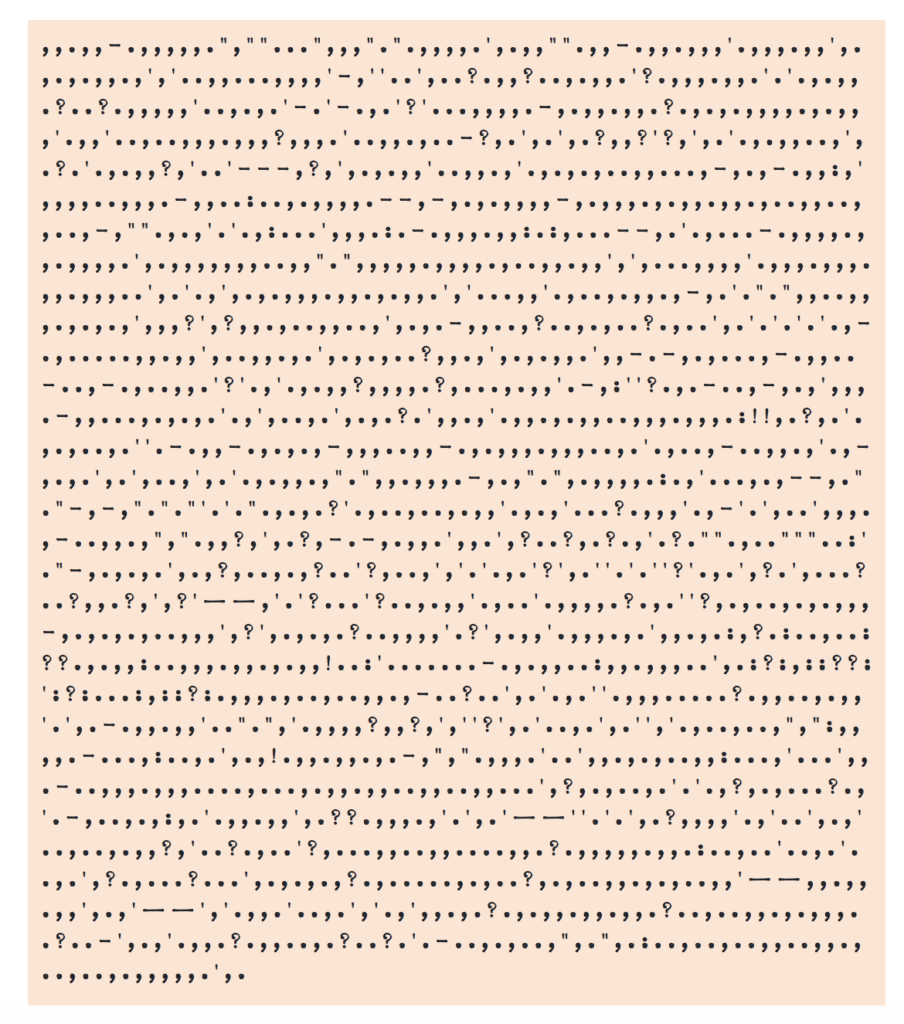 And here's this very blog:

You can try Thompson's "just the punctuation" tool for yourself here. Try it on some of your favorite writers, or paste in several different works of yours: you just might unearth your own literary style.