This Is Us Pursues Blackness, But Can It Find It?
Calvin Baker on Randall the Ubermensch
One of the most popular TV shows in recent years, This Is Us, depicts a loving couple who, after losing one of their triplets during childbirth, adopt an orphan from the maternity ward to fill the void of their grief. The show's twist is that the third would-be triplet is African American, making the larger social questions of integration a family drama, in which race and racial difference is, like dating, self-acceptance, career setbacks, and other typical plots of network drama, simply another complexity of modern life.
Television, which was invented in the United States, is among the most quintessentially American art forms. Since the inception of the medium, people have recognized its power to create national narratives both of America as it is but far more often as we would have it be. As mass culture, electronic visual media represent a crossroads of the national interior, a place where public life and the stories and symbols that inform our private selves intersect. The examples focusing on race—from Amos 'n' Andy to The Wire—are no exception.
In This Is Us, Randall, the adopted brother, portrayed with understated aplomb by Sterling K. Brown, happens to be academically gifted, scrupulously decent, clean-cut, and handsome. He works as a successful Wall Street trader and, in his domestic life, is a self-sacrificing family man. A character as unobjectionably admirable as any role ever played by Sidney Poitier in the 1960s, when the color line was first contested in mainstream cinema. He is a Barack Obama figure white people wish was their friend, or better still their brother, and on the small screen he can be. The colonists in early Virginia would have seen in him the perfect black Englishman.
Randall is such a model minority, in fact, that the only person who has a problem with him is his fictive brother, Kevin, who, in a pique of sibling rivalry, worries he is being universally displaced by black men after an African American is hired to take his place on the successful television show he had helmed.
However improbably, the theme of black children adopted into white families is a television staple.
It is a reflection of the feeling he has been supplanted by his darker brother in their mother's affection, but also a sly comment on white insecurity, which the show plays for laughs. At that level of success and quarters so close, whatever beef they have is less about race than the two of them.
However improbably, the theme of black children adopted into white families is a television staple. This Is Us shares symbolic DNA with earlier shows like Different Strokes, which enjoyed a smash run of eight seasons between 1978 and 1985, and Webster, also wildly popular, about African American kids adopted into white families. The heritable trait is that in each case it casts the family in question as the white savior of a black orphan.
In the real world the practice of "transracial" adoptions was relatively rare at the time of Randall's fictional adoption, in the mid-1970s. As of 1972, more than 50 thousand white couples had adopted black children, but the practice soon came under attack, primarily by black social workers who feared the kids would become deracinated and thus ill-prepared to deal with life as black adults in America. In the real world, black people, knowing exactly how many they had seen orphaned, wanted white saviors nowhere near their children.
Randall turned out fine, save the psychological need to be perfect and, modern America being what it is, suffering from a latent anxiety disorder. In addition to insecurities common to the adopted, this need to be perfect represents the burden of expectation. Because as one increasingly understands that the white world is predisposed to judge black people through the negative lens of race, one performs in a way and excels to a degree that overcomes such biases.
Randall may have integrated his gated Westchester community and attained every other spoil of bourgeois success, but he remains unable to integrate himself in a manner that simply allows him to exist, without special explanation or performance. It is a character trait that tells as much about the individual as the larger project of assimilation, a black adjustment to the subconscious conditioning of whites, and one of the ultimate tests of the race line: the freedom to exist within oneself and society without division.
As a metaphor for transcending race, the family drama is an obvious one. But it is also more than metaphor: after all, of the four million people who were emancipated by the Civil War, a million of them are believed to have been of "transracial" parentage. The interrelatedness of Americans across the race line is an uncomfortable fact buried in the national subconscious. Slaves were not only born "in the family"; often they were family. The appeal of the premise is in allowing us to explore a psychologically charged issue at safe remove. Catharsis for sin and shame, rejection and guilt.
Besides Randall the Ubermensch, the show keeps racial compartments scrupulously neat. There's no interracial dating or friendship in the lives of any of the triplets. The white kids live in a white world, and Randall leads the life of any other affluent Afro-Saxon, albeit in isolation. 
The one significant time there is traffic across traditional lines of race, with its implicit destabilization, it is when Randall's adoptive mother, Rebecca (Mandy Moore), sleuths out his biological father, William (Ron Cephas Jones), taking the bus across town to find him. They are united by mutual concern for Randall's well-being, and through this able to see one another.
They maintain a correspondence over the years, which Rebecca hides from Randall, who discovers as an adult that she knew who his biological father was all along and hid it from him. In its vigilant nosiness, its protectiveness, its well-meaning fallibility, it isn't only insecurity of losing her child but a perfectly maternal act. Who but a parent could do something to you so messed up?
Following a strange man across the tracks to an unknown part of town to confront a threatening figure serves as a classic chthonic transformation ritual: Orpheus or Persephone in the underworld, Jesus rising from the dead. In Rebecca's case the phase shift isn't from mortal to god, but stranger to kin. She has crossed a forbidden boundary, not of life and death, but of race. There will be other moments of cross-cultural awkwardness to navigate and insider information transmitted, but this is when she becomes not only guardian but mother.
The reason that William had abandoned his son is because he suffers a drug addiction and is unable to care for the boy. Randall's adoptive father and brother also have addiction problems with alcohol. It would be impossible for Randall to deal with the fear of being unloved or not belonging by turning to drink or drugs, or even a therapist. Instead, he "self-corrects" when faced with adversity, stuffing it all back inside.
Randall's backstory is that his greater challenge is not to be accepted by whites but the need to find the spiritual fix he needs from the black world. He accomplishes this by choosing black friends, marrying a black woman, and taking a road trip to Memphis with his biological father, where the two make peace with each other and old-timey black culture.
The black Ubermensch is a figure of emotional discipline. He must be or else risk activating the rat-level race stereotypes his persona is built to defeat.
Soon afterward he furthers the connection by deciding to foster the hardest-of-luck children, a preteen girl who brings with her every problem black America is said to be beset by. He wishes to honor his dead biological father, his deceased adoptive father, but really to plug his suburban soul into the socket of the great black world to save and be saved by it. He is seeking an authentic self.
In all other respects his is a life of assimilation into white norms. He's the exceptional black man, now attending to the problems of the black community. For the show's white characters their own individual needs are paramount in a way Randall's can never be, because as the black person in the white world, but also as one of a handful of blacks privileged to cross the racial divide, he is still as much symbol as man.
There is only one occasion when his Ubermensch persona cracks: under intense pressure at home, he doesn't manage to properly prepare for an important work meeting. Instead of asking for or hiring help, he decides to wing it. His lack of preparation becomes apparent during the meeting, and one of his colleagues, an Asian American, steps up with the necessary information, the model minority now usurping his place at the table. Randall subsequently loses the account, an effective demotion. It is a one-strike rule that he has internalized: there is no room for imperfection.
In the wake of this he realizes a series of small slights from his boss over the years: failure to remember an allergy, small things forgotten. The discourtesy may or may not be racial in nature. Certainly it is not a charge Randall would make in public; after all, the entire point of your life has been to prove you can excel without crutches. Of course there is a racial undercurrent, the element of contingency, the discount on your achievement, but you know how to deal with it.
His demotion serves as a catalyst for him to claim his true worth, which he does by quitting his job. He is right to leave, of course, but as a plot point it is hard to believe, because telling the man what's on your mind and quitting in a blaze of glory— what with two kids, a wife who works as a homemaker, and a mortgage—is an emotional act, and the black Ubermensch is a figure of emotional discipline. He must be or else risk activating the rat-level race stereotypes his persona is built to defeat. No wonder the man suffers from anxiety attacks. 
__________________________________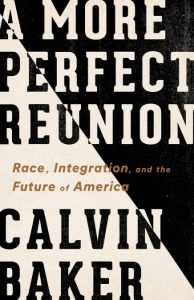 Excerpted from A More Perfect Reunion: Race, Integration, and the Future of America by Calvin Baker. Copyright © 2020. Available from Bold Type Books, an imprint of Hachette Book Group, Inc.
---