Attending last week's New York's Antiquarian Book Fair, I came across an unusual children's book: Kriebeltje de Boskabouter (in English: Tickle, the Forest-Gnome). One of the current listings at the rare books dealership Type Punch Matrix, this Dutch children's paperback from the 1940s tells the story of a small forest elf who goes on a frolicsome adventure. But one of his meanderings causes him to encounter a strange caterpillar, who bears significant resemblance to Adolf Hitler.
The creature has an insect's body and a human head, complete with stringy side part and toothbrush mustache—a true monster, but also extremely puny and unimportant. He's also extremely self-pitying. So there's that.
Indeed, not long after they meet, the Hitler-faced caterpillar is pierced with the pincers of an ant, and duly eaten, allowing Kriebeltje the gnome to continue on his merry way.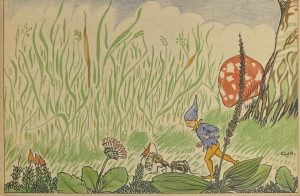 Published in the Netherlands circa 1943, ostensibly by a female author known only by the name "Clia," Kriebeltje de Boskabouter was a subversive, anti-fascist children's book likely produced at great expense, and at enormous risk. Type Punch Matrix co-founder and rare book dealer Rebecca Romney notes the beautiful color illustrations, as well as the book's thick wartime-paper pages, as indicators of committed wartime resistance and underground production—the Netherlands was occupied by the Nazis at this time, which certainly means that if the producers were caught, they would be in grave danger.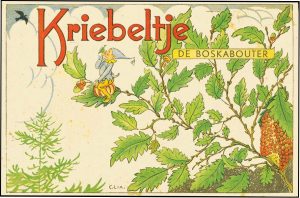 Also noteworthy, perhaps, is this caricature's complicated thematic double-bind of hope and foreboding: not only is Hitler represented as inherently pathetic, insufficient, and disgusting by being a bug in the first place, but he is also still represented as a potential threat, by specifically being a caterpillar, which is an insect at its first major stage of growth, consuming until it grows large enough to expand. That he is he easily, effortlessly cut down before he has a chance to transform into a butterfly reflects the hope that fascism will be snuffed out before it grows a dangerously powerful wingspan.
Which is a nice story. And the fairy tale we all still wish would come true.