Do you have a smush of a child who is aged in between eating books and listening to you read them? Then you probably own three or six or twenty Sandra Boynton titles. Boynton, who has sold over seven million copies to parents around the world, is the master of board books. Her hand-drawn animals range from silly (Oops!) to morose (one hippo, all alone!), and have a magnetic pull for toddlers and adults alike. My kids can easily memorize the story or chew on the rounded corners. I can see that each anthropomorphized animal, drawn with a seemingly shaking, maybe unstable hand, is just trying to get through the day. After reading a number of her books roughly one thousand times, I have been able to rank the very best Boynton books for you here. (You may notice an absence of Pookie the pig, and that's because I find him distasteful.)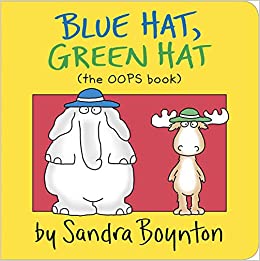 Different items of clothing are different colors, but one item is always the wrong color. Where did the purple socks come from, though?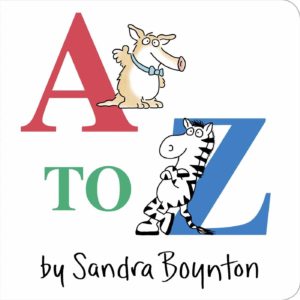 9. A to Z
Simple, yes. The alphabet coupled with animals, with excellent use of alliteration. Towards the end it sort of devolves with "Ugly birds" and "Vicuña" (which I have to look up every time to confirm it is a hoofed mammal that lives in western South America, like an alpaca), but as alphabet books go, it's well done.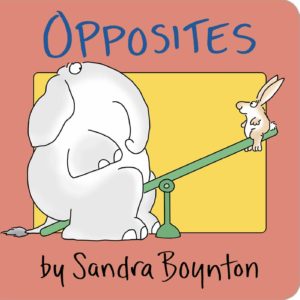 8. Opposites
Besides being a completely charming book listing opposites—big and small, short and tall—the rhyming is so delightful to read. Part of the joy in Sandra Boynton books is encapsulated in this particularly simple board book—as we teach the basic concepts of ideas at differing ends of the tall spectrum, or the right and wrong spectrum, we can also revel in the expanse of the English language, finding elation at the smallest and tallest moments.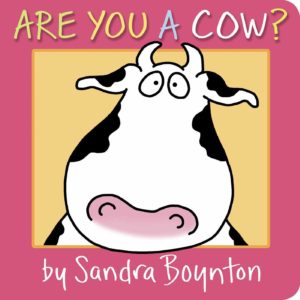 A somewhat aggressive chicken tries to identify the reader of this top ten Boynton title. A little misleadingly, there's only one page which questions, 'Are you a cow?' which is quickly answered, "No." While the chicken continues to ask if the reader is specific animals, we are continually told No. At the end, though, we learn that we are "You" and that's great.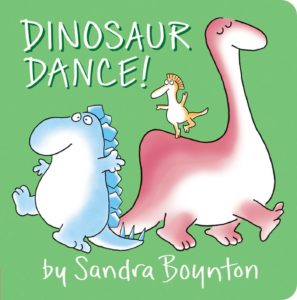 Are you powerless to stop your toes from tapping and hips from shaking in response to Rosemary Clooney's syncopated quasi-skat-jazz gibberish? Then friend, have I got some wonderful news for you:
ZANG! BOP!
KIDDLY POW!
The DINOSAUR DANCE
is starting NOW!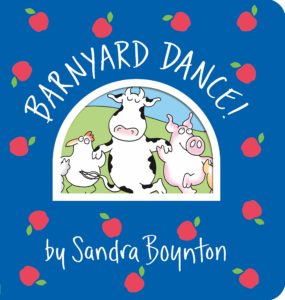 Yes, another dancing book, but here's the rub: Barnyard Dance is an elaborate dance that requires various farm animals to engage with each other on their level. You don't simply dance with the horses, but prance with them; ones slides with the sheep, hops with the frog. It is a wonderful metaphor for the way in which we must relate to each other on different levels, and it uses the word promenade as a verb.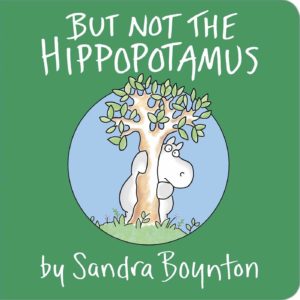 Assorted mean-girlish animal cliques engage in aggressively full-rhyming hijinks, ruthlessly excluding one poor forlorn, semiaquatic ungulate. Until, for no discernible reason besides vapid caprice, they deign to include her at last. Which precipitates a moment of crisis. Should she stay (and remain in dignified isolation) or should she go (and debase herself in the name of participation)? She is worn-down, weak-willed. And so she goes—and can you truly say that you would do any different? But another must take her place, be pushed to the outside, cast off. The armadillo. Ha-ha, you stupid armadillo! Brutal.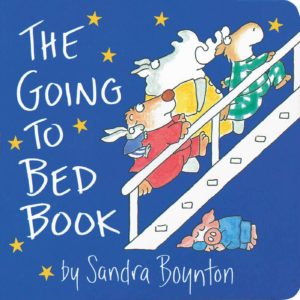 The best analysis of this book is in this 2015 New Yorker article—tl;dr, the sing song upsetting of ritual is, in fact, a metaphor for infancy, for parenthood, and indeed, for life itself.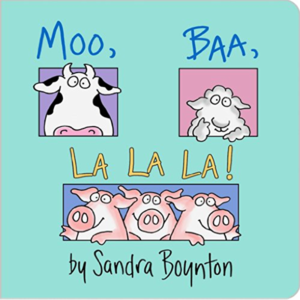 This is just a really great book to get babies to start making animal noises.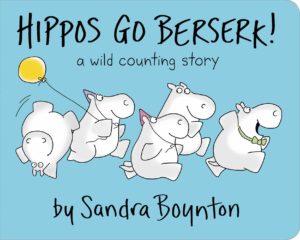 The ultimate Boynton book, with the complexity of Brecht. Here, a hippo deep in his isolation, calls his friends to join him. More and more come, in increasing numerical order—some to play, some to work—so that when the house becomes saturated with hippopotami, they simply GO BESERK. Like some sort of bacchanal, they dance Through the hippo night until the hippo break of day. Then, in the crisp morning air, they leave in the groups in which they came, going east and west, via helicopters and horse-drawn carriages. The first hippo finds himself alone once more. Spoiler alert, "Missing the other forty-four." Fin!