The Wound of Multilingualism: On Surrendering the Languages of Home
Sulaiman Addonia: "The words died in me, and silence became my language."
That morning in London in the early 1990s, I was on my way to a college in Kilburn to start my English course. To belong in a country you have to know its language first. That's what immigrants are told and are expected to do. I'd arrived in the UK months earlier as a refugee minor, with only my brother, who was also underage. What I did not yet realize was that that day would also be the start of the surrender of my then strongest language, Arabic, in order to give way to English.
The letting go of languages in order to learn a new one wasn't new to me. It is tied to my life trajectory of leaving one country to start a new life in another, and of parental abandonment. The sort of departures that leaves wounds. A new language meant loss for me, already in my childhood when I was about three. I was living with my Eritrean mother, my brother and sister, and my maternal grandparents in a Sudanese refugee camp to which we had arrived having survived a massacre and the murder of my Ethiopian father. Tigryina was my mother tongue. But when my mother left the camp for Saudi Arabia to work as a domestic servant for a Saudi princess, I fell silent. Without her physical presence nurturing the words, they died in me, and Silence became my language.
Amharic was a language of grief, of violence, of loss, of unattained longing. I stepped out of it quickly.
The brief efforts that followed to learn Amharic, one of the main languages of Ethiopia, with my father's relatives in the camp, stopped because each word I had learnt from this semitic language reminded me of my father's absence in my life. Amharic was a language of grief, of violence, of loss, of unattained longing. I stepped out of it quickly. I returned to silence. My silence, though, petrified my family, because, according to them, silence was for girls and as a boy I had to be heard, I had to sharpen the depth of my soft sound. They had repeatedly tried to pluck me out of the background to give me a voice at the center of the world of men.
Later, I was enrolled in a Sudanese school. Arabic became neutral territory. As if it was a garden made of words, I inhaled its poetic and flowery prose greedily so that it grew like lily flowers on my skin. Alas as my pores opened to this linguistic splendor, I drifted further from my Tigrynia and Amharic. By the time I followed my mother to Saudi Arabia, I was seen as a native speaker. I proved one is not born into a language, it is a language that is born in you.
The losses and gains of father and mother tongues planted the idea of language's wonders and wounds in my young mind. Arabic was like a necklace of white pearls around my neck, its foreignness and temporariness so visible on my skin. I feared that I would lose it in the way I had lost my mother's language and never mastered my father's. A feeling that grew deeper when our mother sent my brother and I to London in 1990.
And that morning in London, and before my brother and I made our way to our college in Kilburn, it dawned on me that I was always leaving, always learning, always catching up, always seeking to belong somewhere, begging one country after another to accept me, languages other than my own to adopt me.
Learning a language as an adult or in your teens, especially with a history of repeated migrations between languages and countries, is extraordinarily difficult. It isn't just about swallowing new words like passion fruit that glides down your throat. It's like chewing on stones breaking your teeth in order to seed the foundations of that new language on your tongue already heavy with many idioms. In other words, it's more than just words. It is about acquiring metaphors, learning the nuances, the synonyms, the history of words, the cultures, the rhythm of its roots. What is a cliche to a native speaker is a gem to a new learner.
And because of my history with losing languages and people, and leaving places and the ensuing traumas, my mind was already cluttered when I started studying English. There was no space in my head. To learn new words of English, I had to let go of some of my Arabic. It was like taking a hammer to the home I had built in the Arabic language word by word, over many years in Sudan and Saudi Arabia. My increasing strength in English correlated negatively with my Arabic. The more I felt at home in English, the less Arabic felt like one. So much so that learning a new language was to acquire a new wound. Multilingualism meant multi-wounding.
My increasing strength in English correlated negatively with my Arabic. The more I felt at home in English, the less Arabic felt like one.
A few days after we started our course in Kilburn, and on my English teacher's recommendation, I started reading a newspaper. The Guardian. I recall when I was seventeen or eighteen and I would sit with the Al-Mawrid Arabic-English/English-Arabic dictionary. Those days, I wouldn't even get beyond the headlines, spending hours translating every word, then the first paragraph, then half an article, then the full article, then one page, a second followed, and a third, until I was able to read the entire Guardian front to back page without the need of my dictionary. But by the time I was able to do so, I had lost touch with my Arabic.
The pain I felt when mixing up languages on the phone to my family back home and not understanding each other properly was a reminder of my separation from them and my distance from the languages I loved.
But English soothed me. It was a stream inside me, running between the pockets of wounds, the breeze lifting from its phrases casting like silk over the bubbles of fire under my skin. It enabled me to express myself, allowed this foreign born immigrant to come to it, gave him the chance to remold it, to feel safe in it, make it dance, have fun, and suffer with him, lose itself in him and him on it. I felt accepted by the English language even as British people had trouble acknowledging my existence.
The English language has a history of borrowing words, some would say stealing, from many other nations. But in my eyes, English felt like me, eternally wandering, crossing boundaries, leaping over borders, swallowing a phrase here, a word there, refusing to toe the line of fixating itself to one identity, one territory. My relationship with the English language was founded on the ability of both of us to adapt. Years after that first morning in London, I became a writer who writes in English. I remember people trying to dissuade me when they learned of my new career move. You can't write in your second language, they told me. But English wasn't my second, or third, or fourth. I no longer had a mother tongue to rank it against. How does someone like me measure the strength of a language? Is it how well I pronounce it or how well I thread its words to create a unique turn of phrase? Is it how solemn and somber I make it or poetically illustrate it? Sometimes, when I read copy-editors' comments on my books, saying things such as "how this or that sentence doesn't sound natural in English," I feel as if I hijacked a language and took it into a direction that only immigrants and those with a history of migration in their bloodline would understand. We the refugees and immigrants know that a language, like us, can re-settle somewhere far away from its native land and still feel at home.
I sometimes think that I know the English language more than I know any person in this world. When you are writing in a language acquired as an adult, there's a special bond because words don't flow naturally, not initially anyway. Instead you are always cajoling each one of them, doing your utmost to seduce, charm, racking your brain in the process, and challenging the core of yourself. And in the process, you are showing so much vulnerability that it seems you are not writing words on paper but on the surface of your skin.
English language that I started learning as a new young immigrant in London, that opened itself to me and to all my flaws and stories, replaced all my other languages as my strongest language, as my home, a home that I had built from scratch. My first novel came out in 2008. In 2009, I moved to Brussels.
In Belgium I was gripped by the fear of losing my English in the way I had lost most of my Tigrinya, Amharic, and Arabic. I couldn't bear the thought of shedding off the English words I had worked so hard to acquire. The words that had allowed me to write, to construct a home made of words. I couldn't imagine opening my body to this repetitive cycle of loss and gain once again. I resisted learning French and Dutch, instead isolating myself with Silence is My Mother Tongue, the second novel I was working on, moving around the city at the heart of Europe like a hermit, with English, like the moon in Neruda's poem, living in the lining of my skin guiding me through those dark years.
__________________________________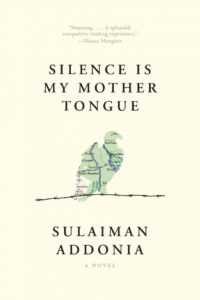 Silence Is My Mother Tongue by Sulaiman Addonia, is available now from Graywolf Press. 
---