The Wire and Other Baltimore Shows Are Great TV, But There Are Reasons to be Wary
It Has Less to Do With Cops Than with the Visuals of Blackness
When Roc premiered on the Fox television network on August 25th, 1991, it opened with Charles S. Dutton as Roc Emerson, a Black sanitation worker who lives with his family in Baltimore, settling on the couch to watch The Simpsons. His father, a retired Pullman porter called Pops, comes downstairs and asks Roc why he's watching Fox's controversial hit animated show about a white working-class family when The Cosby Show, a sitcom about an upper-middle-class Black family, was on at the same time. Roc responds that he's curious about The Simpsons because people have told him it's funny. Pops puts a hand on his shoulder and, with mock seriousness, tells him, "Son, we're Black."
A laugh line to be sure, but Pops expresses the assumptions of network television executives that racial solidarity would tether Black viewers to The Cosby Show. It also suggests how cities were depicted on TV. Rarely would a sitcom locate a working-class family of any race in an urban setting. While the Huxtables lived in a beautiful Brooklyn brownstone, the Simpsons resided in small-town Springfield. Roc, however, made its Baltimore location a major aspect of the show.
It was not alone in using Baltimore as a setting. In 15 of the 17 years between 1991 and 2008, a critically acclaimed show about Baltimore aired on television. Two men were responsible for these representations. Dutton, a native Baltimorean, became an actor, director, and producer following his release from prison. Roc's creator, he starred in the show from 1991 to 1994. David Simon began writing nonfiction books while a reporter for the Baltimore Sun. His first, Homicide: A Year on the Killing Streets (1991), told the story of a group of homicide detectives in Baltimore and their fruitless attempts to find reason in the city's rising murder rates.
For The Corner (1997), an examination of the war on drugs from the perspective of drug addicts in West Baltimore, he and Ed Burns, a former Baltimore homicide cop and schoolteacher, hung out for a year on one of the city's most notorious drug corners. Both well received, Homicide became the basis for the acclaimed television cop show Homicide: Life on the Street (1993–1999). Simon adapted The Corner into a miniseries directed by Dutton for HBO in 2000.
Television, like film, in the 1990s and 2000s became a critical site where the meaning of Blackness and its relationship to history was debated.
Simon also created the most significant representation of Baltimore and of post-industrial cities in the early 21st-century, The Wire (2002–2008). Also on HBO, The Wire was a police procedural about drug dealers and cops. Beyond that, it examined the changing meaning of work under neoliberalism and the insufficiency of institutions from public schools to city government to contend with social problems caused by decades of inhumane public policy.
These men—and the writers, directors, actors, and others employed on their shows—created an unprecedented representation of Black life in Baltimore. While critics have derided television as a vast wasteland, these shows suggest the ways that mass popular culture can encode counter-narratives. Each show drew from recognizable genres, like the sitcom or police procedural, but pushed generic limits through explicit engagement with politics, complicated characters, and stories without resolution. African American cultural producers and others have explored the stories of Black people in Baltimore for decades, but the realities of distribution constrained the spread of those depictions.
Dutton's and Simon's access to television brought their representations to broader audiences than ever before. Not just entertainment, they intended them as political interventions. They used these localized stories as windows into broader issues affecting the Black community and cities everywhere.
While each of these shows has been written about separately, by examining them together, we can think about the way television countered the official and popular cultural narratives about Baltimore put forth in the 1980s and 1990s, during Baltimore's so-called renaissance. Simon and Dutton responded to the municipal hype machine that swept Baltimore's growing racial inequity beneath the rug of marketing campaigns, inoffensive art, and stories about eccentric white people.
They mobilized national and local African American history and memory to promote responses to neoliberal economics and political disenfranchisement. By contrasting official histories with a people's history, they suggested the availability of multiple historical narratives and the privileging of certain stories over others.
Television, like film, in the 1990s and 2000s became a critical site where the meaning of Blackness and its relationship to history was debated. People learn about the past through culture, from historical fiction to documentary films to less didactic texts. As media studies scholar Herman Gray argues, "Representations of blackness that are produced and circulated within commercial media and popular culture constitute strategic cultural resources and social spaces where the traces, memories, textures, definitions, and, above all, struggles for and over social and cultural life are lived and waged."
Although only Roc can be called a "Black show" because its intended audience and point of view were Black, all of the shows under consideration here are primarily about Black characters. They drew from and shaped ideas about what Blackness meant, particularly in urban locations. As public historians have pointed out, the way we narrativize the past matters because it leads to specific actions in the present.
In popular historical memory, for example, the urban uprisings of the 1960s caused white people to leave cities like Baltimore, resulting in urban poverty. Although this story ignores evidence that whites were leaving long before the uprisings and that policies like urban renewal caused the impoverishment of urban neighborhoods, that it is widely believed leads policy makers to imagine that urban problems would be solved if white people could only be convinced to move back to the city.
Were Charles Dutton's and David Simon's political messages received, or were they drowned out by the voyeuristic way that many white viewers watch shows about Black life?
Shows like Roc, The Corner, and The Wire question how history is written and who is meant to consume those stories. Each show grapples with the implications of black history for the present. In Roc hard work and personal responsibility merge with community activism to save the neighborhood. Although Fox cited low ratings, the abruptness of Roc's cancellation suggested that the network was uncomfortable with Dutton's explicit politics, which were threaded through the show in storylines about civil rights history, Black nationalism, and contemporary politics.
The Corner uses the history of the Great Migration, residential segregation, and white racism as the backdrop for its examination of the lives of serious addicts. It argues, implicitly, for ending the War on Drugs and, explicitly, for a liberal response: opening more treatment centers. Finally, The Wire surfaced stories about the history of the Black criminal underworld in Baltimore through collective memory. These stories, which rarely appear in history books, are a source of community pride, though, as we see through the ultimately tragic character Stringer Bell, they are impossible to reproduce in the neoliberal present.
These shows reached millions of people. On network TV, Roc and Homicide could be seen by any American with a television. Although The Corner andThe Wire were restricted to a smaller market of cable subscribers, both are available as DVD box sets. As of 2019, The Wire is also available to stream on Hulu. The box set and streaming have allowed the show to attract new fans since the conclusion of its original run.
Were Dutton's and Simon's political messages received, or were they drowned out by the voyeuristic way that many white viewers watch shows about Black life? Regularly cited as the best television series ever, The Wire has had a greater impact on how people see Baltimore than any other representation. The complexity of this series has drawn scholars to it from across many disciplines.
But, for many of its fans, The Wire is not a crash course in urban studies but a show about quasi-mythical gangsters fighting flawed-but-brilliant cops in an urban fantasy realm. As with the circulation of rap music in the 1990s, the allure of danger drew fans. Through these narratives, Baltimore became Bodymore, a place defined by Blackness, heightened experiences, and death. The pleasure of viewing comes from consuming this spectacle as an outsider.
__________________________________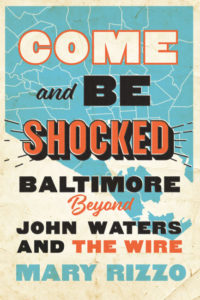 An excerpt from Come and Be Shocked: Baltimore Beyond John Waters and The Wire by Mary Rizzo, published with permission of Johns Hopkins University Press.
---