The Weirdness of Promoting a Book in the First Year of Trump
11 Writers on What if Felt like to Shill for Literature in 2017
Promoting a book is difficult in the best of times. The market is flooded, and (paradoxically, perhaps) more or less irrelevant to the average American, at least compared to film and television. But promoting a book in the past year seems like it must have been a particularly grueling task. The 2016 election took many of us by surprise (whether it should have has been litigated at length elsewhere, so I won't address that here), and suddenly, it seemed that any kind of art that didn't pointedly address the apparent new world order was irrelevant. Any art that did address the new world order? Too on-the-nose when we're already so tired from the news. Many complained of not being able to consume art at all, much less make it, much less try to sell it. When every day brought a new tragedy, disaster, cruel policy initiative, blatant lie or bizarre tweet from the new President, I saw many writers apologizing for promoting their new books. I understood: they felt like they had to; they felt like they couldn't. I tracked down a few writers who have had books published since November 2016 and asked them how it felt to promote a book during the new Dark Age of Trump. Here's what they told me.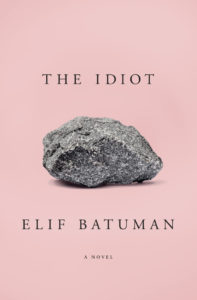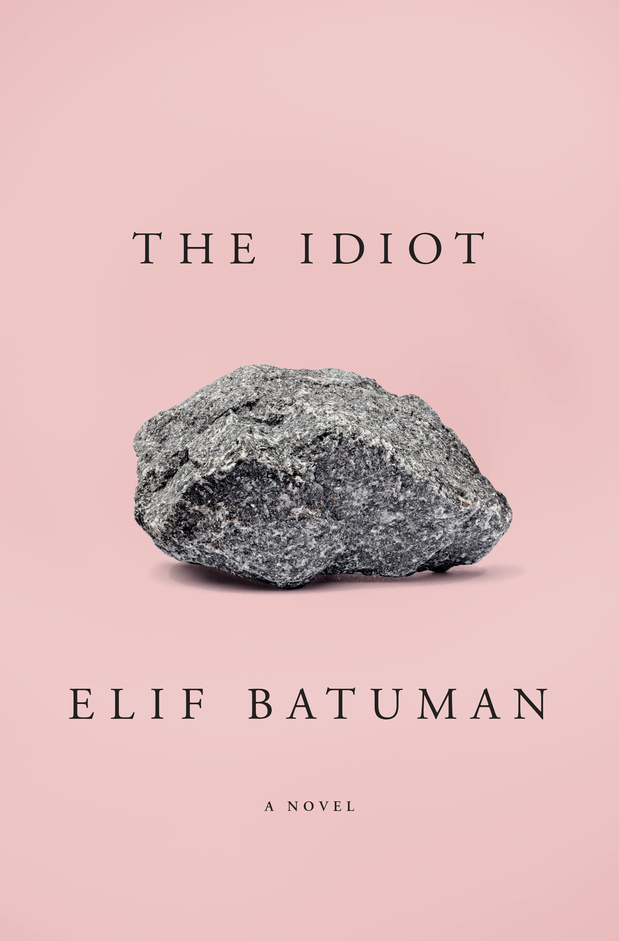 Elif Batuman, author of The Idiot
One of the most insidious parts of living under a leadership that is actively trying to stoke terror and rage on a daily, even hourly, basis is that all forms of human activity start to seem incoherent and lose their meaning. With more appalling news than anyone can possibly read being generated every day, it hasn't been a fun time to go around being like, "Hey guys, I wrote a novel about a young girl meditating on the formal possibilities of language."
But look: the point of the novel, one of the points of the novel, is that our life stories, as we experience them and tell them to ourselves, are inextricably bound up with history. Nobody gets to choose when and where they're born, or what historical period they live through. If they did, we wouldn't have novels. If Don Quixote could have just opted into the age of knight errantry, he would have been the hero of yet another romance—not of a hilarious brand-new art form.
In the past year, as in most years, novels have brought me more comfort than any other cultural product. If anything, the current political moment—lurching historical surprises, the revisions to how we think of America, the collective effort to translate between people's visible political actions and their unknown private frustrations—have made me more committed to the novel as a form, to its unique capacity to convey complicated truths about the world, and to bring comfort and solidarity. I've tried to take the challenges as an invitation to think harder about why I'm doing what I'm doing—not as a reason not to do it. And I'm already working on two new novels.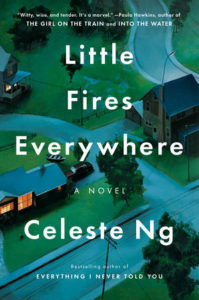 Celeste Ng, author of Little Fires Everywhere
One of the questions I've been asked most often on book tour is why I chose to write a book about race and class at this particular political moment. The truth is that I didn't at all plan to write a book for the Age of Trump. I got the idea that would become Little Fires Everywhere in 2008, wrote the book from 2014 to 2016, and sold the novel in September 2016, when I expected we'd be in a very different political climate than we are now. So the issues in Little Fires Everywhere have been on my mind for some time, and honestly, they've been present all along—it's just that now they're at the forefront of our national conversation.
It feels awkward and even crass, sometimes, to be promoting a book while it feels like the whole world is falling apart, often quite literally. But I'm happy that the book is adding to our discussions about who we are, and who we want to be, as a nation. Maybe I'm just rationalizing. However, I really do believe that literature has the ability to create empathy and change minds, and I hope my book can be part of that. I hope the questions it raises—about race and culture and class and privilege of all kinds—encourage people to examine their own biases and, as one character puts it in the novel, decide what they're going to do about it.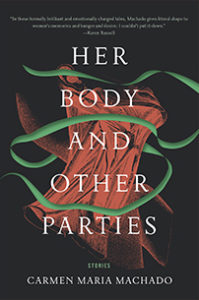 Carmen Maria Machado, author of Her Body and Other Parties
It has been weird trying to promote a book this year. I also got married this year, and it was weird to do that, too—to be concerned about centerpieces while the circus tent of America was billowing and collapsing around us. I spend a lot of time with my cursor hovering over composed tweets about my book, or a bad Caesar salad I ate, or whatever, wondering if maybe I need to abandon my entire artistic life and go do something useful. Sometimes, I don't post. Sometimes I do. It always feels weird, even though the beauty of something like Twitter is the ability to be having hundreds of simultaneous conversations on vastly different wavelengths.
But also, I'm excited! That's okay, right? It seems weird to put my emotions about my book—the culmination of a lifelong dream and a shit-ton of hard work—on hold because the world is absolute garbage and that garbage has raised its garbage head in a particularly egregious, garbage-y way. My book is a middle finger to the garbage, so at least that feels pretty damn satisfying, even if nothing else does.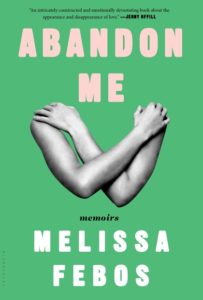 Melissa Febos, author of Abandon Me
For most of us, self-promotion feels tacky no matter who the president is. But it feels especially tacky to be asking for the attention of your community when the 24-hour news cycle broadcasts high-order crises day after day—the rolling back of civil rights, deportations, and marching white supremacists. As my pub day approached, just a few months after the election, it felt impossible to imagine publicizing my own book. But I did. A lot of us did, and are.
What gave me permission was the clear knowledge that what I craved in the midst of my own fury, despair, and obsession, was not the disappearance of personal narratives, of books like my own. In fact, increasingly, I needed respite from the news cycle and my own reaction to it, from the burnout of marching and calling and planning and teaching. I needed a respite that would allow me to leave my own mind, but would also nourish it. That is, I needed books. Especially those humane, compelling, beautiful books that had always helped nourish me, reminded me why we resist, why we stay engaged, why it is worth continuing to care when it hurts so much.
I had worried that my story of obsessive and destructive love, of abandonment in its many forms, of sex and identity and historical legacy and fathers would seem trivial in the current political context. In the past year, I have come to understand a few things, among them that abandonment issues don't disappear under a nightmarish administration. People continue to have obsessive codependent relationships under a sociopathic president. Unfortunately, bigger trouble outside of us doesn't minimize our inside troubles. I have the emails from readers to prove it. A humane treatment of these topics is as needed now as any other time. Perhaps, more so. If there isn't room for beauty, for connection, for empathy—it's hard to remember what you are fighting for. So, no matter how bad it gets, please, keep telling me about your beautiful books, your stories of people finding better ways to love, to recover, to fight.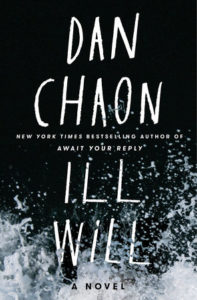 Dan Chaon, author of Ill Will
I've been lucky in the way my books have been received. Ill Will got great reviews, and I was proud! I haven't seen the sales figures but I think it sold okay because it was briefly on some bestseller lists, whatever that might have meant in March of 2017, by which time I think everyone was kind of realizing that we'd truly taken a step over the line and there wasn't going to be an exit. There was just a general weirdness in that Trump's America seems to suck everything into a discussion of Trump's America, like we can somehow analyze our way out of this. My book is about people who get drawn into nightmarish conspiracy theories, people who have trouble distinguishing reality from lies and fantasies, and reviewers frequently commented that it was "prescient," that it seemed to speak to the times, and I was, like, "Yeah, but it's a supernatural horror novel." And they were like, "It is?"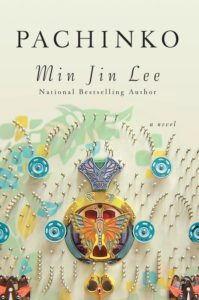 Min Jin Lee, author of Pachinko
Ever since last November, like many of you, I have felt shaken.
So, for what it's worth, when I'm on tour and my flight is delayed for hours or canceled with little notice, or when four people show up at an event and I'm embarrassed at being obscure, or when I just plain miss being home, I try to remember what I tell my students.
For over 20 years, I've volunteered as a writing coach and mentor to high school seniors from varying income levels to teach them how to write college application essays. You can just imagine what my students tell me—their real dread of the rigged admissions system, their shame of lackluster test scores, the jerks in their class who cheated to get the best grades, the rich kids who get the fancy help, and of course, how very hard it is to imagine a bright future. My students of all races and backgrounds have had to deal with family suicide, divorce, parental abandonment, learning disabilities, depression, alcoholic parents, eating disorders, sexual abuse, being undocumented, racism, and poverty. I love my students, including the ones who can't meet their already extended deadlines. My kids are bright, insecure and afraid of failure. And the ones who are kind and hard-working when no one is looking or giving them praise—how can I not love them? My students are good kids but feel defeated even before getting started at life.
So when they get discouraged, this is what I tell them:
When the bad guys are winning, the good guys can't sit it out. Get in there. I'm rooting for you.
We are disheartened, shocked and tired, but I think we have to keep reading, writing, and building up our communities. I think this is how democracy works. I think we have to get in there.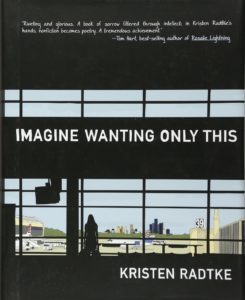 Kristen Radtke, author of Imagine Wanting Only This
The business of promoting myself as a writer—which I'd spent years telling other authors was so important when I worked as a publicist—often felt gross and irrelevant to me after Trump's election. We had to ask questions like, "How is my work relevant in the age of Trump?" and spin things in a way that sometimes felt opportunistic and dishonest. I'm not sure what to say about it other than that art is still important. It will continue to be important. Books will make great kindling to keep us warm during to apocalypse, right?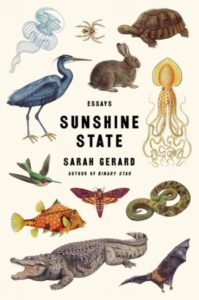 Sarah Gerard, author of Sunshine State
My second book, Sunshine State, came out in April. Three months before that, my then-husband, who had been battling cancer since June and relied on Obamacare, was told he was clear, and shortly afterward, we separated. The election of Donald Trump was a contributing factor in our separation. I've heard many similar stories from people in relationships with straight, white, cisgender men like my ex, around the time of the election, and in the months following. It strains everything. Our partners feel like strangers or enemies. I should say that for most of the ten years prior to my separation from my husband, I'd thought I was straight. Now I date women. The change was immediate. I'd had a girlfriend for a few months in high school, but after a sexual assault just before I left for college—which I write about in Sunshine State—I spent the next 14 years in back-to-back heterosexual relationships with controlling partners. The idea of sleeping with a man now makes me ill.
I say this because the condition of being a writer with Trump in office is intertwined with being a human with Trump in office. I regard my work with more scrutiny. Everything I write addresses the fact of him in some way, even slanted. Promoting a new book, I have a heightened awareness of its presence at the cross-section of late capitalism and political action. I have a platform for speaking out against bigotry, and a responsibility to model communication that emphasizes honesty, inclusion, and empathy.
Simultaneously, there is something deeply bizzare about engaging with the internet at this period in time. I feel it necessary as a writer to promote my own work. The platforms where I do so—Facebook and Twitter—are the same that I use to keep up with current events. Tweeting about an interview, book review, or live reading alongside stories about trans veterans' exclusion from the military, or limiting access to healthcare, or the travel ban, or the Mueller investigation, or kneeling during the national anthem—well, it feels trite. It feels about as childish and self-centered as anything @realDonaldTrump is tweeting. But as writers, we must continue to remind ourselves that literature fights on the side of good. That, although we're promoting objects in the great sea of commerce, we're also promoting free speech and the free sharing of ideas. We bring awareness to our books' contents.
Sunshine State grapples with politically pertinent issues that include domestic violence, religion, homelessness, and sexual assault. Bringing these issues to light has never been more important. The key as writers, as we continue to do our work, is to continue also looking outward, and engaging with the world at large. Think about how we're uniquely positioned as writers to be agents of change.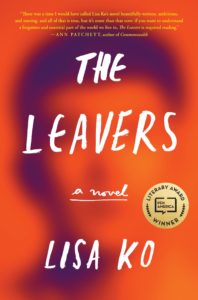 Lisa Ko, author of The Leavers
In between the occasional doomsday joke ("The paperback will be out next spring, if the world's still around"), it's been a struggle at times to balance book promotion with the psychic toll of everything else. Like I'm tweeting terrible, alarming news one minute and BUY MY BOOK! YEAH! GO TO MY READING! the next. Sometimes it feels uncomfortable to be promoting my work when there's also so much to mourn and rage about. But then I remind myself that we've only arrived at this political moment as the endpoint of many, many years of similar political "moments"—really, the entire history of this country—and if we can't make and celebrate our art (and advocate and agitate), then we're truly lost.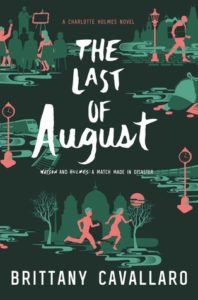 Brittany Cavallaro, author of The Last of August
I woke up the day after the 2016 presidential election on my honeymoon. We'd voted absentee weeks before, and in the time between mailing my ballot and leaving on our trip, my main concern was finishing a draft of the third book in my young adult series, The Case for Jamie. Though these novels deal with a lot of serious issues—sexual assault, substance abuse, unhealthy friendships—they're at their core escapist fiction, like the Sherlock Holmes stories they're derived from. When I began writing the series, I found in a journal a list I'd made years before called "ridiculous tropes I love." On that list: car chases where one driver doesn't know how to drive; training montages; the words "something terrible has happened" said out loud; a character blowing something up to make a point. I loved coming across those moments in fiction, not when they felt hokey or ridiculous but when, in the hands of a talented writer, they felt good again, funny, exciting, real, but with a wink at the camera.
I loved that wink at the camera. I loved to set my characters in a diner, on a Tuesday night in a month that belonged to no year, to no political moment, and have them banter about their pancakes. My books are political insofar as they feature a girl Sherlock Holmes, but while she's grappling with serious issues, it's a book where the personal is political.
I was thinking about power on the plane ride over to our honeymoon, hammering away (again) at the final chapter for what was meant to be the final book in my series, trying to bring it all to some kind of satisfying conclusion. To make the final confrontation equally matched. I was thinking about it again the night before the election, and the morning of, I wasn't thinking anything at all. If anything, I was thinking it had all been a mistake. That it would be cleared up. That this man would never be allowed to actually take office. That I was in some terrible Tom Clancy novel, and because of that, we'd have our neat resolution. I was someone who made neat resolutions for a living. I write mystery novels: we haul off the criminal in the end.
The criminal stayed in office. I finished my third book, and shortly after, my second, The Last of August, came out, and I traveled from city to city, talking about Sherlock Holmes and the other small constellation of things I loved—that I usually loved, I should say, and that I was trying to find pleasure in again. And ultimately, if the audience was old enough, or if something awful had happened again on the news, I'd be asked about what it was like writing in 2017.
I'd make a claim, then, about the importance of escapist fiction—that it isn't really ever escapist, or that the personal is always political, or that we want to read about a world filled with guns and rich kids and privilege and international intrigue to be able to process how those things manifest themselves in our daily lives. That, simply, sometimes we need to step away and read for pleasure, the way we did when we were children.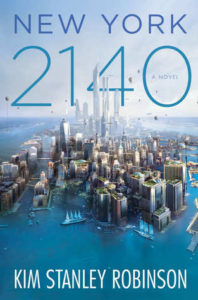 Kim Stanley Robinson, author of New York 2140
My novel New York 2140 was published in the spring of 2017 and I made a lot of appearances for the book, and spoke to audiences in the US and Europe about climate change as our coming future, and what we can do to lessen its impacts. My first event was right after the inauguration and I read the very last pages of my novel, to get to the part where there is a vision of how things will go better; it was my home audience, the SF in SF show with Cecelia Holland and Terry Bisson, and I think it did us good to take the long view at that moment.
Other than that, however, I ignored the presidency of Donald Trump. He is a blip and an aberration in a process of coming to grips with climate change that has been gathering momentum for about 20 years now. We've designed cleaner technologies for energy and transport and although installing them worldwide is a massive task, it can be done and it will be. It will be the work of human civilization in the 21st century. The Paris Accord is an agreement of world historical importance. The United States will rejoin it, having never really left it, and on we'll go. The targets set by the Accord get us only about halfway to the carbon reductions we need, but when we achieve that first half as a global society, the second half will get easier, because the momentum will be in that direction. And the need for it will be more and more evident. We'll do it for the children.
It's true that Trump and his team are stupidly destructive of much that is good. They are tearing the social fabric, and enjoying that in the usual way of thugs and vandals. There's a sickness there that is disturbing to see. But we'll knit the fabric back together and carry on. His supporters are a minority that is shrinking. Remember Gramsci's pessimism of the intellect, optimism of the will. Be angrily optimistic and fight for justice and the generations to come.
---