The Untold and Very True Story of The Devil Wears Prada
On Anna Wintour, a Former Assistant, and the Role That Made an Editor a Celebrity
Around Christmas of 1999, Lauren Weisberger rolled into the Vogue office. She had just graduated from Cornell, and editor-in-chief Anna Wintour decided to hire her as her assistant. However, quickly there were worrying signs that Weisberger wasn't going to work out, the biggest being that she clearly wanted to be a writer.
Assisting Anna wasn't about being a journalist, it was about delivering hot lattes quickly in high heels. Predictably, Weisberger "couldn't get any assignments from us," said Laurie Jones, the managing editor at the time. Weisberger was "a lovely girl," she added, but "not a great writer, poor thing." After being on the job for months, Weisberger asked Richard David Story, an editor who was leaving Vogue for Departures magazine, if she could go be his assistant there. He was amenable and she went with him. Reading her material, Story later told her to get writing lessons.
Following his advice, Weisberger enrolled in a creative writing course and, as could have been predicted, started writing a novel about what she knew, as writing teachers often suggest, and what she thought would be most interesting to others, which was assisting Anna Wintour. Her instructor asked to show her material to a book agent, Deborah Schneider, and she said yes even though she was far from a complete draft. Schneider called and said, "If she wants to sell this book, I can sell it this afternoon."
On May 21, 2002, Women's Wear Daily reported that The Devil Wears Prada had sold to Doubleday for a reported $250,000. When Anna learned about the book, she said to Jones, "I cannot remember who that girl is."
When Anna learned about the book, she said to Jones, "I cannot remember who that girl is."
The first week of February 2003, The Devil Wears Prada was published. All signs pointed to it being big—Weisberger promoted it on the Today show, the first print run was 100,000 copies, and Wendy Finerman, the producer who optioned it for film, was known for the Oscar-winning Forrest Gump.
Yet Weisberger, while talking up her Vogue work experience in the press, insisted that—despite the character of Miranda Priestly, who tortured protagonist Andrea Sachs with endless, sometimes impossible, and seemingly trivial demands—"nothing was based on Anna."
In a profile by the New York Times media columnist David Carr that ran shortly after the book came out, Anna said, "I always enjoy a great piece of fiction," and, "I haven't decided whether I'm going to read it or not."
But along with many of her colleagues, Anna did read it. "I know Anna read it and she was sort of bemused. She wasn't offended. She wasn't bothered by it at all," said Jones.
Friend William Norwich agreed that Anna "really didn't care" about the book even after it spent six months on the New York Times best-seller list. "I don't think Anna is as interested in the cultural phenomenon that she is as the rest of us are," he said. Anna has said to friends, "I'm so bored by me." This is one reason she doesn't plan to ever write a memoir. Norwich explained, "She doesn't want to stop working to reflect."
*
In May of 2005, news broke that Meryl Streep would play Miranda Priestly, the Anna character from The Devil Wears Prada, in the feature film.
Director David Frankel was adamant that he wouldn't participate in an Anna Wintour takedown. "Anna Wintour does extraordinary work and this is going to be a love letter to working women who do excellent work," he told the studio. He wanted the film to portray "the sacrifices you have to make to do that, and one of the sacrifices is not being so nice. If that's what it takes, that's what it takes." That, of course, was not how the book framed things.
The studio insisted they weren't doing "the Anna Wintour story," and Streep insisted she wasn't playing Anna Wintour. Frankel said Streep actually based her character on her experiences with actor/director Clint Eastwood and director Mike Nichols, saying, "The fact that Clint Eastwood didn't raise his voice and Anna Wintour never raises her voice, you can find parallels." But no matter what Frankel said, Anna was—as she was for the book—undeniably the inspiration. The film's production designer even sneaked into the Condé Nast building to take pictures of Anna's office in order to replicate it.
Frankel found designers to read the script and offer feedback, but they only agreed to do so under absolute secrecy because they were so scared of Anna. He knew Naomi Campbell from a previous project, and got her to commit to a role, but she then mysteriously bailed. Gisele Bündchen ended up as the beauty editor after clearing the appearance with Vogue.
Many people in the fashion industry and New York City, as far as Frankel could tell, possessed a deep fear of somehow crossing Anna. Designers were terrified to loan clothes to the costume designer, Patricia Field of Sex and the City fame. Frankel couldn't film at the Metropolitan Museum of Art or Bryant Park (where fashion week was held) because people were afraid of pissing off Anna. He couldn't even film at the Museum of Modern Art because people on the board were affiliated with Anna and afraid of her. The ball scene had to be filmed in the American Museum of Natural History, which was, Frankel said, "the one place she had no influence."
The Devil Wears Prada premiered on June 30, 2006. But before plebeians could see it, Anna got to attend a special screening on the night of May 23 at the Paris Theater in New York. The public relations team for the film invited her, and she accepted and attended with then-boyfriend Shelby Bryan, her daughter, Bee, and Vogue contributing editor William Norwich. Maybe she was curious, maybe she wanted to support the charity auction that followed the screening, or maybe she saw it as a brilliant PR opportunity for herself: Anna, ingeniously, wore Prada. (This wasn't unusual, as she often wore Prada dresses, customized just for her.)
Frankel sat behind Anna and Bee. Anna had a seat at the end of the row and, though she had a habit of dashing out of plays that bored her, watched the whole movie. At one point, Bee turned to her and said, "Mom, they really got you."
The impact the movie had on her image was incalculable. She finished the year 2006 as one of Barbara Walters's Most Fascinating People, and became a mainstream celebrity, like Cher or Madonna, recognizable by her first name alone. This was never her goal, said close friend Anne McNally: "She sees it as part of her job. She's very conscious that this is a persona that is existing at the moment because she has that job, and the minute she doesn't have that job, she knows it's going to be different."
With her star power now transcending fashion and media, it would be terribly hard for Condé Nast ever to let her go.
_____________________________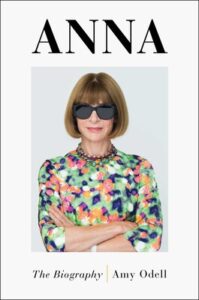 Excerpted from Anna: The Biography by Amy Odell. Copyright © 2022 by Amy Odell. Reprinted by permission of Gallery Books, a Division of Simon & Schuster, Inc. Copyright © 2022 by Amy Odell.
---