The Unavoidable Trap of Politeness: Why Is It So Hard to Just Say "No"?
Vanessa Bohns on the Psychology Behind Our Unbearable Fear of Social Embarrassment
Why is it so hard to say "no"? It turns out, sociologists have been talking about the answer to this question for years, but instead of calling it "influence," they call it "politeness." That's right, you just agreed to organize that annoying event out of a deep-seated allegiance to good manners. One of the biggest names in sociology, Erving Goffman, used a more technical term. He called it "facework." "Face" is how you present yourself in public: the person you claim to be, and the things you presume it is reasonable to ask of another person. An expectation of civil society is that we protect other people's face, and they protect ours.
So, if Sally says she regrets that she couldn't attend your event because she was terribly ill, and you say, "No you weren't! Rebecca said she saw you at the pub last night," you've failed at the task of "facework." Of course, we usually don't do things like this—​challenge another person's "face"—​because it is incredibly uncomfortable for everyone involved. Now Sally's turning red, Rebecca is slinking away, and you're not feeling so hot yourself.
When I ask you for something, the same processes are at play. If I go up to you and ask to borrow your cell phone, the subtext of this ask is that I am a trustworthy person and that asking to borrow your cell phone is a reasonable request. If you, in turn, say "no," you have just challenged me on those assumptions. Saying "no" to someone who is asking to borrow your cell phone might imply that you don't trust them to give it back. My favorite term for this phenomenon, which Sunita Sah, a professor at Cornell's business school, came up with, is "insinuation anxiety." We have a lot of anxiety about insinuating something negative about someone else.
So we hem and haw, and assure the person asking for our phone that any other day, really, we would love—​no, we would be honored—​to hand over our phone, but today we just need to make sure we have enough battery, etc., etc., to make it clear we aren't insinuating they are untrustworthy by refusing their request. But when it comes down to it, we usually don't refuse these kinds of requests, because saying "no" would simply be too awkward and embarrassing for everyone involved, and that is something we really hate.
In fact, we hate embarrassing ourselves so much, we do all sorts of things to avoid embarrassment—​and at all costs. Approximately 5,000 people die from choking every year in part because they stand up and leave the table—​rather than ask their tablemates for help—​out of a fear of, you got it, embarrassment.
The late, esteemed psychologist John Sabini and his colleagues have argued that a number of the most iconic findings in social psychology can be attributed to people's overwhelming fear of embarrassment. For example, take the "bystander effect," a classic finding demonstrated by the psychologists John Darley and Bibb Latané. This is the finding that people are less likely to act in an emergency situation if there are other people around—​particularly if there are many people around.
This effect has been demonstrated in a number of clever ways. In one memorable experiment, participants showed up to a study and were seated in a waiting room to complete some questionnaires. Depending on the condition they were assigned to, they either found themselves alone in the waiting room, were seated in the room with two other participants, or were seated in the room with two research assistants who were pretending to be study participants. Suddenly, the room began to fill with smoke. What the researchers were interested in seeing was the percentage of participants who reported the smoke to someone in each of these conditions.
An expectation of civil society is that we protect other people's face, and they protect ours.
When participants were in the waiting room alone, a large majority—​75 percent—​reported the smoke to the experimenter. This makes sense—​it wasn't just a little bit of smoke that could easily be explained away. As the researchers write, "By the end of the experimental period, vision was obscured by the amount of smoke present." So, 75 percent is the percentage of people in the control condition who thought the room filling with smoke was concerning enough to bring it up to the experimenter. In the other two conditions, therefore, we should assume a baseline in which approximately 75 percent of the participants would also feel that the smoke is alarming enough that they should report it to the experimenter.
Yet when participants were seated in the waiting room with two other participants, the percentage of times any one participant in these groups reported the smoke to the experimenter was 38 percent. Even worse, when participants were seated in a room with two research assistants posing as study participants who acted as if nothing was wrong, only 10 percent of participants reported the smoke to the experimenter. The rest of the participants "wav[ed] the fumes away from their faces… coughed, rubbed their eyes, and opened the window—​but they did not report the smoke."
This is a rather dramatic effect. Imagine these participants sitting in what by all appearances is a burning building, fanning smoke from their eyes, and trying to act calm in front of their peers. What was going on? The explanation you'll hear most often in introductory psychology courses is "diffusion of responsibility." In essence, the more people who are around in an emergency situation, the less any one person feels responsible to act. They assume someone else will, or already did, do whatever the responsible thing is to do in the situation (e.g., call 911 or report the problem to someone in charge). While this might explain why the participants who knew that others were also aware of the situation didn't feel compelled to report the smoke, it doesn't quite explain why they would sit in their seats pretending everything was normal.
An explanation that gets a little closer to illuminating this particular oddity of participants' behavior is something called "pluralistic ignorance." Basically, everyone in situations like these feels freaked out and wonders whether something should be done. But in those initial moments of paralysis and doubt, they look around and see that no one else is doing anything. That causes them to doubt whether anything really needs to be done after all.
Collectively, this results in what is often a terrible group decision to do nothing because the individuals involved fail to realize that everyone is actually thinking the same thing: that someone should probably do something—​and quickly. According to this explanation, the participants in this study sat there acting normal because everyone around them was sitting there acting normal, so they assumed everything was normal. The idea that participants really believed choking on smoke in a waiting room was normal seems like a bit of a stretch to me. But, okay—​let's investigate.
While both diffusion of responsibility and pluralistic ignorance can rationalize these participants' behavior to some extent, both of these explanations seem to fall short of convincingly identifying whatever it was that was going on inside participants' heads that was so powerful it kept them helplessly glued to their seats in the middle of an emergency. It wasn't until decades after the original studies were conducted that John Sabini and colleagues proposed their own theory of what was going on: Ultimately, whether participants were unclear about their responsibility to act, or whether they thought they were overreacting compared to everyone else, the underlying explanation for their behavior, according to these researchers, is that intervening—​jumping up, tracking down the experimenter, calling 911, underscoring the urgency of the situation—​had the potential to be embarrassing.
What if their interpretation of the situation was wrong? What if someone else was already taking care of things, and they would be stepping on that person's toes (and thus threatening their face)? What if they looked foolish by panicking, when everyone else appeared (on the surface) to be cool as cucumbers? Rather than confront these possible embarrassments, the overwhelming majority of participants chose to do nothing instead—​to sit there coughing in the smoke, helplessly trying to play it cool.
With all of this in mind, the fact that people so often agree to our requests becomes far less surprising. Take the cell phone example again and imagine going up to a random stranger and asking to borrow their phone. Sure, if they say "yes" and hand over their phone, they might open themselves up to potential risk. What if you're a thief? What if you make an international call? What if you do something with their personal information?
But, on the other hand, if they say "no," they might imply that they think you're a thief, or would use up their data, or would snoop around on their device. In other words, if they say "no," they risk embarrassing everyone involved. We just saw that people would rather sit in a burning building than suffer the pain of embarrassment. So, it's not much of a leap to assume someone faced with this choice would say "yes," hand over the most precious device many of us own, and try to play it cool.
__________________________________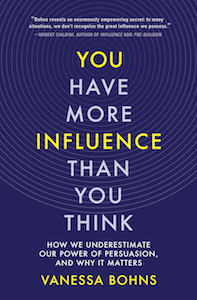 Excerpted from You Have More Influence Than You Think: How We Underestimate Our Power of Persuasion, and Why It Matters. Used with the permission of the publisher, W. W. Norton & Company, Inc. Copyright © 2021 by Vanessa Bohns.
---