The Ultimate Literary Ten-Course Meal
Chef Evan Hanczor Creates Edible Masterpieces from Beloved Books
For about five years now, we've hosted the Tables of Contents dinner series at Egg in Brooklyn, cooking many-course meals inspired by great literature. The seed of the idea set years before I became a cook—when I was studying English at Tulane University in New Orleans, the kind of place where you'd expect food and literature to come together in particularly interesting ways. It was also in New Orleans that I had my first kitchen job, at a post-baseball game watering hole called Ye Olde College Inn, working with a cast of characters as rich as you could find in any book, including a legendary old fry cook named Mo-dee-Mo, best fry cook in N'awlins if you believe the man himself (I ate enough oyster po-boys for family meal to feel he might have a point).
In cooking the TOC dinners at Egg, we're consistently amazed by the power—creative, nostalgic, emotional—of translating text into food. If you've never cooked and eaten a dish from a favorite book, do it. Nearly any great book has moments of food in it, not just because characters have to eat, but because our relationship with food exposes so much about our identities, cultures, time, and place. What author forsakes a tool that can explore all that?
If you immediately try to think of any food reference in literature, my guess is it's either in The Bible or Proust's madeleine meditation in Remembrance of Things Past (or, let's be real, some gluttonous, creaking table from Harry Potter or The Hunger Games). But, of course, there's so much more to dig in to, in classic and contemporary literature both. Our Tables of Contents dinners, which tend to highlight classic books, have expanded into the contemporary scene with a monthly reading series at Egg, where we cook snacks inspired by authors' readings. Eating Sara Novic's beans and sour milk, Rachel Cantor's mu shu pork, and Alex Kleeman's orange popsicles has led to, I hope, a fuller experience of their books.
Want to put together a literary feast of your own? Easy: re-read one of your favorite books with an eye out for the food, then cook it! Or put together a menu spanning literary time and space. Here's one formulation of an indulgent, nostalgic, delicious literary feast, a ten-course meal drawn from some past Tables of Contents dinners and some plans for others to come.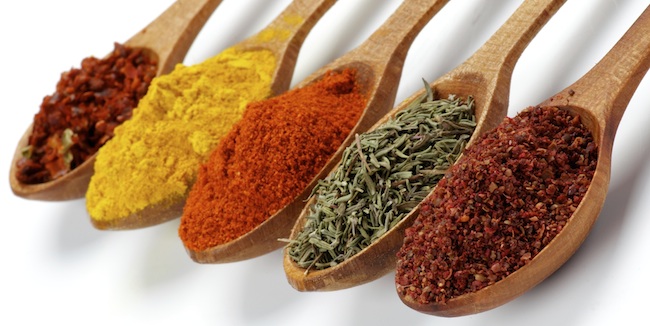 I.
Assorted Pickles
Midnight's Children, Salman Rushdie 
I took a full-semester class just on Rushdie at Tulane and of course this was part of the curriculum. It's probably his most food-centric book, though you could find fodder for a great meal in much of his intoxicating writing. The food here serves the role we find ourselves talking about the most at Tables of Contents events—food as emotional translation. As Rushdie says, "…Reverend Mother doled out the curries and meatballs of intransigence, dishes imbued with the personality of their creator; Amina ate the fish salans of stubbornness and the birianis of determination." This goes beyond the mantra of "cooking with love"…it's cooking with baggage.
But to start a meal, I might go with Saleem—protagonist and pickle-maker extraordinaire, who might be the character my life is most closely modeled after, "…by day amongst the pickle-vats, by night within these sheets, I spend my time at the great work of preserving. Memory, as well as fruit, is being saved from the corruption of the clocks."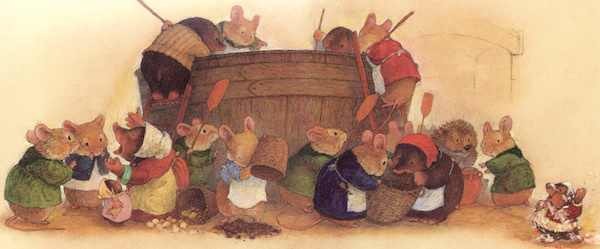 II.
Shrimp 'n Hotroot Soup
Redwall, Brian Jacques 
This series of books definitely imbued me with a lifelong love of the woodland fantasy genre (kind of Lord of the Rings-y but with vermin and furry critters). It also may claim some responsibility for my openness to vegetables, since the great feasts Jacques describes every 40 pages or so are almost completely vegetarian (we're talking mice and rabbits noshing here)—though that's an easy fact to overlook, with how heady and filling they sound. You could pick any dozen of dishes to serve up here—from salads to vegetable turnovers to the mole's favorite deeper 'n ever pie—but since the otters are obviously the coolest band in the book, I think I'd go with the famous shrimp 'n hotroot soup. I still haven't made this, but my imagined bowl of deeply spicy, warming, shellfishy goodness is to some degree my mental marker for any spicy seafood concoction I come across in the human world.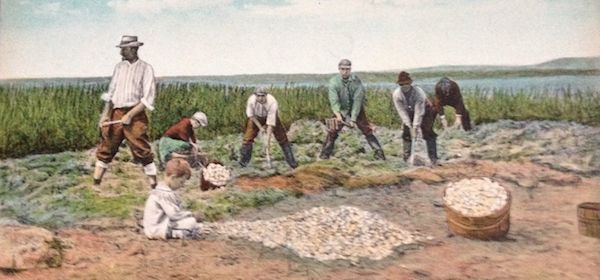 III.
Clam Chowder
Moby-Dick, Herman Melville  
Fair warning: I'm not going to stick to traditional meal progression or placeholders here. If this worries you, swap out the hotroot soup for some avant garde reconstruction (a chilled shrimp and pickled hot pepper composition of some sort?) or plug in a salad in the Jacques slot, and serve this chowder third. When Melville takes some thousands of words to get after a precise, perfect bowl of chowder, you eat it. I mean, "It was made of small juicy clams, scarcely bigger than hazel nuts, mixed with pounded ship biscuit, and salted pork cut up into little flakes; the whole enriched with butter, and plentifully seasoned with pepper and salt." This is the ideal, so simple and direct you can nearly chew on the cracker-thickened chowder as you read it, toppling all other chowders you've been unfortunate enough to have eaten in your landlocked life. (Melville Bonus Points: cook a dish that embodies the general feeling of Bartleby, The Scrivener. Though I'd prefer not to.)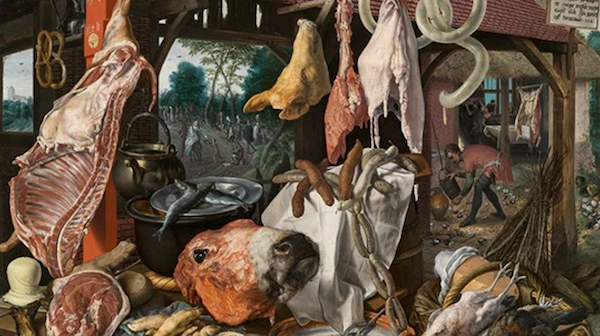 IV.
Offal Terrine
Ulysses, James Joyce 
This intestinal insight into Leopold Bloom's off-cut preferences would make any game meat aficionado giddy, "Mr. Leopold Bloom ate with relish the inner organs of beasts and fowls. He liked thick giblet soup, nutty gizzards, a stuffed roast heart, liverslices fried with crustcrumbs, fried hencods' roes. Most of all he liked grilled mutton kidneys which gave to his palate a fine tang of faintly scented urine." If you like Joyce—have gone beyond A Portrait of the Artist and Dubliners (eating high on the Joycean hog, as it were) and dug into the tangled innards of Ulysses or (bless you) Finnegans Wake, these are the bites for you. Want to consume the whole hodgepodge at once? A terrine might hold the lot. Though if you're squeamish, you could substitute a warm potato salad, as a tribute to the lucky potato Leopold lugs in his pocket.
V.
Peeled Pencil, Choke, Rub Her Coke
Tender Buttons, Gertrude Stein 
In early 2016 I traveled to Miami for the O Miami Poetry Festival to prepare a Tables of Contents dinner inspired by this wild, crazy, seminal poem-monster by Gertrude Stein. Cooking a meal on a poem was an electrifyingly different experience than cooking from a novel, and the dishes that emerged ended up being some of the kookiest and coolest we've done. This line in the poem,
Peeled pencil, choke
Rub her coke.
is certainly the most erotic line or dish we've made in this series. The dish was a long, slim, honey-roasted carrot, its fine point coated in an ash made of burnt leek greens (the "pencil" element). That was placed on a pool of sunchoke puree, garnished with carrot greens and some more leek ash, and dressed lightly with a "coke sauce"—a vinegar-based caramel stolen in name and technique from Brooks Headley's amazing cookbook Fancy Desserts. It felt like a defensible poetic appropriation, in this case, and was one of those dishes that, when it came together, trembled a bit, and I think made people feel something. (But basically this whole meal just needed a vegetable course.)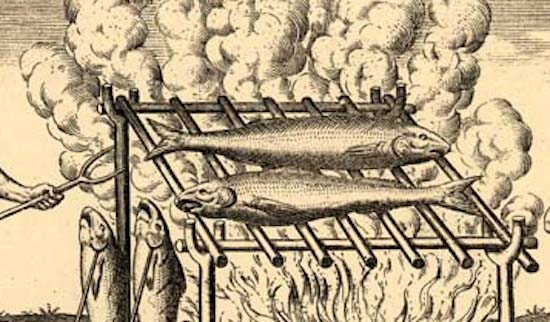 VI.
Smoked Trout with Ferns
The Sun Also Rises, Ernest Hemingway 
"I laid them out, side by side, all their heads pointing the same way, and looked at them. They were beautifully colored and firm and hard from the cold water… I took the trout ashore, washed them in the cold, smoothly heavy water above the dam, and then picked some ferns and packed them all in the bag, three trout on a layer of ferns, then another layer of ferns, then three more trout, and then covered them with ferns. They looked nice in the ferns, and now the bag was bulky, and I put it in the shade of the tree.
I walked up the road and got out the two bottles of wine. They were cold. Moisture beaded on the bottles as I walked back to the trees. I spread the lunch on a newspaper, and uncorked one of the bottles and leaned the other against a tree… The wine was icy cold and tasted faintly rusty."
This is one of the first and best dishes we cooked for TOC. The Sun Also Rises was the book I read, in Dale Edmonds's "Last Call" literature class at Tulane (his last class after 30-plus years of teaching at the school), that planted the seed for Tables of Contents. I read this book almost always with a bottle of wine in a friend's backyard (this was college in New Orleans, after all) and imagined the flavor of these freshly caught trout, of the roast chicken and green beans they eat at Madame Lecomte's. When we finally prepared this dish at our first Tables of Contents dinner, we served lightly smoked trout fillets over a clear trout broth, with fiddlehead ferns and wild greens. We reprised the book, and the dish, in a series of dinners at the Galleria in Milan for the Expo Milano 2015—an amazing chance to see the power of food and literature cross cultural and linguistic lines.
VII.
Hoppin' John
The Member of the Wedding, Carson McCullers 
I first read this quote in New Orleans, but rediscovered it in a Bill Neal cookbook:
Now hopping-john was F. Jasmine's very favorite food. She had always warned them to wave a plate of rice and peas before her nose when she was in her coffin, to make certain there was no mistake; for if a breath of life was left in her, she would sit up and eat, but if she smelled the hopping-john, and did not stir, then they could just nail down the coffin and be certain she was truly dead.
That's as real talk as it gets on the hoppin' john front; we serve it every New Year's Day at Egg and have people who come in just for it, to make sure they load up on luck for the year to come.
If you're so inclined, you could also easily slide this book into the dessert category with one of the greatest descriptions of cake and childhood ever:
The afternoon was like the center of the cake that Berenice had baked last Monday, a cake which failed. The old Frankie had been glad the cake had failed, not out of spite, but because she loved these fallen cakes the best. She enjoyed the damp, gummy richness near the center, and did not understand why grown people thought such cakes a failure. It was a loaf cake, that last Monday, with the edges risen light and high and the middle moist and altogether fallen—after the bright, high morning the afternoon was dense and solid as the center of that cake.
This makes my chest feel like a fallen cake (in the best way) every time I read it.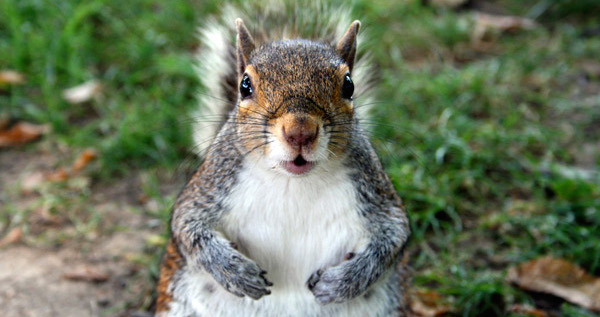 VIII.
Fried Chicken (and Critters)
To Kill a Mockingbird, Harper Lee 
Another book laden with transcendent images of the food of the South, where the meals serve not only as a comforting touchstone but as a reminder of race and class divisions of the time. My eyes teared up along with Atticus at the scene in his dining room where he finds the table loaded with food given as thanks for his defense of Tom Robinson.
But my mouth watered as Atticus, Scout, and Jem drove out to the Ewell's place, their noses assaulted by the smell of chicken and bacon frying, plus the rabbit and squirrel cooking in pots along the road…
In the frosty December dusk, their cabins looked neat and snug with pale blue smoke rising from the chimneys and doorways glowing amber from the fires inside. There were delicious smells about: chicken, bacon frying crisp as the twilight air. Jem and I detected squirrel cooking, but it took an old countryman like Atticus to identify possum and rabbit, aromas that vanished when we rode back past the Ewell residence.
I remembered making squirrel gravy for an event at McCrady's in Charleston, and smothered rabbit for dinner service at the original Egg. For our Tables of Contents on this book, we made a "front yard terrine" of chicken, bacon, and rabbit, but I'd recommend getting yourself some chicken, rabbit, or squirrel and just frying it up right.
IX.
Pasture of Bran
Their Eyes Were Watching God, Zora Neale Hurston 
We cooked this book for our 2016 installment of Tables of Contents. It was one of the most interesting and challenging experiences we've had in this series. I spent the first half of my childhood in Maitland, Florida, the town next to Eatonville, where this book is set, so the personal connections ran deep. At the same time, there was the distance of being a white man cooking food from a black woman's novel—a delicate, weighty gap to bridge. When the meal came together, a mix of the southern comfort food studded throughout the story and more magical interpretations of non-food scenes, I felt more proud and inspired by the meal than any I'd ever prepared.
This is a dessert to get weird with. It's drawn not from a sweet treat sold at Josy's store, but from a funeral—more specifically, the funeral of Matt Bonner's mule. As Joe gives a eulogy fit for any beast, he speaks of, "the joys of mule-heaven to which the dear brother had departed this valley of sorrow; the mule-angels flying around; the miles of green corn and cool water, a pasture of pure bran with a river of molasses running through it; and most glorious of all, No Matt Bonner with plow lines and halters to come in and corrupt." We took that mule heaven and tried to set it on the plate—a fresh corn custard covered with a bran cake and grain crumble, drizzled with a molasses caramel and sprinkled with sweet herbs. If that's what mule heaven is like, I'm happy getting off there.
X.
Bread, Jelly, Oatmeal, and Cream
My Side of the Mountain, Jean Craighead George 
This is one of my favorite young adult books—the one I clutched for courage when my siblings and I ran away from my parents' house (about 300 feet into the woods in our backyard), leaving a note requesting they not come looking. Sam Gribley lives in a tree hunting and wearing deer, making acorn pancakes, and training a pet hunting falcon! I mean, come on.
But it almost doesn't turn out so well for Sam. He's woefully underprepared for life alone in the woods, so when he spots a house, "warm and cozy, with smoke coming out the chimney and lights in the windows," he sprints towards it with his freshly caught fish and bangs on the door. As Sam describes:
A nice old man answered. I told him everything in one long sentence, and then said, "And so, can I cook my fish here, because I haven't eaten in years." …
…When I asked him, he said Bill something, but I never heard his last name because I fell asleep in his rocking chair that was pulled up beside his big hot glorious wood stove in the kitchen.
I ate the fish some hours later, also some bread, jelly, oatmeal, and cream. Then he said to me, "Sam Gribley, if you are going to run off and live in the woods, you better learn how to make a fire. Come with me."
That description of bread, jelly, oatmeal, and cream—such a simple litany of the comforting foods of home—becomes a nostalgic, warm embrace of a dessert. We prepared a porridge of sweet oats with cream and summer fruit, topped it with a simple, gooey bit of torn bread pudding, and covered that with a strawberry jelly and some more whipped cream. It's the kind of rich, small bite (watch your portion size here!) that makes your eyelids heavy and a chair near a warm fire sound like a pretty great place to be.
Note: If you're looking for other places for food in literature, two pretty great resources are Dinah Fried's Fictitious Dishes and Cara Nicoletti's Voracious.
Want to catch a Tables of Contents dinner or reading series? Next up is a Great Gatsby dinner at the James Beard House on August 25, and Reading Series evenings at Egg on 8/29 and 9/29. Email events@pigandegg.com to get on the mailing list for future installments, or to bring a literary dinner to your city.
---