The Tumultuous Marriage of the American "Empress of Journalism" and Oscar Wilde's Feckless Brother
Betsy Prioleau on the Unblissful Union Between Miriam Leslie and Willie Wilde
Mrs. Frank Leslie was an American celebrity, the "Empress of Journalism," when Oscar Wilde and his family entered her life with such fateful consequences. Miriam Leslie had just rescued her late husband's empire from bankruptcy with her President Garfield assassination coup, and become a power on Publishers' Row. A brilliant business executive, she took command of the giant Frank Leslie Publishing Company and put it back on the road to marketplace dominance.
In 1882, Oscar arrived in New York for his American lecture tour and sought out Miriam. At forty-six she was an icon of glamour—a charismatic showman and fashionista—and they bonded at once. The next year, she accepted his invitation to his mother's London salon where Miriam and Jane Wilde struck up an intimate friendship, so intimate Jane tried to keep her in the family. At a strategic moment she presented her live-in, feckless older son, Willie, and said: "Mrs. Leslie, I want to introduce you to your future husband."
A joke until it wasn't. Five years later Miriam again visited Jane Wilde's soirée. This time she was amid a romantic dry spell and Willie was there in courtship mode. A layabout and congenital wastrel, he had reached the end of his tether.  He was deep in debt and the effects of his dissipated life were beginning to tell: his eyes were bagged, features bloated, and whiskers streaked with grey. But he could be charming if he liked and amuse friends with mimicry, recitations, bon mots, and droll anecdotes. It was in his interest to charm Mrs. Leslie and he was en forme. Although she pretended to equivocate, she agreed to marry him in the fall.
Willie never seems to have doubted the outcome and forged a check in her name after she left. He arrived on the S. S. Havre on the first of October and three days later the wedding took place in the pastor's study at the Church of the Strangers, with Miriam in a beaded Worth ensemble of pearl gray satin with a matching bonnet. She deducted twelve years and entered her age as forty-three in the church record book, the better to approximate Willie's thirty-nine. Reverend Charles Deems, former editor of Frank Leslie's Sunday Magazine, officiated, and best man, Marshall P. Wilder, gave her away.
The effect of Wilder beside the six-foot-three-inch groom must have been striking. Marshall, an intimate of Miriam's and a salon regular, was "one of the world's greatest comedians" and a hunchback who stood only as high as her waist. He towered above Willie, though, in character. A striver and self-starter, Marshall pioneered a career as a legitimate actor (rather than a Barnum act) who scripted his own routines, wrote three books, and earned a fortune as a celebrity entertainer.
Wilde, however, promised to reform and work in partnership with Miriam in the publishing business. She had no concept of his idea of work. His routine on the Daily Telegraph was to take an assignment, walk in the park, lunch at his club with a glass of wine, stroll through the afternoon, and return to his club where he dashed off a leader in an hour before "cigar[s], bottles, [and] ballet." This was on days when he bothered to report at all.
Yet hopes ran high on October 4. Miriam had refurbished the Gerlach with a joint bedroom and dressing room for Willie and booked a wedding supper at Delmonico's. After the ceremony, the party sat down to a six-course dinner of capon, beef tenderloin, and upland plover, accompanied by four wines, Möet and Chandon champagne, and a cardinal punch. Willie tied one on and collapsed drunk on the marriage bed that night.
The binge lasted a week and brought unwelcome surprises. Bad enough that he couldn't deliver and left his false teeth on the bureau, but he was a mean drunk. Two nights after the wedding, he stumbled into the room, smashed bottles, and threatened Miriam, yelling "Damn your soul!" and "To hell with you!" The housekeeper said she was afraid she'd wake up and find Mrs. Leslie dead. Once Miriam had a close call. On a carriage ride, they approached a precipice and Willie shouted: "I have a blankety blank good notion to drive down that embankment and break your neck." Miriam wasn't easily cowed; she consigned Willie to a separate "sleeping room" and put up a brave front.
Wilde promised to reform and work in partnership with Miriam in the publishing business. She had no concept of his idea of work.
As the weeks went on, this became increasingly hard to do. The marriage, which she thought would generate positive publicity, had the reverse effect. The press descended like jackals, jeering at her age (she was "old enough to be his mother") and her last-gasp fourth "attempt at matrimony." She forged on, paid his double-digit liquor bills at the Lotos Club, and buried herself in business while he slept until one thirty each afternoon.
The breaking point came the first of the year. In January 1892, she assembled a hundred friends to accompany them by train to the first annual convention of the International League of Press Clubs in San Francisco. Willie began to feel alarmed for his future and sent Miriam a mea culpa sonnet beforehand, which she printed in the Monthly:
Into love's water have I cast my stone,
Where gently mirrored lay your face so fair;
But now the rippling circles, under grown,
Have blurred the clear gray eyes and golden hair.
"Love! Can no love for all my faults atone?"
Should the waves quiet, will you still be there?
Unmoved, Miriam put him in a separate coach car and changed her name back to Frank Leslie. She informed reporters that she would become Mrs. Wilde as soon as her husband made "for himself a name equal to my own." He was in no hurry. Mrs. Leslie, he drawled, "has made industry a study while I have reciprocated by making indolence mine."
The honeymoon, as one journalist commented, had "waned" and "the evidences of suffering and night vigils [were] on Mrs. Wilde's fine face." The strain grew more apparent throughout the trip. Willie's pique as a backstage husband intensified as Miriam's stature grew at the conference. Her speech to the League, "Reminiscences of a Woman's Work in Journalism" built a defiant case for female empowerment; not only could a woman succeed in anything she attempted but "the good steed progress was bearing women to the front" where they were "gallop[ing] the course with men neck and neck." She concluded with a poem written for her by Joaquin Miller (now in exile, as he promised, if she married again)—"The Mother of Men," a six verse hymn to "spotless woman," "the kingliest warrior born."
The local papers feasted on the open "War between Mrs. Frank Leslie and her Husband." Miriam told reporters that the British man was less courteous than an American "hod carrier," and dressed Willie down in public. Before the press corps, she chastised him for his inability to "distinguish" himself, and when he protested, she fleered, "I believe, Mr. Wilde, I am being interviewed, not yourself. He has been here ninety days," she pursued, "that's long enough for any man of brains to attract attention to himself. I really should have married Oscar."
At this point, Willie stood and said he'd be at the Press Club until 3:00 a.m.
"Then ring and order another room, sir," she retorted.
The press had no patience with this. California dailies portrayed her as a "short and dumpy [woman] with wrinkled and rouged" cheeks who browbeat her carefree husband. She could take only so much. On a cruise with a friend in San Diego Bay, she burst into tears over Willie's impotence, and suffered a panic attack during a sightseeing expedition. At a ruined Spanish mission, a door slammed behind her and she let out an "unearthly" scream, swearing that a skeletal man had seized her in the darkness. (Freud, then studying the sexual origins of hysteria, should have been there.)
Back in New York, she pulled herself together and took action. Either Willie shaped up and earned his keep or he must go. She put the case before his mother, who surely tried to dissuade her, then cut bait. There would be consequences—none pleasant—but she was "tired," she said, "of being the bank and sick nurse for a man."
_______________________________________________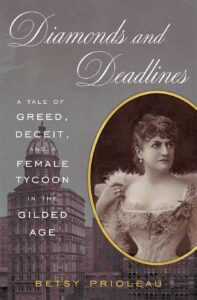 Adapted from Diamonds and Deadlines: A Tale of Greed, Deceit, and a Female Tycoon in the Gilded Age by Betsy Prioleau. Reprinted by permission of Abrams Press. Copyright © 2022 by Betsy Prioleau.
---