The Story I Tell Myself About My Father's Death
"I Was So Convinced My Whole Life That Asking About My Father Might Kill Me"
When my father took my six-year-old sister on a trip to kill a deer, the deer killed him. They were still winding their way Up North, driving the four-hour trip from suburban Detroit to the country. In the pre-dawn fog, a buck ran in the middle of the road, the soft-top Jeep crashed, turned upside down, and crushed my father. My sister survived, and my mother was left to care for three small, bewildered children on her own. My brother was nine, I was seven. My father was 32, my mother 29. The year was 1974. This is our family story.
We tell ourselves stories in order to live, Joan Didion famously said. I've wrapped myself up in this story's shelter, the comfort of its familiarity which, after many repetitions, starts to feel the same as its truth.
I was home asleep, but I'd always imagined that night this way.
Like all Michigan Novembers, this one's cold. No snow, though. Not yet. At least Downstate. Likely my father will encounter flakes and flurries as his Jeep climbs up the middle of the mitten-shaped state, so he packs snow boots, ski masks, and a parka for my little sister Lynn, her own tiny mittens clipped to the sleeves. He'll help her build the biggest snowman south of the Yukon before this trip is done, an Abominable Snowman, so she'll need an extra pair of mittens too for that. "Midge!" he yells, and my mother flies out of the house like a hound heeding a command. "Get me some waterproof ones," he says, and she does, her long blonde hair slapping against her cheek.
"I can't . . ." she stammers and stops.
"What, woman? You can't finish a sentence?"
"This fog . . ." she says, batting the thick mist away with her tiny hands.
"I can see fine," he says, his tone implying x-ray vision.
Soon she skitters back in, her thin skin shivering.
Before he packs his little girl he packs his gear: orange vests and stocking caps, a rifle in the front, coffee in a thermos near his feet, some clothes and food. Excalibur, the beagle we call Ex for short, jumps in the trunk, wagging his tail, slobbering on my father's only hand that loads sacks of apples and sugar beets for deer. Then Ex whinnies and wiggles, his body saying these road trips, these hunting treks, are what he lives for.
My father has grown a beard as red as his hair to insulate him from the elements. Truth is, though, no chill can penetrate him. If a bee stung, he wouldn't feel it. Frostbite? He'd bite right back. His Levis, marked from welding sparks, are all about work, like his tan suede boots. His psychedelic trucker cap is something else. Even though he exhales frost, sweat forms on his brow after he heaves bullets and belts to ride next to the dog. His right sleeve hangs hollow, flapping in the wind.
He loads my sister Lynn in back and tucks her in a green wool Army surplus blanket, lays her down across the bench seat, fluffs her pillow, tells her, "Go on, go to sleep." She sticks her thumb in her mouth only after he's no longer looking.
They drive up Fort Street, turn left at Southfield Road, passing dark alleys, empty lots, and graffitied storefronts: White Castle, Sam's Beer Store, and A&W Root Beer stand. Then my father tips his knees to steer the wheel (his left hand clutching coffee) to merge on I-75 North, speed limit 55. He's going 70. At least.
My father drives and drives, as the radio plays his favorite artists: Johnny Cash, Bob Dylan, Marty Robbins. The fog thickens. My sister sleeps and sleeps. The dog too, the engine hum the perfect white noise. The road slicks as the temperature drops each mile north they drive. My father quickens his pace, up to 80 now, maybe more. Hardly another car on the road. The sooner they arrive the sooner he can sleep himself.
Then, hours in, it happens. A great big buck, the biggest buck in the Midwest or maybe the world, bigger than a truck (in my childish imagination) runs across the road, materializing from the mist. The Jeep hits its heavy flesh, skids, topples over, and crushes my father. His head is smashed, blood gushes out his eyes. He cracks like an egg.
That's the story I tell myself about my father's death.
"We live in our stories, sometimes, because it's more comfortable than living in real life."
This is the story I tell myself about his life: He was a natural wonder. He lost his right, dominant hand and forearm before I was born, "playing with dynamite," but he could do more with one limb than everybody else could with two. When he wasn't balancing a stick of fire, melting metal to metal to make buildings and factories in Motor City (which I later learned was called welding), he was stalking game in the wild or inventing machines in a dungeon-like den carved out of the laundry room in our basement. There were probably dragons breathing fire to power his tools. He stockpiled gold leaf in there too, which he used for chemistry experiments, he said, but I was sure he'd turned lead to gold from alchemy. His legs were so long and strong, in one stride he could cover half the woods, so running with all the might of my little-kid legs I'd never catch him, then he'd lean back, sweep me onto his shoulders, and bark, "This is your last joyride, kid. Better toughen up." He could shoot deer and pheasants and rabbits, by the bucketful, when no one else could even track down an animal at all, the whole forest as barren as if an evil spell had been cast on it.
The story of my father's life doesn't square with the story of his death. He was the kind of man who killed animals, not the kind who could be killed by one.
This is the story my mother tells about me: I'm 18 months old, springing up and down on the bouncy horse we call Mr. Ed while my mother rocks and nurses my newborn baby sister. I fall off and scrape my knees, dry eyed. "Don't worry, Mommy," I apparently say. "I can kiss my own boo-boos." Kiss, kiss. Then I climb back in the saddle.
We live in our stories, sometimes, because it's more comfortable than living in real life.
This is the story I tell myself about my brother: In elementary school and junior high, he teaches himself to read in English, German, and Latin. Instead of rocking to the Bee Gees and leafing through Archie comic books, he belts along with Wagner's five-hour operas on his yellow, plastic turntable and writes a dissertation proving to his seventh grade English teacher that Francis Bacon wrote Shakespeare's plays. Why? Where does Louis get these crazy ideas? Not from the neighborhood kids playing freeze tag and capture the flag. Maybe he fell from the sky.
This is the story I tell myself about my sister: Hands callused from the monkey bars, knees scraped from kneeling on concrete in the driveway while our father taught her to change the oil and make an engine purr, at six she is already a tomboy when my father tucks her into the backseat of the Jeep to hunt. It's too dark to drive, the air too thick, the road too slick, but physical obstacles were his specialty. My sister somehow survives, with a few scrapes on her knees, no worse than mine from Mr. Ed. But she can't kiss her own boo-boos, not the ones on the inside, anyway. As she grows up, lifting weights, hiking mountains, and fixing cars, something stays broken.
This is the story I tell myself about my mother: Be careful or you'll lose her too. When one person dies, another will soon. Maybe if I don't upset her, she'll stay safe. Above all, don't talk about what happened to my father.
The story I tell about myself is this: I'm a phony. I live in a college town, I'm married to a professor, and I'm surrounded by academics and intellectuals. I pretend to be one of them, but my brain is stuck in a mythical land where deer attack, and they win, in a kind of poetic justice I'll call Revenge of the Prey. I am my father's daughter. I can't know anything about myself unless I first find out about him.
But deep down in the magical thinking of the seven-year-old I was when I learned that death is real, using the kind of fairy tale logic that imprinted in my brain even as I grew and aged and birthed my own children, I was so convinced my whole life, without forming the thought in words, that asking about my father might kill me.
Why did I think that? I couldn't say. But I hoped—and dreaded—I'd soon find out.
An hour earlier, I'd flown into Detroit Metro, where my aunt and uncle met me at Arrivals and ferried me back to their house. Now I sank into the soft plush of their couch, a gas fire licking in the hearth, and ferreted a phone from my front jeans pocket. My uncle passed me a bowl of Halloween-size chocolate treats, and my aunt offered coffee. I emptied my cup, though I didn't need my heart sped up. I would have traded half my left pinkie for a beer, if I hadn't been too shy to ask. "Mind if I record?"
"Go right ahead," my uncle said.
I turned the tape recorder on.
__________________________________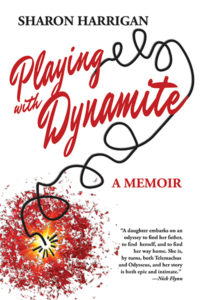 From Playing with Dynamite: A Memoir. Used with permission of Truman State University Press. Copyright © 2017 by Sharon Harrigan.
---