The Spiritual Message at the Heart of 'Peanuts'
Andrew Blauner on the Lessons That Endure
In the 70 years since the comic strip "Peanuts" first appeared, countless other comic strips have come and gone. All the while, seemingly seamlessly, utterly unconsciously, some of the themes and touchstones of "Peanuts" have woven their way into our vocabulary, our views and voices, our senses and sensibilities.
"Peanuts" may not have the cool factor of other things in our culture, but it has transcended the test of time; it has become an almost Talmudic totem, a talisman, one that we take with us, celebrate with, and perhaps cling to all the more tightly in times of trouble.
It plays a singular role in the popular culture, especially in the context of a society in which it seems that there is little, if anything, on which we can all remotely agree, divided as we are on politics, values, technology. That's what makes the strip—which officially ended in 2000, when Charles M. Schulz died, but continues in syndication, plus the holiday TV specials, the books, the adaptations for screen and stage, the apps and the ads, and all of the paraphernalia—sacred and even more cherished than ever. It may be hard to imagine considering something as universally popular as "Peanuts" as under-rated, under-appreciated, for what it is. But it is, and its status deserves recognition: it is one of last great shared texts in our culture.
It's axiomatic that we live in a highly polarized culture. To ideate about enduring cultural consensus about almost anything seems an exercise in wistful nostalgia. And yet, we would do well to imagine what such broad consensus might look like. And we might find ourselves thinking, about the most recent and arguably final example of a great American work of art loved broadly and without reservations by the masses, the elite, and everyone in the so-called middle.
Is "Peanuts" the last American artwork with universal appeal? And what is the spiritual message it conveys that engenders that appeal?
Looking back, when "Peanuts" (a title that Schulz detested) first started in 1950, Harry Truman was the president. "All About Eve" was in movie theaters, and Hemingway's Across the River and Into the Trees was a bestseller.
Fifty years later, when Schulz died, in 2000, "Peanuts" was read in 75 countries, 2,600 papers and 21 languages. In all, well over 18,000 strips appeared over the course of almost a half-century, making it, according to Robert Thompson, a professor of popular culture at Syracuse University, "arguably the longest story ever told by one human being."
Along the way: "Peanuts Gallery," a concerto, was performed at Carnegie Hall in 1997; Schulz received the Ordre des Arts et des Lettres from the French Ministry of Culture; in 1990, his work was shown at the Louvre. Just last year, Apple TV launched the Peanuts Channel, featuring "Snoopy in Space." "You're a Good Man, Charlie Brown" continues to be the most produced musical ever, with over 40,000 productions and counting. And as happens perennially, faithfully, over the coming weeks and months, we will come together to watch the Peanuts holiday specials: "It's the Great Pumpkin, Charlie Brown," "A Charlie Brown Christmas," and the under-appreciated Thanksgiving special, sandwiched in between.
What is it about the world of "Peanuts," then, that still compels us to enter? Until "Peanuts" came along, comic strips where largely populated by grown-ups acting like children. One of the refreshing revelations, part of what has made "Peanuts" resonate so strongly, for so long and with so many, was that it's a world of children who act, talk, think, and feel more like adults. This spiritual system peopled exclusively by children, preternaturally wise beyond their years, included among its core beliefs that: Life can be hard; perseverance is required; joy is fleeting but attainable; and imagination is essential.
It's not just that the characters themselves are always there, but also the themes, which so often have to do with trying, failing, and trying again.
Indomitably created day in and day out by a supreme artist over the course of 50 years, "Peanuts" also ranges freely across the ideological spectrum of the print media of its time, meeting a rainbow of readers in virtually every locale. Presidents from Nixon to Clinton, Reagan to Obama, all declared themselves dedicated fans of "Peanuts" and corresponded with Schulz.
"Peanuts" was manifestly predicated on the constancy of things; the knowable, predictable, reliable status quo of characters and what we glean from them. Over the years, the cast changed almost not at all: the indefatigable, fantastical Snoopy, who never spoke, was a would-be author, and from him we learned to embrace and enjoy and celebrate the joys and mysteries of life; the perpetually wishy-washy, forlorn, to-be-sympathized-with, black and yellow zig-zag–shirted Charlie Brown, from whom we learn about perseverance in the face of adversity; the fussbudget, faux-psychiatrist Lucy, from whom we learn about independence, strength, and honesty—sometimes a brutal variety of it; philosopher-king Linus with his omnipresent blanket, from whom we learn about faith, hope, and spiritual peace; and across the whole rest of the gang, each with his or her signatures and hallmarks.
It's not just that the characters themselves are always there, but also the themes, which so often have to do with trying, failing, and trying again; being hopeful, having those hopes dashed, and somehow reconstituting that hope. Often, that hope is in the form of the many manifestations of unrequited love in the strip, from Charlie Brown and the little red-headed girl, Lucy and Schroder, Sally and Linus, and so on. But also, it shows up each time that Charlie Brown thinks that Lucy will, just once, let him kick that football, and Linus hopes—against all hope?—that the Great Pumpkin will finally appear in the patch.
And yet, consistency alone could not explain the enduring, universal appeal of "Peanuts." Were it not to evolve, it would have doubtless become arcane, anachronistic. But it did change, in subtle ways, and the themes that did not change continue to resonate because it continues to speak to what it is to be human: the anxieties and anger, the joys and loves of life, in our quotidian existence.
"Peanuts" possesses and projects a critical, palpable, uncanny sense of humanity.
Schulz's frequent enthusiasm for the life of his characters to correspond with anthropogenic changes created an abiding admiration for "Peanuts." When Franklin was introduced to the "Peanuts" series in 1968, after Schulz was apprised of the restricted relatability of the cartoon, the United States was suffering a time of unrestrained social turbulence in reaction to desegregation; the presence of mutual environments, or even shared squares of a comic strip, would still have been a matter of substantial controversy. Despite criticisms towards and failings in the formation of Franklin—those who label the addition as tokenistic often note that to treat him with too much caution, with a lack of depth and no flawed human qualities, depicts judgements of the time—the insertion of Franklin was in no way a small step for a nationally syndicated comic strip in the middle of race-related civil unrest. We can still argue that Schulz's modifications were what brought "Peanuts" a step closer to a realistic and perpetual symbol of American life.
"Peanuts" possesses and projects a critical, palpable, uncanny sense of humanity. It intuits and mirrors so much of what it is to be alone, small, and vulnerable. Human. There is a poetry to the strip, to the children, their problems, and the way that they try to work through them. And what was invented seven decades ago now speaks to us as strongly as ever.
When I asked Schulz about writing a book of his own, he said, as he always maintained, that anything that he had to say, he said through the strip. He died within 24 hours of the last day that the strip ran. He was it, and it was him. And he added, so poignantly, as the coda, of a kind, to the last strip: "Charlie Brown, Snoopy, Linus, Lucy . . . how can I ever forget them. . . ." How can we, then, ever forget the world that he gave us? We can't. We shan't. We are in his and their debt for always.
__________________________________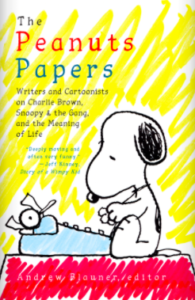 From The Peanuts Papers: Writers and Cartoonists on Charlie Brown, Snoopy & the Gang, and the Meaning of Life by Andrew Blauner. Used with the permission of Library of America. 
---