"The Song Found Me." An Oral History of Roberta Flack's "Killing Me Softly"
Roberta Flack, Charles Fox, and Lori Lieberman Discuss the Genesis of an Iconic Song
Roberta Flack didn't set out to become a performer. Though she had played organ and piano in church growing up in North Carolina, she attended Howard University intending to become a music teacher. Soon after Flack became a grad student in music, her father suddenly died and she took a job teaching music and English.
While teaching in Washington, D.C., Flack began to sing and accompany herself on piano at local clubs. She was discovered by soul-jazz pianist Les McCann, who arranged for her to audition at Atlantic.
From 1969 to 1971, Flack recorded a series of songs that either didn't chart or didn't chart spectacularly well. Then in 1972, she recorded a Scottish folk song called "The First Time Ever I Saw Your Face," which went to No. 1 on the Billboard pop chart. Her next single was "Where Is the Love," recorded as a duet with Donny Hathaway. It reached No. 5. In 1973, while on a flight, she heard a folk song through her headset connected to the airplane's audio system.
On a napkin, she re-ordered the lyrics and sketched an arrangement to "Killing Me Softly with His Song." Her version went to No. 1 for five weeks on the Billboard pop chart. Flack won two Grammys, and the song won Song of the Year and was inducted into the Grammy Hall of Fame in 1999. The song's lyricist, Norman Gimbel, died just prior to these interviews.
*
Charles Fox (composer): When I was eighteen in the late 1950s, I spent two years in Paris studying composition with Nadia Boulanger. By the early 1960s, I was a New York pianist with a background in classical, jazz, and Latin music. Then in 1967, I composed and scored the music for my first movie, The Incident, a film noir. Barbarella followed and, in 1969, producer Stanley Jaffe asked me to come out to Hollywood to score the Paramount film Goodbye, Columbus. That's when I saw my life coming together as a composer.
In '69, I was asked to score and write songs for the movie Pufnstuf, based on the children's TV series. But I needed a lyricist. BMI executive Ron Anton suggested Norman Gimbel. Norman had written English lyrics for bossa nova hits, such as "The Girl from Ipanema" and Michel Legrand's "Watch What Happens" and "I Will Wait for You." Norman and I hit it off.
By 1971, we wanted to develop songs for a female singer and get the songs recorded, the way Burt Bacharach and Hal David did with Dionne Warwick. We went to clubs and auditioned quite a few. Then someone recommended Lori Lieberman. We heard her and loved her sound. She had a beautiful alto voice. Norman and I started writing for her. Lori recorded song demos, and we made a deal with Capitol to produce four albums. We soon had nine songs in the can for the first one. Capitol was enthusiastic but wanted a tenth song.
Norman came over to my house in Encino. As I sat at my grand piano, Norman stood in the piano's curve facing me. He skimmed through his notebook of ideas. At some point, he looked up and said, "What about this—'Kill us softly with some blues?'" Norman said the line came from an Argentine novel called Hopscotch, by Julio Cortázar, published in English in 1966. Pianist and composer-arranger Lalo Schifrin had given him the book.
I liked the "kill us softly" part, but "with some blues" sounded dated. By '71, pop music had entered the folk-rock era of singer-songwriters like James Taylor, Carly Simon, and Joni Mitchell. Norman thought for a second and agreed. "What about 'Killing me softly with his song'?" I liked it. Norman went home to Beverly Hills. A few hours later, he called with the song's words. I wrote them all down. His lyrics opened with a verse: "I heard he sang a good song, I heard he had a style/And so I came to see him, to listen for a while/And there he was, this young boy, a stranger to my eyes."
Parts of the song reminded me of my life, of the pain that comes with loving someone deeply, of feeling moved by music, which is the universal language. More than anything, music makes us feel.
The verse was followed by the chorus: "Strumming my pain with his fingers/Singing my life with his words/Killing me softly with his song/ Telling my whole life with his words/Killing me softly with his song." When I set to work on the music, I repeated the lyric "killing me softly with his song" because I needed an extra musical phrase to com- plete the melody I wrote. I also added pauses in two lines: "Telling my whole life [pause] with his words/killing me softly [pause] with his song." The pauses provide the lyric with a moment of reflection. That's part of the storytelling process from the composer's viewpoint.
As I wrote, Norman's lyrics guided my melody and harmony. But I was also writing for Lori. I could hear her singing the song in my ear. So I wrote the music as an introspective ballad. About a half hour later, I was done. The next morning, we asked Lori to come over. I played the piano and sang the song for her. She said the song reminded her of hearing Don McLean perform and being moved by his songs. She had seen him recently at an L.A. club. Then I played the song as Lori sang from a lyric sheet Norman had handed her.
Lori Lieberman (folk singer): Hearing Don McLean perform his song "Empty Chairs" affected me deeply. I wrote a poem about how I felt right then and there. Later that night, I called Norman and read him my poem. He thought it would match one of the titles he had written in his notebook of ideas. Over the course of the next two days, Norman asked me many questions about my experience. I answered them to help get the lyric just right. I've always been proud to be instrumental in the creation of "Killing Me Softly." I want nothing other than to be acknowledged for my part in the inception of this beautiful song.
CF: We recorded the song in 1972 at Western Recorders in Hollywood.
Lori played guitar in concert but not on the song's recording or the album. For that, I contracted studio guitarists. I arranged "Killing Me Softly," and Norman and I coproduced. I played a piano introduction, two guitars joined, and then Lori started singing the first verse. When we turned in the album, Capitol thought "Killing Me Softly" should be the single. To promote the album, Capitol programmed the song on American Airlines. Back then, airlines had different music channels—rock, classical, pop. Their playlists were on loops. Passengers couldn't skip songs or go back. You had to listen all the way through before the playlist repeated.
Roberta Flack (singer, pianist, and arranger): In 1972, I was on a flight from New York to Los Angeles and was listening to the plane's music channels. That's where I first heard Lori Lieberman's version of "Killing Me Softly." I probably heard it four times on the flight. The lyrics were haunting and the chord changes were lush. I could feel the song and knew I could tell the song's story my way.
Parts of the song reminded me of my life, of the pain that comes with loving someone deeply, of feeling moved by music, which is the universal language. More than anything, music makes us feel. As I listened, I jotted down the lyrics on a napkin. I also wrote down music lines and made notes on how I was going to arrange the song.
CF:  Back then, I was working on several Paramount projects at once.
I had an office on the studio lot and spent a lot of time in their music library. One day, as I walked through the library, someone said I had a phone call. When I picked up the receiver, Roberta Flack was on the other end. Roberta said, "We haven't met but I'm going to sing your song." I was floored. Her cover of "The First Time Ever I Saw Your Face" had just won two Grammys.
Months later, I read a review that said Roberta performed "Killing Me Softly" during a concert run at L.A.'s Dorothy Chandler Pavilion the night before. I said to Norman, "Let's go down and see her." We went, and I could hear that she was developing her own way with the song. She sounded beautiful, but it wasn't yet the record that became a big hit.
RF: In the studio, I gave my arrangement a 2/4 feel and took it a little faster than the original. I wanted a groove that deepened the song's meaning. The groove is the heartbeat of a song. Grady Tate played drums and Ralph MacDonald was on percussion. I also decided to open the song with the chorus rather than the first verse. "Strumming my pain with his fingers" was such a strong line. The rest of the chorus was powerful and set the song's tone.
I arranged my background singers like a choir. I grew up in the church. The harmonies never left me. They deeply influence all of my music. I also decided to play the electric piano rather than an acoustic piano. It has a more soothing sound at times. I felt it expressed what I felt in a way that the acoustic piano could not. If you listen carefully, you realize that the song is based on circles. It never ends. I chose to end the song on a major sixth chord instead of a seventh. To the ear, the sixth ends the cycle and the song.
CF: Roberta's record became my first big hit. Since then, there have been hundreds of versions, including one by the Fugees in 1996. But Roberta's remains the one that's continually played around the world. There obviously was magic in her voice and in her arrangement deci- sions. As soon as the song opens and you hear her voice, you have to listen to it. Many years later, in 2004, when I was being inducted into the Songwriters Hall of Fame, Roberta agreed to present me with my award. Earlier in the day, after the rehearsal, she and I were alone in the hotel ballroom.
I said to her, "Roberta, how lucky for me that you found the song." Roberta, who's a very beautiful, spiritual person, said, "No, Charles, the song found me."
____________________________________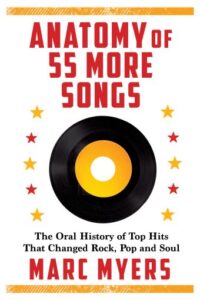 Excerpted from Anatomy of 55 More Songs. © 2022 by Marc Myers. Reprinted with permission of the publisher, Grove Press. All rights reserved.
---