The Lingering Weight of Race and Policing in One Cincinnati Neighborhood
Nick Swartsell on Mount Auburn's Rice Street
Many Cincinnatians will never drive down Rice Street in Mount Auburn.
From its start at Mulberry Street just north of Over-the-Rhine, the tucked-away street passes a few blocks of modest two-story houses. Then it makes an S-curve, passing the sheer, rocky cliff that holds up Christ Hospital's parking garage on one side and a small, calm playground bordered by a dense clump of trees on the other.
After the curves, there are two more blocks of houses.
Samuel DuBose died here almost six years ago, in the spot before Rice makes a tight turn to become Thill Street, which runs to Vine Street. An occasionally changing memorial marked by candles, a faded T-shirt with his image, and sometimes deflated balloons attached to a telephone pole still mark the spot at the corner of Valencia Street where the unarmed Black motorist's Honda Accord stopped after he was shot in the head by a white University of Cincinnati police officer, Ray Tensing, during a routine traffic stop.
But Rice Street is more than just the place where DuBose was killed.
In the years after the national news cameras and police tape, after the memorial balloons, Rice Street still passes through a community full of neighbors, parents, and children—younger and longtime residents. Like many neighborhoods that have seen controversial police shootings, both in Cincinnati and across the country, the census tract where DuBose died is one of its city's poorest.
It is quiet here most days. The sounds of birds mix with the hovering hum of Christ Hospital's massive climate control equipment, which looms on the hill above.
Residents are friendly, though some don't like to be quoted in articles.
Many will tell you all about their community, though. Rosemary Carr moved onto Valencia Street in 1986.
"I love it," she said of the neighborhood, which she didn't want defined by the shooting that happened five houses down from her. "I just love Mount Auburn."
Why was UCPD in neighborhoods like Mount Auburn in the first place?
DuBose, who lived in Avondale, was driving near UC's campus when Tensing noticed he didn't have a front license plate. Tensing followed DuBose, pulling him over just under a mile away from campus. There, after a few minutes of arguing with DuBose after he failed to produce a driver's license, Tensing shot the father of thirteen in the head.
Tensing originally told other officers that DuBose dragged him with his car before he fired. But body camera footage seems to show Tensing firing on DuBose without cause while DuBose's car was stationary. Two juries in Hamilton County could not agree to convict him.
Carr said she's never heard a satisfactory explanation for why the UC officer was there in the first place. She's angry that DuBose was killed.
Some of her neighbors, including Charna Corbin, who lived a few houses down, were similarly distraught about DuBose's death and suggested naming the street after him. Corbin said she'd like to get a petition going. But Carr balked at that.
"Him getting shot here didn't have anything to do with the neighborhood," she said. "It had to do with the police."
In one way, Carr is right—that DuBose's death happened at this isolated corner of Cincinnati was a matter of circumstance. But the neighborhood has a lot in common with many other neighborhoods where law enforcement intertwines with poverty and racial issues—including those in cities like Baltimore, Ferguson, Missouri, Chicago, and here in Cincinnati—and that have seen controversial police shootings.
Rice Street runs down the middle of much of the city's census tract twenty-three, a small area that stretches from McMillan Avenue at the north end, along Vine and Mulberry Streets to the west and south, and along Auburn Avenue and Sycamore Street to the east.
Three-quarters of the tract's 1,143 residents are Black. The median household income here is $16,344—half the city's overall median. Three-hundred-fifty-four of the tract's 810 housing units sit vacant. Sixty-five percent of its residents pay more than 40 percent of their income for rent; 56 percent pay half or more of their income for rent.
Despite sitting in the shadow of one of the state's biggest public universities, only 13 percent of residents in census tract twenty-three have a bachelor's degree. And though one of the city's premier hospitals sits in the middle of the area, life expectancy in Mount Auburn is three years below the average for the city.
When Carr moved in three decades ago, her street ran up to a dense section of row houses that surrounded Glencoe Place. That development, first built in the late 1800s, saw alternating fortunes over the years. By the 1950s, city officials considered it a slum. A 1970s redevelopment as middle-class housing won national urban planning awards, but by the mid-1990s, it was vacant.
Then Glencoe Place was blocked off to through traffic, sealing off Valencia Street from a busy neighborhood artery, Auburn Avenue. The row houses were demolished in 2013. Today, the area seems to be reverting to a kind of urban prairie, concrete cracking and weeds growing in the blocks that once held hundreds of people.
The vacant blocks of Glencoe and the occasional empty houses make the area around Rice Street feel isolated, though residents there said they love the quiet, the greenness, and the tight-knit feeling.
But they said more could be done for them and for their children.
"We need things for the kids to do around here, positive things," Carr said, noting that young people in the area need activities that will keep them out of danger.
Following DuBose's death, UCPD temporarily stopped, for the most part, patrolling in the neighborhoods off campus after it was ordered to do so by the city of Cincinnati. But why was UCPD in neighborhoods like Mount Auburn in the first place?
UCPD's role in the neighborhoods surrounding campus dates back to an agreement between the department and Cincinnati police signed in 1989. S. Gregory Baker, UCPD director of police community relations, says the university ramped up its police force in the years preceding the DuBose shooting in response to a spike in crime around the university that started around 2008. The school ended up doubling the thirty-five officers it had in 2013 to seventy in just a year and a half. By 2016, it was the third-largest law enforcement agency in Hamilton County behind the Cincinnati Police Department and the Hamilton County Sheriff's Office.
UCPD presence in surrounding neighborhoods was boosted when UC hired former Lamar University police chief Jason Goodrich to lead the department.
Traffic stops went up 300 percent in 2015 under Goodrich's tenure. Arrests also tripled. With that surge, racial disparities also increased. During this time, stops of white individuals actually decreased. Black stops went way up, however.
Neighborhoods like Mount Auburn "were, according to the chief, to be effectively 'no fly zones,' through which, via excessive traffic enforcement, criminals would not want to drive," a report on the department by an outside company called Exiger reads.
Tensing seems to have exemplified this more aggressive approach during his time at UCPD, stopping and arresting far more suspects than the average UC cop.
Four out of five traffic tickets Tensing issued were against Black motorists, and three-quarters of arrests were of Blacks. In the same time frame, UCPD officers as a whole gave more than 60 percent of their tickets to Black motorists.
"Was it racist?" Baker once asked about those disparities at a police-community relations panel. "If it walks like a duck and talks like a duck . . ."
Residents suggest that level of policing might not be necessary.
Eba Erco, who moved into the neighborhood on Rice Street about six months after Tensing shot DuBose, says he liked it there because it was calm. Erco, who had recently graduated from UC at the time he moved in, says he could "kind of understand" the presence of UC police on his old street, Wheeler, which is much closer to campus and where there were a number of break-ins and muggings. But in this quiet cove? He doesn't see why a university officer would be there.
A heat map of Cincinnati Police Department data shows the areas around Rice, Valencia, and neighboring streets in a deep shade of blue—meaning a low number of incidents—next to orange and red splotches that signify higher levels on nearby Vine Street to the west and McMillan Avenue to the north. The year before DuBose was killed saw only a couple small incidents there, including a person breaking into a vacant house and the theft of six dollars from a woman's wallet. There is one exception—a murder that happened on Gage Street to the south in the weeks after DuBose's death—but otherwise, the area is much less active than others to the north, closer to UC, or further south into Over-the-Rhine.
As conversations about policing in working-class and Black neighborhoods continue to be heated, residents on Rice Street and its surroundings waited for more concrete improvements to their neighborhood. Carr said she was focused on a park just north of her street. As she spoke, her half-dozen elementary- and middle-school-aged grandchildren filed out her front door to meet their mother.
Inwood Park used to have more amenities where kids could go play, she said, making it a spot for people in the neighborhood to congregate in a positive way. But Carr said the park had become neglected, crime had gone up, and playing there had gotten more dangerous. The Cincinnati City Council mulled money for a rehab of the park the year DuBose died, but it was left out of the city's budget.
Carr said she's hopeful the memorial on the corner near her house will come down some day. She was glad it was there for the first few months. But now it is fading, decaying.
"I'm ready to move on," she said. "Why remind yourself of something tragic that way?"
__________________________________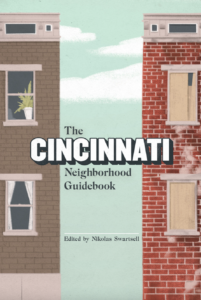 Excerpted from The Cincinnati Neighborhood Guidebook, edited by Nick Swartsell, available via Belt Publishing. Top photo by Nick Swartswell. Aerial view of the southern portion of Rice Street, where single family homes run the gamut between vacant, long-occupied and recently renovated.
---