The Shifting Unreliability of Memory: A Reading List
Jo Harkin Recommends Anne Tyler, Meredith Westgate, and More
Writers are preoccupied with memory. They have to be: a story is, at its most fundamental level, a sequence of memories. You can't have a plot without memory. Endings need a middle. A middle has to have a beginning. Effect follows cause. Consequences follow actions. Even if a story has a disordered timeline, the fun is in how our brains put it right. We read on, waiting patiently to find out the explanation, what the nasty thing was that was seen in the woodshed, and how that led to what came after.
We humans also tend to see ourselves in terms of story. We look back through our memories to make sense of our personalities. For example, we might tell ourselves, "I'm hard working because my mother abandoned me." Or maybe, "I steal things because my mother abandoned me."
But what happens if there's a gap in the story?
Say you pick up a book and it turns out that an error at the printers has erased a paragraph. Or a whole chapter. You'd worry—correctly—that the whole thing may no longer make sense. And when it comes to us humans—well, we don't actually know if the self is really built on memory and story. But we like to believe it. So what happens to that belief—to us?—when there's a part of the story missing?
My own novel, Tell Me an Ending, explores what happens when ordinary people find out that they once had a memory removed and have to decide if they want it back. It follows their struggle to reconcile this discovery with their ideas of their relationships, their lives, and their identities. It also delves into the hidden workings of the memory removal clinic itself and one of its psychologists' attempts to find out if their technology is truly working for the greater good.
I'm sharing some books I love that also explore these ideas and the consequences of missing memories.
*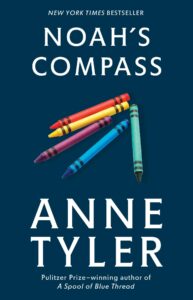 Anne Tyler, Noah's Compass
(Vintage)
Anne Tyler turns her exquisitely humane, closely observed writing to the story of Liam, a 60-year-old man who has just lost his teaching job and has moved to a cheaper apartment. On his first night there, the apartment is robbed; Liam suffers a blow to the head, and he can't remember anything about the incident. These missing hours—the "not knowing how he'd comported himself"—disturb him deeply. His preoccupation with the lost memory leads him into a relationship with Eunice, a professional "rememberer." Yet, though Liam thinks his problem is that "his true self had gone away from him and had a crucial experience without him and failed to come back afterward," this reading will be challenged as he comes to a deeper understanding of himself and his life.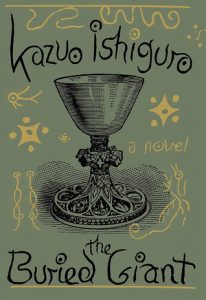 Kazuo Ishiguro, The Buried Giant
(Vintage)
Kazuo Ishiguro's hauntingly beautiful foray into high fantasy takes the form of a distorted Arthurian-era quest. Its main characters, Axl and Beatrice, journey across an unconscious dreamscape of England in search of a son they can't remember. A general amnesia they call "the mist" has descended not only on them, but on the settlements they pass through. Yes, there are knights, ogres, monks, and dragons—but the novel's main concern is loss, horror, and collective memory. Ishiguro has said that he was interested in what warrior societies choose to remember of trauma and used his mythological setting as a way to explore the protective power of amnesia. And yet, the novel is much more than metaphor. Under Ishiguro's careful hand, Axl and Beatrice are brought to full and heartbreaking life.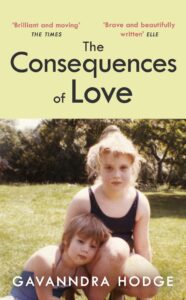 Gavanndra Hodge, The Consequences of Love
(Penguin)
In this deeply moving memoir by Gavanndra Hodge, the writer reflects on a childhood living with addiction and the sudden loss of her younger sister Candy to a rare virus when she was 14. Later, as a high-achieving adult with a family of her own, she begins to question why she can't remember anything at all about Candy except her death and to try to reclaim some memory of her sister. This is both an intimate, compelling immersion into Hodge's grief and a considered examination of memory: delicately and precisely exploring our sense of personal story, our relationship to the past, and where trauma goes when it's banished from the conscious mind.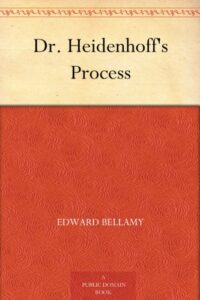 Edward Bellamy, Dr Heidenhoff's Process
(Lector House)
Possibly the first fictional depiction of memory removal tech, this short, obscure novel written by Edward Bellamy in 1880 was ahead of its time, both in its imagining of the physical process and its nuanced, compassionate consideration of morality and sin. It may not be the most masterful piece of Victorian literature, but this dark tale of a young man who wants the woman he loves to try an experimental method of removing memories is certainly one of the most thought-provoking.
Meredith Westgate, The Shimmering State
(Atria Books)
In Meredith Westgate's dreamily atmospheric debut novel, a pill intended to treat Alzheimer's sufferers makes its way onto the black market, allowing people to experience the memories of others as a recreational trip. If the idea of this doesn't already creep you out, Westgate shows exactly how painful and destabilizing the effects  are via the stories of Lucien and Sophie, two young Los Angelenos who end up at a clinic treating Memoroxin abuse. The novel also explores the erasure of memories—a necessary part of the "erase and reformat" style treatment—and delves into the ethics and consequences of letting some things disappear forever.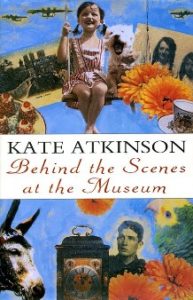 Kate Atkinson, Behind The Scenes At The Museum
(Picador)
Kate Atkinson's first novel, Behind The Scenes At The Museum, a kaleidoscopic family drama, is impossible to write about without giving too much away. Just read it!
__________________________________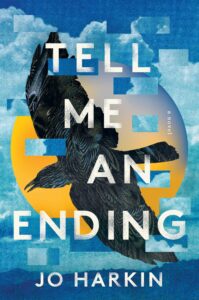 Tell Me an Ending by Jo Harkin is available now from Scribner. 
---