The Sexual Double Standards That Led to the Baby Boom—and 'Girls in Trouble'
Gabrielle Glaser Recounts an Era of Prudery, Playboy,
and Teen Pregnancy
People had always had sex before marriage, but after the war, something in the social calculus shifted. Young men who went off to war as virgins returned from their years in Europe and Asia sexually experienced—and unwilling to resume chaste relationships with their stateside sweethearts. Teenagers also had newfound chances to explore their sexuality. In the increasingly affluent United States, they had unsupervised time and space in the expanding new suburbs: bedrooms they didn't have to share; basement rec rooms; the back seat of the family Buick. The opportunities to have sex were everywhere. But in a conservative nation, there was neither birth control nor sex education and that combined with teen privacy to make unwed pregnancy a biological inevitability. The number of babies born to unmarried mothers more than tripled between the years 1940 and 1966, rising from 7 per 1,000 births to 23 births per 1,000.
None of these statistics helped Margaret, who felt—was made to feel—isolated in her status as a "girl in trouble." She had good reason to think she was alone. Almost without exception, the images she saw all around her conveyed the American ideal: a calm, orderly universe in which white couples were creating calm, orderly families. Strong, commanding men were fathers, wed happily to morally upright mothers who had a carefully cultivated persona of rectitude. This new norm was a stark contrast to that of the 1940s, in which female sexuality seemed so volatile that good-looking women were described as "bombshells" and "dynamite." And no wonder: Wartime women in the United States didn't just have sexual power. They signed up by the hundreds of thousands for the armed services, and hundreds of thousands more stepped into traditionally male jobs, building ships and aircraft, manufacturing munitions and driving trucks. But once the war was over, so was their independence. Women, so recently valued for their skills and forbearance, were sent back home to the growing new and remarkably chaste suburban hearth. In the midst of the biggest demographic growth in history, the baby boom, their most important job was to be mothers. Between 1946 and 1964, American women—of every marital status—gave birth to an estimated 78 million infants.
Somehow, though, the specifics of how all these babies came to be was almost entirely airbrushed out of popular culture and polite conversation. By the early 1950s, female sexuality, once hailed as explosive, now seemed almost as frightening as communism. Censors tried to banish any hint of sex in novels and films. And yet at the same time women were prized for their fertility. Those who lacked the voluptuousness of Marilyn Monroe or Lana Turner could get help from the fashions of the day. With fabric rationing over, billowing skirts with petticoats emphasized curves, and an arsenal of undergarments bound and padded flesh into hourglass shapes whether they were natural or not. Even high school girls strapped themselves into tight bullet bras, and wore thick elastic girdles for cinched waistlines.
By the early 1950s, female sexuality, once hailed as explosive, now seemed almost as frightening as communism.
It was an era of contradiction and hypocrisy. Promote your sexuality, but don't have sex until you're married, then promptly become a mother. To make matters worse, sex education was almost nonexistent, and advice to young women was at once vague and conflicting. One constant: unmarried girls had to bear the responsibility for whatever took place between them and their boyfriends. Consider this 1957 newsreel, which aired in high school health classes across North America. It begins with a girl named Mary rushing out of her boyfriend Jeffrey's car one evening. He runs to follow her up her front steps, apologizing. Mary ignores him and bounds up the stairs to her bedroom, her face stricken as she furiously brushes her hair at her vanity table. Her mother looks on, concerned. Finally Mary confesses that she and Jeffrey had stopped and parked. "And then things seemed to happen, until we nearly . . ." The older woman's expression shifts from one of concern to dark disapproval. She recoils from her teenage daughter, crossing her arms. "It was so close," Mary cries, on the verge of tears. "Suddenly I realized what we were about to do. I asked Jeff to take me home. I guess he felt ashamed too—he said he was sorry, that it was his fault."
"Do you think it was his fault?" the bathrobed mother asks, her mouth pursed in a tight line.
As Mary's mother's comment suggests, it was up to girls to protect their honor. In the 1950s, abstinence was the only socially acceptable option for young people with surging hormones. In one popular guide to how girls should conduct themselves, the author offered the following admonition: "Girls!" she implores. "There's a limit! . . . When you sense that your emotions and the boy's are becoming too much aroused, suggest going to the corner for a Coke, or going for a walk." Taking any other path could have disastrous consequences: "sex feelings" might make you want to go further, and could lead to "unwed intercourse," lifelong guilt, and pregnancy. Better to get to know a fellow through a wholesome activity like bowling.
It was reasonable for parents and other adults to worry that "unwed intercourse" among teens could lead to pregnancy, since there was almost no way for them to obtain birth control. Condoms were all but off-limits to young people—they were kept largely behind the counter, and pharmacists, acting in loco parentis, often demanded proof of age. Access to the birth control pill, approved by the FDA in 1960, was prohibited even for married couples in some states until 1965, when the Supreme Court issued its historic ruling in Griswold v. Connecticut. And abortion, of course, was illegal—and risky—in most states until the landmark Roe v. Wade decision in 1973.
The rules were utterly perplexing. You were sold glamorous formfitting dresses for proms and Sweet Sixteen parties. Yet you were supposed to be a virgin as you recited your vows, then magically morph into a sex kitten on your wedding night, wearing a frilly see-through full-length nylon nightgown—or more weirdly, a set of short sheer pajamas called baby dolls.
Sensing some intriguing data, Alfred Kinsey, a studious professor of zoology in Indiana who collected bugs and edible plants, had set out in the mid-1930s to make sense of human sexuality—an unexplored realm of science. What he found exposed the gap between how Americans pretended they behaved sexually, and what they actually did.
In 1948 Kinsey presented copious (and controversial) research he'd collected from thousands of subjects across the United States for more than a decade in a three-pound book called Sexual Behavior in the Human Male. In 1953 he presented his findings on women in Sexual Behavior in the Human Female. Both rocketed to the top of the New York Times best-seller list, selling hundreds of thousands of copies, despite the fact that the paper rejected advertising about the books and declined to review them.
At the time, most Americans professed to believe that those who didn't hew to an established set of sexual rules were degenerate. The laws reflected this: adultery, homosexuality, and premarital sex were criminal in most states. Children were taught that masturbation caused a variety of maladies, from hairy palms to insanity and blindness. Yet Kinsey's books revealed that almost all men, and a majority of women, masturbated; that most men and half of women had had premarital sex; that half of men and a third of women had cheated on their spouses; and that more than a third of men, and 13 percent of women, had had homosexual experiences.
Playboy's complexities reflected the rapidly shifting cultural landscape—and morals—of a new generation of Americans.
Americans may have found the male studies shocking, but they simply refused to accept that their grandmothers, mothers, and daughters had active (and varied) sexual lives. Many insisted that Kinsey drew his six thousand female subjects from prostitutes. Indeed, not only young people were expected to act with decorum and self-restraint; married couples were too. On one side of popular culture, romance was presented in such a desexualized way that a television show featuring two of the country's most beloved TV stars—Lucille Ball and Desi Arnaz—showed the real-life husband and wife sleeping in twin beds. Almost everybody loved Lucy, but when she became pregnant during filming in 1952, CBS executives and the show's advertisers agonized about how to conceal her growing girth. (Until that moment, visibly pregnant women had never appeared on film or television.) Ball and Arnaz, though, insisted that Lucy's pregnancy would resonate with her 10 million viewers, and that it be written into the show. CBS was so nervous, it hired what sounds like the beginning of a bad joke—a rabbi, a priest, and a minister—to review the script for "taste." Ball, as audacious off-screen as she was on, evaded censors by using French in the episode when she tells Ricky she's expecting: it was titled "Lucy Is Enceinte." In the end, the joke was on CBS: an astounding 44 million people tuned in to watch the 1953 episode about the birth of Lucy's baby.
Meanwhile, a new upstart named Hugh Hefner was raising the banner of sexual freedom in Chicago. Kinsey had challenged American prudery with science. Hefner confronted it directly, with a new magazine he debuted in 1953 called Playboy. While there had been previous skin magazines, Hefner aimed for a mainstream audience. He intended Playboy as a new lifestyle guide for middle-class men (and not incidentally, teenage boys) who lacked role models for the country's newfound consumerism, and he commissioned articles on cocktail mixing, travel, dining, advice on how to buy the right cars and stereo equipment. Of course, what really propelled the popularity of his magazine was the publication of topless centerfolds every month. His first was Marilyn Monroe—remarkably, she didn't receive a dime of the $500 he paid for the images—but soon thereafter his models took on a more attainable air. Although Hefner himself had grown up in a strictly religious home and had married the first woman he slept with (the couple later divorced), he offered Americans an entirely new concept: wholesome sexuality. Not only bad girls liked sex, Hefner was fond of saying—good girls enjoyed it, too, and they didn't have to be married to do it. Photos of his centerfolds—Playmates of the Month—accompanied lists of their alleged hobbies, turn-ons, and sports. His first message to readers was this: "We don't expect to solve any world problems or prove any great moral truths."
Hefner's subscription rates often topped those of Life and Time, and in 1960 he began expanding his company to include Playboy Clubs, in which "bunnies" dressed in impossibly tight strapless satin costumes with balls of cotton attached to their derrières, served men cocktails and meals with deep backward dips they had to master in order to get hired. Critics, most famously Gloria Steinem—who had written about her experiences as an undercover bunny—slammed Hefner for his blatant objectification of women. It became easy to dismiss what Hefner, padding around the Playboy Mansion in his silk robe and captain's hat, arms draped around women many decades his junior, would come to represent. But the magazine, and the man, were far more complicated than the frivolous bunny imagery he defended as "playful." Under his direction, the magazine criticized the Vietnam War and championed a host of progressive causes: abortion rights, civil rights, the decriminalization of marijuana, and especially the repeal of nineteenth-century sex laws. He integrated his staff and his club memberships and provided female employees with tuition reimbursement.
Playboy's complexities reflected the rapidly shifting cultural landscape—and morals—of a new generation of Americans. The chasm between the prim and the playboy became even more evident in 1956, when Grace Metalious, a young mother of three, shocked the United States with her blockbuster novel Peyton Place. It depicted premarital sex, extramarital sex, unwed motherhood, and incest in a small New Hampshire town. It sold millions of copies, spawning a sequel, a movie, and a prime-time TV series—and unlike Playboy's consumers its readers were overwhelmingly female. The book was a phenomenon, offering readers a form of socially acceptable voyeurism.
Americans had competing narratives for other, more sanctioned relationships. Newspaper society pages gave breathless reports of weddings, from descriptions of the bride's gown to the name of each of her attendants. The media lavished coverage on Elizabeth Taylor's serial unions, beginning in 1950 with Conrad Hilton Jr. when she was eighteen; paparazzi besieged Marilyn Monroe's civil ceremony with Joe DiMaggio in 1954; and millions watched Grace Kelly's televised marriage to Prince Rainier in 1956. The marriage rate spiked, and in 1950, the marriage age dropped to its lowest point since the 1890s, to just over twenty years for women, and just under twenty-three for men.
One guide to marriage—with the straightforward title How Every Girl Can Choose, Win, Hold and Enjoy a Man—offered women explicit advice for landing their dreamboat. In chapter after chapter, the author advises young women how to dress, speak, eat, and act. Among the tips: always be admiring of men; let your escort order for you in a restaurant; avoid halitosis at all costs; and if you are bottom-heavy, for heaven's sake, stay away from horizontally striped skirts. Not only appearance was to be curated—so were personalities. If a girl recognized herself as a "Timid Sue," a "Frozen Fran," or a "Temperamental Tess," she'd be out of luck—unless she picked up and moved to places where men outnumbered women. In Alaska, Nevada, or Idaho, even hapless women would have better prospects.
__________________________________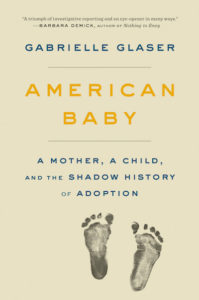 From American Baby by Gabrielle Glaser, published by Viking, an imprint of Penguin Publishing Group, a division of Penguin Random House, LLC. Copyright © 2021 by Gabrielle Glaser.
---