The Sad, Grotesque Life of "Baboon Lady" Julia Pastrana
Trapped Between High Society and the Freak Show
There are no birth, baptism or early records enabling a reconstruction of Julia Pastrana's formative years, but she was probably born in 1834 in the Sierra Madre region of Mexico. She suffered from two rare congenital disorders that meant her face and body were covered in dark hair and her gums were so overgrown it looked as if she had a second set of teeth.
Rumors abound about her early years: she was sold into show business by her parents; she was left to die in a forest but was miraculously rescued; she was protected by her mother, who, hailing from a so-called Root-Digger Indian tribe, fled the community when Pastrana was born. In this version, so the story goes, a group of Mexican herders then found Pastrana in a mountain cave hiding with her mother.
Pastrana was subsequently taken to a local orphanage and eventually adopted by Señor Sánchez, the governor for the state of Sinaloa in Mexico, who kept her as his maid. In April 1854 she left Sánchez, having been persuaded by a showman to perform in America, and in December 1854, at the Gothic Hall musical theater on Broadway, she was billed as the Marvelous Hybrid or Bear Woman.
Pastrana toured under the management of another showman, Theodore Lent, who like Pastrana remains an obscure figure. Recent research suggests he was an ambitious, optimistic and rather unscrupulous businessman, salesman and auctioneer who occasionally dabbled in prostitution. He probably met Pastrana while she was performing in New York, charming his way into her life and, it would appear, marrying her in Baltimore around 1855.
Why they married we don't know for sure. Pastrana was reportedly generous, sensitive, charitable and intelligent, claiming that Lent "loves me for my own sake." Perhaps, though, the marriage was really a way for Lent to exact control: when Barnum met Pastrana in 1857, according to the memoirs of another showman, "she would not take off the thick veil which covered her face until Mr. Lent came in." Also, Lent knew Pastrana was a money-maker, so to avoid her changing showmen what better way to keep her than by marrying her?
By suppressing the truth of Julia Pastrana's story, showmen could peddle the claim that she was the product of an unholy union between man and beast.
But it appears that Lent was attracted to bearded ladies. Indeed, in the world of the freak show bearded ladies often found admirers and husbands. Annie Jones, initially billed as the Infant Esau at Barnum's Museum, was allegedly secretly married to a showman when she had just turned 16. The marriage lasted 15 years until 1895, when the pair were divorced, and Jones subsequently married again.
Mme Fortune Clofullia, another bearded lady who featured in Barnum's museum from the 1850s, also had a husband as well as a son who would sometimes appear with his mother onstage. As for Lent, Pastrana would not be his last bearded wife; in the 1860s he married Marie Bartel, a bearded lady from Germany. After promising her father that he would never display Marie, Lent soon had his new wife billed as the sister of Julia Pastrana, under the name Miss Zenora Pastrana.
At this time the press described Bartel as "his property." But what about Lent and Pastrana? What cemented the marriage? Love, lust or money? Perhaps a bit of all three. Certainly, though, in light of his later actions, it is hard to conclude that it was affection. As we will see, Lent emerges as a monster.
In 1857 Pastrana and Lent—freak and showman, wife and husband—were in London, with Pastrana billed as "Miss Julia Pastrana, the Nondescript, known throughout the United States and Canada as the BEAR WOMAN" and "Baboon Lady." While the mysteries of Pastrana's formative years leave the historians grappling for the truth, these very same mysteries were a deliberate part of her presentation as a freak.
To put it bluntly, by suppressing the truth of Pastrana's story, showmen could peddle the claim that she was the product of an unholy union between man and beast: "Her Remarkable Formation, and Mysterious Parentage," claimed one piece of publicity, "and how she was Discovered in a Cave, suckled by her Indian Mother, Dwelling with Baboons, Bears, and Monkeys."
According to the press, "the delicate inference is obvious," but this didn't stop Lent hammering home the point. Another poster for Pastrana's 1857 exhibition contained a short section on the "Root-Digger Indians to which Tribe Julia's Mother belonged": "These remarkable beings inhabit the Mountains, in Mexico, and live in caves with animals of different description, such as Bears, Monkeys, Squirrels, &c., between which and themselves they know no difference; their food consists of grass, roots, insects, barks of tree, &c."
The Root-Diggers lived with animals and couldn't tell them apart from their own kind, a further insinuation of bestial copulation(accusations commonly aimed at Africans onstage). The bestiality was enhanced by the very association of the term "Root-Digger," which signaled, to the white Victorian mind, dirty, lazy, bloodthirsty and animalistic sexual savages.
In Mexico, where Pastrana's mother was variously claimed to be a native, living in a cave and/or where she gave birth, women were similarly perceived as hypersexual. What's more, hirsute women like Pastrana came to signify hypersexuality, primitivism and bestiality.
So Julia Pastrana—whoever she really was, whatever the true nature of her story—was placed onstage and under the stares of an audience who were informed that she was the horrific product of a bestial union with, as the publicity stated, "the face of a Baboon—the body and limbs of a Woman—the skin of a Bear…wherein the nature of woman predominates over the Ourang-Outangs." She might be part-animal but she was also "a Lady in every respect." And all of this was being assiduously promoted by the man she loved.
*
Julia Pastrana was set to perform at the Regent Gallery, at the Quadrant on Regent Street with its lodgings, homes and shops selling imported and exotic delicacies. The colonnades of cast-iron columns, supporting a variety of formal and picturesque facades, offered a covered footway so those with spare time could meander around and possibly head into a freak show.
Indeed, the Regent Gallery was a prime location with a proud tradition of freak shows: the Gigantic Youth from Yorkshire was shown at 50 Piccadilly in 1812, having already, allegedly, been introduced to "Majesties, and Royal Family, at Windsor." Around 1817 to 1829, a Fat Boy, three years old, was on display for 1 shilling at 183 Piccadillly and, in the mid-1840s, the Human Tripod was exhibited for half a crown at the Quadrant, being declared "a bipenis, as well as a trisceles" with three legs. Daniel Lambert, Cahgn and Eng Bunker, and Charles Stratton had all been shown in the vicinity.
Pastrana was described as "sociable and polite, and, besides being undoubtedly the greatest living curiosity, she is a lady in every respect."
At the Regent Gallery Pastrana could be seen three times a day, for the price of 3 shillings from the stalls, 2 shillings from the "area" and 1 shilling from the gallery. The press, who were given a private view along with men of medicine, praised her "very pretty whiskers," "double gums," and strange set of teeth, declaring that "she dresses with great taste in rich Spanish and other costumes, and after each performance comes among the audience to converse and answer questions."
She was adept at playing up to her billing as the Baboon Lady. She was described as "sociable and polite, and, besides being undoubtedly the greatest living curiosity, she is a lady in every respect," with "scientific men," ladies and children being ""highly used by her strange appearance, her dancing and singing." She danced the Highland fling, performed English and Spanish songs and conversed easily with the audience. One spectator commended her "sweet voice" and "great taste in music and dancing." Another spectator recalled giving Pastrana a cigarette:
…seating herself in an apish posture astride of a tall chair, she lighted it and some it through; looking a perfect fiend, as she sat there before the spectators, her great cavernous eyes flaming and her huge nostrils omitting clouds of smoke. Yet with all this, she was substantially human: she spoke several languages, sang, danced, was lively and intelligent.
Of her origin nothing certain was or is known: the story however being that her mother was a Mexican Indian, who was lost for years in a country full of apes & bears. It is held, I believe, that such an union as is this hinted at can never produce conception; the spermatozoa of beasts being unable to germinate in the human female, and vice versa?
The publicity had clearly got this spectator musing. His name was Arthur Munby, seemingly a respectable upper-middle-class gentleman: a graduate of the University of Cambridge, a civil servant in the Ecclesiastical Commission from 1858 and an occasional poet. But he harbored a secret life: a sadomasochistic marriage to his working-class servant Hannah Cullwick from 1873, and an obsessive lust for working-class women.
In his alma mater, Trinity College, there are volumes of his diaries, notebooks and photograph albums that document, in minute detail, his fascination with working women, from pit girls to collier girls to acrobats and even women with no noses. He indexed his diaries "Working Women, studies of." His obsession was "all-pervasive," as one contemporary academic suggested, and intimately connected to male pleasure; his relationship to working-class women was infused with pornographic voyeurism.
Munby gained a thrill from transgressions, so it was hardly surprising that he would head to Pastrana's freak show in 1857. He didn't write about her, though, until 1862 when he returned to another one of her shows, which was very different to the first.
After her 1857 London exhibition Lent and Pastrana travelled across Europe. Much like Tom Thumb, Pastrana was a gifted performer who starred in her own play, Der Curierte Meyer, about a dairyman who falls for Pastrana, whose face is covered in a veil (lifted for the audience's amusement).
The show was closed on the grounds of obscenity, but Pastrana continued to perform Spanish dances and popular songs. She then joined the circus, traveling across Germany to Warsaw and, by late 1859, Moscow. Here she gave birth to a boy in March 1860, who was born with the same congenital traits and he dies, two days later, from asphyxia.
The delivery had also taken its toll on Pastrana and she died, following complications, in the early hours of March 25th, 1860. Her last words were apparently: "I die happy; I know I have been loved for myself." But Lent's actions suggest otherwise. After the death of his wife and child, he sold the bodies for £500 and they were sent for embalming at Moscow University with a view to their preservation in the University's Anatomical Museum.
After the bodies were embalmed, Lent had a ghastly change of heart: he realized he could make a freak show from the corpses, so he offered the university £800 as a repurchase. Lent returned to London in 1862 determined to continue with the freak show. And so, in 1862, the Embalmed Female Nondescript and Child were displayed at the Burlington Gallery, 191 Piccadilly, a site usually reserved for high art exhibitions. That's where Arthur Munby saw Pastrana for the second time.
__________________________________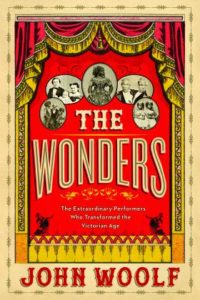 From The Wonders: The Extraordinary Performers Who Transformed the Victorian Age. Used with the permission of the publisher, Pegasus Books. Copyright © 2019 by John Woolf.
---