The Rise of the Chinese Hipster
On a Generation Wenqing, aka "Cultured Youth"
Young culture connoisseurs like CK labeled themselves Wenyi Qingnian, literally "Cultured Youth," or Wenqing for short. The term was often translated as "Hipster," but Wenqing evoked a love of art, culture, and living life to its fullest without the snobbery and cynicism associated with the hipster label in the West. Another difference was that hipsters were often born into the cozy suburban middle class of a developed economy. Wenqing were not, and they had to work hard to find their way through a competitive and intricate system to earn money to support their interests. CK's generation grew up in a China that was emerging from decades of economic hibernation. They were China's first generation in nearly 50 years who had opportunities to work for the time and the means to do things like study existentialism, watch independent films, and visit art galleries. Wenqing were those who incorporated these new ideas into the way they lived, altering their value systems and making life decisions based on these fresh—oftentimes global—perspectives.
A popular Beijing arts magazine listed profiles of Wenqing in a 2014 article: "An advertising employee who writes critiques of plays and goes to the Philippines for diving trips. In her spare time, she translates cookbooks. Another works at a multinational and is in charge of public relations. She goes to work on a bus and listens to classical music. She copies poems into a tiny notebook each night and has translated three romantic novels from English into Chinese . . . They want a comfortable life, but also a rich spiritual existence. They appreciate the poetry of Rilke and they go to Europe for fun."
Sometimes they didn't come back. Wenqing were known to quit high-paid, unfulfilling office jobs in the big city to search for beatific enlightenment elsewhere, like CK had. In 2013, a young couple who worked corporate jobs in Beijing abruptly quit their jobs and drove their orange Volkswagen Polo station wagon across China to resettle in Dali, an ancient walled town along the banks of a scenic alpine lake in Southwestern China more than 1,500 miles away from Shanghai. The blog they wrote about their new life went viral. It was circulated among millions of post-80s office workers who longed for a similar escape from the pressures of city life.
"We're not looking for business opportunities," wrote Shi Xuxia in a blog post; "we only want to live in a small town near the mountains and the water, to pursue a peaceful life, a breath of fresh air, a pot of tea made with snow water, and a meal made with natural ingredients. Many people back home admire us or are jealous of us. All I'll say is you can do it, too."
Her final blog before arriving at Dali ended with a farewell to China's smoggy, pressure-ridden capital:
GOODBYE, BEIJING.
GOODBYE, PM2.5
GOODBYE, UPS AND DOWNS OF LIFE IN THE CITY.
GOODBYE.
A book deal followed. Leaving Beijing for Dali: Do What You Like with Whom You Like was in stores two years later, the ultimate Wenqing experience, neatly packaged and sold through one of China's largest state-owned publishers.
The book was a hit among young urbanites. Dali was everything cities like Beijing and Shanghai weren't: the pace of life was slow, wages low, and the air and water were clean, the locally grown food safe to eat. The lake town was completely surrounded by snowcapped mountains. It was an ideal place for idealists: more and more Wenqing from the cities were arriving to town to stay, in search of a better life.
On a reporting trip I took to Dali in 2013, I met several people CK's age who had dropped everything and had moved there from the big city. "We've met more friends here in a year and a half than we did in our fourteen years in the city," one urban transplant boasted to me.
She had moved there with her husband and three-year-old daughter from Guangzhou, where the two adults had worked long hours in the import/export business. The urban refugees lived in a traditional courtyard home at the foot of the mountains above town, offering a panorama of the water and mountains. Each morning they biked downhill to the old town to drop off their daughter at preschool and to open their wine-tasting gallery among the cobblestone lanes of the old town. Just like CK, the couple had established their shop in hopes of attracting like-minded people.
"There are more interesting people here from all walks of life," she told me as I enjoyed the view. "We're friends with film directors, journalists, writers. We get together and talk about how life should be lived and our ideals. That's the last topic urban dwellers in China want to talk about. Back in Guangzhou, people were only interested in talking about buying new apartments or new cars. All of urban China has been engulfed in a whirlpool of consumption. Everyone is helpless," she told me.
I asked them about the downsides of living in Dali. Healthcare was bad, they said, the schools weren't the best, and they were far away from family—the same downsides to being a foreigner in Shanghai. But the biggest disadvantage seemed to be money. None of the Wenqing I had met there was independently wealthy, and between conversations about the evils of materialism, several of them quietly admitted they weren't making enough. They had traveled more than a thousand miles to sell wine, psychological advice, books, or coffee to people who were just like they used to be: tourists and transplants from the city who had money to spend. Their customers were daily reminders of a time when they were part of the consumer class.
What's worse, they were now competing with each other to serve these tourists. Even the Wenqing married couple from Beijing with the book deal ran into these problems. In September of 2014, Shi Xuxia stunned her devoted blog followers with the news that she and her husband were packing up and returning to Beijing. She wrote that she had received a "sudden job opportunity" that required her to start working after that year's National Day Holiday. No other explanation was given. Her final post from Dali was accompanied by a photo of her dressed in a hemp blouse longingly gazing toward the sun descending behind the mountains, radiant clouds hovering overhead.
It's the last day in Dali. The sky cleared up after a few days of drizzle. I walked up to our terrace on the second floor and stared into a sky full of stars. I spent over five hundred nights in Dali like this. The dream has been achieved, so it's time to chase the next one. I think that's life. We are about to start a new life. In fact, every day is a new life. Every day is a beautiful day, isn't it?
Goodbye, dear Dali. I will return to see you someday.
Dali, Dali . . .
CK once referred to himself as a Wenqing. But in true Wenqing fashion, he immediately qualified the label, explaining he was more of an engineer by nature. It was his engineer's mind that had helped him secure the job at Polverini and paid the bills, but it was hard to overlook the Wenqing parts of CK: he was a musician, he read Nietzsche, he dabbled in drugs, and before establishing his sandwich shop, he worked in a store that specialized in Lomography, an obscure art movement dedicated to a Russian camera that devotees used to take colorful lo-fi images of everyday objects.
But there was also a Fenqing side to CK. The term was short for Fennu Qingnian, literally "Angry Youth." It described young patriotic Chinese who were suspicious of foreign intentions in China but who also didn't completely trust China's own leadership. Fenqing were deeply proud of the country's long history and cultural traditions, and they channeled that passion into fighting for a stronger Chinese role in global affairs. Apart from the generational groupings, the term was yet another categorical box young Chinese neatly sorted themselves into, making introductions a fatiguing exercise in pigeonholing: Are you a post-80s or a post-90s generation? Cultured Youth or Angry Youth? Wenqing or Fenqing? After a while, the classifications seemed meaningless. To me they were all simply Qing—young. They were trying to make sense of their world. And they were doing what came naturally to young people everywhere. They were searching for happiness.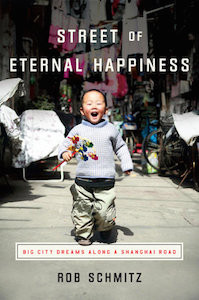 Excerpted from STREET OF ETERNAL HAPPINESS. Used with permission of Crown. Copyright © 2016 by Rob Schmitz.
---