The Right to Potential: On the Dramatic History of Women's Elite Running
Danielle Friedman Considers the Groundbreaking Impact of Kathrine Switzer
It was only a matter of time before women took to the streets for fitness. In the late 1960s, as a growing number of American women were demanding equal rights, a small but equally passionate group began fighting for a very specific kind of liberation: the right to run. Their women's movement was about actual movement. At the dawn of the 70s, women distance runners likely numbered in the dozens. By the end of the decade, after shedding literal blood, sweat, and tears, they would top tens of thousands—becoming tens of millions today.
The rise of running represented a dramatic shift in the way women viewed their bodies—and their own potential. Running is rarely graceful. (I humbly offer up every race photo I've ever taken as evidence.) It almost always involves breaking a sweat. Before treadmills were widely available, it usually entailed a public display of speed, strength, and self-reliance—or struggle and suffering, depending on the day. It is in no way conventionally feminine.
Bonnie Prudden, Lotte Berk, and a handful of others had introduced middle- and upper-class white women to the benefits of a regular exercise habit and sold the mainstream on exercise as a tool for beauty. Now it would take a kind of athletic superstar to bring women's fitness from the respectable privacy of living rooms and boutique fitness studios onto sidewalks, park paths, and streets—the right woman, at the right time, with the right combination of talent and personality.
Kathrine Switzer, a 20-year-old journalism and English major at Syracuse University and onetime beauty pageant contestant, was that woman.
Kathrine's mission began on a frigid Wednesday in April 1967, when the college junior, her running coach, and her boyfriend set out in the sleet to run the Boston Marathon. The 26.2-mile course, the oldest marathon in the country, was officially open only to men—authorities believed it was dangerous for a woman to run fast for more than two miles at a time. It was almost as uncommon for grown men to run in those days; most Americans thought of runners as oddballs with a masochistic hobby. A female distance runner was downright concerning. But Kathrine had run 31 miles in one stretch while training. She wasn't worried about her health—only about crossing the finish line.
For the first few miles, Kathrine cruised along. She had selected her outfit for the race carefully—looking good made her feel good. That morning, she skillfully applied her makeup; she wore old gray sweats over a maroon tank top and shorts that she dyed special for the occasion, with a plan to toss the sweats once she warmed up. Like the other runners, she had pinned her number to the front and back of her outer shirt.
When fellow marathoners spotted a woman in their midst—something that wasn't immediately obvious thanks to her sweats—most shouted words of encouragement. A few asked for tips to convince their wives to run. She was feeling buoyant.
Around four miles into the race, a press truck carrying reporters and photographers slowly approached. That's when the trouble started.
Hey, it's a girl! It's a GIRL! the guys shouted.
"What are you trying to prove?" one yelled.
Nothing! Kathrine thought. I just want to run.
It wasn't the first time media had shown an interest in her running. Reporters had shown up when she competed in a men's track meet a year earlier. She shrugged them off. She was a budding journalist herself. She knew their way.
Then the press guys turned to the race's codirector, John "Jock" Semple, a cantankerous Scottish American man with a notoriously short fuse, who was riding along with them. They began playfully taunting him: You let a BROAD in your race, Jock?
In a matter of seconds Jock snapped—and so did the photographers' cameras.
The race director leapt out of his seat and toward Kathrine. He was a sight, in his fusty Boston Athletic Association sport coat and slacks, nostrils flared like a bull's. Before she knew what hit her—literally—Jock was tackling Kathrine from behind, grabbing at the number on her sweatshirt and trying to physically remove her from the course. Kathrine screamed. Her boyfriend, who was training to be an Olympic hammer thrower, shoved Jock off her and sent him flying to the curb.
"Run like hell!" Kathrine's coach yelled.
Kathrine was shaken, but she kept going. Now, she knew, no matter what, she would have to finish the course. But the hits kept coming. A few minutes later, after fuming about the incident, her boyfriend, Tom, turned his annoyance on Kathrine. He never wanted her to run the race in the first place, he told her. What was she trying to prove? And now, after what he'd done in her defense, he was sure he'd be banned from trying out for the Olympics. Great. He abandoned her mid-stride, ripping off his number and running ahead—which she took as a breakup—leaving her in tears. Her emotional pain soon gave way to physical pain when she realized she had developed horrendous blisters that made every step feel like running on glass.
Four hours and 20 minutes after she started the race, Kathrine crossed the finish line. She was exhausted but exhilarated. She believed she had discovered her life's purpose.
The rise of running represented a dramatic shift in the way women viewed their bodies—and their own potential.
I've always admired elite (read: fast) runners, but I used to think of them as being a different species than me. We might love the same sport, but our practice of it looks very different. They are Michelangelo; I'm a fifth grader blithely painting flowers on construction paper. To be sure, running is core to my identity—my sense of self, spirituality, purpose—but my body just wasn't built for speed.
It didn't occur to me until I was researching this book that elite women runners made it possible for me to run my leisurely meditative jogs through city streets and park paths—and to officially enter the New York City Marathon. Nor that, just a few decades ago, women had to fight to do something as fundamentally human as running, which our ancestors did to survive. All women's fitness pioneers have had to break barriers and fight formidable social norms, but those who made it possible for women to run faced hard-and-fast rules, enforced with aggression.
The story of women's running could begin with our prehistoric matriarchs running across savannas. It could begin in Greek mythology, with the story of Atalanta, the royal semi-goddess who outran her power-hungry suitors in a race for her hand in marriage, choosing instead to stay single. It could begin with Melpomene, a 19th-century Greek woman who, legend has it, surreptitiously ran in the marathon trials for the first modern Olympics in 1896, when women were banned from participating in the Games. (This beat the original ancient Games, when women were prohibited from watching the competition under penalty of death.)
The story of women's running could begin with the athletes who, throughout the first half of the 20th century, risked social exclusion for participating in the few track events for women that existed; who were told their presence was a distraction to men. Every woman who dared to run in public before the 1970s deserves credit for opening doors for women to move freely and fully; to experience the profound sense of physical autonomy that comes from propelling yourself forward using only your muscle and will. There's a reason our culture has embraced the language of running—staying the course, going the distance, crossing the finish line—as metaphors for life and achievement. Running presents a remarkably pure opportunity to challenge oneself—no one else can do it for you. Because of this, the pride running brings can be expansive.
Before the late 60s, athletic officials believed that if a woman ran more than a mile or two at her full capacity, the effort would harm or even kill her. Urban legend held that running would cause a woman to "turn into a man"—grow hair on her face and chest and develop unsightly bulging calves. Others warned it would "turn her into a lesbian." There was also the old chestnut about physical exertion causing a woman's uterus to fall out.
The 1928 Olympics in Amsterdam were partly to blame—they fueled these cultural fears and set women's running back by decades. That summer, for the first time, women could compete in track and field events. Running competitions included a 100-meter race and an 800-meter race. The latter—which involves two laps around a track, or about half a mile—is an especially challenging event. Longer than a sprint, but too short to pace yourself in any real way, it's a feat for even the toughest competitors. Critics were convinced the distance would wreck a woman.
The day of the 800-meter race was the hottest of the Games and suffocatingly humid. But the nine finalists competing—women from countries around the world, including America and Germany and Sweden and Japan—had trained, and they were ready. When the starting gun fired, the women zoomed around the course, pouring everything they had onto the track before crossing the finish line and stumbling into the infield.
The problem was, their effort showed. "Every tumble, every grimace the women exhibited during and after the race became evidence," recounted Runner's World journalists Rachel Swaby and Kit Fox. Spectators and media alike were horrified. Reporters covering the event played it up as a scene of "carnage and weakness"—of "vomiting and crying, blood pouring out of wounded feet." The Chicago Tribune called it "a pitiful spectacle." A reporter for The New York Times later wrote: "The gals dropped in swooning heaps as if riddled by machine-gun fire."
The message had been received: Any event that encouraged a woman to punish her "delicate" body to such a degree was a disgrace. Olympic officials struck the women's 800-meter race from the games and wouldn't reinstate it for more than three decades.
The Olympic decision would have ripple effects. High schools restricted their track programs to boys. Girls who loved to run grew up with few heroines to emulate. And, as Kathrine Switzer would discover in 1967, the almighty Amateur Athletic Union, or AAU, which governed most competitive running events, prohibited women from participating in races longer than two miles—which were becoming increasingly popular among men.
The message had been received: Any event that encouraged a woman to punish her "delicate" body to such a degree was a disgrace.
It didn't help that early 20th-century educators had come to believe that serious competition of any form was bad for girls and women. Instead of encouraging all-out athletics, by the 1930s, women's physical educators promoted curricula devoted to "health, hygiene, posture, games, play, gymnastics, and dance," explains sports historian Jaime Schultz. (Bonnie Prudden had witnessed as much when she visited her daughter's PE class in 1947 and saw the girls playing circle games, a "horrifying" visage that inspired her career in fitness.) Instead of varsity sports, educators introduced intramural "play days," in which young women from different schools would get together for friendly matchups. After the games, participants would mix and mingle over tea or a meal.
Play days allegedly encouraged "an equal opportunity for joyous recreation," argued women's athletics advocate and future first lady Lou Henry Hoover, "instead of overexertion for a few." But by discouraging all girls and women from developing athletic talent, this mindset held everyone back.
By the mid-60s, however, young women's track clubs were quietly springing up throughout the country. Most were serious groups for serious young athletes, and they would compete against one another in local, regional, and national meets. Still, their coaches grappled with how to help their sport, and their "girls," gain social acceptance—even admiration. Some coaches insisted their runners smile as they cross the finish line, no matter how much pain they were in.
Performing femininity on the track was taken to a new level by Margaret Ellison, a secretary nicknamed Flamin' Mamie for her fiery red hair, who founded the Texas Track Club in 1958 to coach her teen daughter and other local girls. She saw meets as an opportunity to show the world that women runners could be fast and feminine. In April 1964, Sports Illustrated featured the club on its cover, dubbing the runners Flamin' Mamie's Bouffant Belles—they were the first female track athletes to appear on the front of the magazine. The three teens pictured looked like cover girls, with their big lashes and bigger hair, but they wore a look of determination on their faces as they posed on the track, poised for takeoff.
Inside the magazine, reporter Gilbert Rogin wrote:
The Texas Track Club is celebrated on two counts—its athletic achievements and the uncommon beauty of its girls, who compete in dazzling uniforms, elaborate makeup and majestic hairdos. These hairdos, which are either bouffant or flip if at all possible, may not be aerodynamically sound and may be "out" east of the Hudson, but they are an unqualified sensation at a track meet.
Rogin goes on to reason:
In one sense, the Texas Track Club has done more to promote women's track in the US than if its members had, say, won the national AAU championships… After the age of ten, American girls generally lose interest in running—it is unbecoming and too far out. And American boys generally lose interest in the few girls who take up the sport, the popular belief being that they look like Olive Oyl or Tugboat Annie. The Texas Track Club, however, has shown that you can be beautiful and still run the 100 in 10.9. Because of this delightful anomaly, its members have been a hit.
__________________________________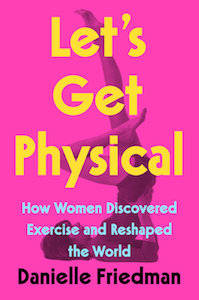 Excerpted from Let's Get Physical by Danielle Friedman. Excerpted with the permission of G.P. Putnam's Sons. Copyright © 2022 by Danielle Friedman.
---