The Recipe You Didn't Know You Needed: Green Eggs and Ham… and Biscuits!
Erin Jeanne McDowell Puts a Twist on a Childhood Literary Classic
Featured image: © Dr Seuss Enterprises, L.P. 2019
One of the best compliments I've ever received as a baker was that my work reminded a fan of illustrations from the Dr. Seuss books. I've long taken inspiration from my favorite childhood books, particularly bright, colorful, eye-catching ones like his. I try to combine this sense of fun and whimsy with inspiration from my professional experience. Such is the case with these bright-green biscuits, which get their beautiful color from chopped herbs. I use my favorite "jammy egg" method—from author and food stylist Susan Spungen—for the eggs. Her technique steams the eggs rather than boiling them, and it works perfectly every time. Skip the ham entirely for a vegetarian version.
*
Green Eggs and Ham Biscuits
Makes 6 Biscuits
Difficulty: Hard
Jammy Eggs
336 g / 6 large cold eggs
Biscuit
40 g / 1 bunch fresh chives
30 g / about 1/3 bunch fresh dill
40 g / about 1/2 bunch fresh parsley 300 g / 21/2 cups all-purpose flour
12 g / 1 tablespoon granulated sugar 8 g / 2 teaspoons baking powder
4 g / 1 teaspoon fine sea salt
2 g / 1/2 teaspoon freshly ground black pepper 113 g / 4 ounces / 8 tablespoons cold unsalted butter, cut into 1/2-inch / 1 cm cubes 135 g / 6 slices deli ham, diced
170 g / 3/4 cup cold buttermilk 56 g / 1 large egg
*
Instructions
1. Make the eggs: Fill a medium saucepan with 1/2 inch/1 cm of water and place a steamer basket in it. Bring the water to a boil, then place the eggs in the basket, cover, reduce the heat to low, and steam the eggs for 6 1/2 minutes.
2. While the eggs are steaming, fill a medium bowl with ice water. When the eggs are ready, transfer them to the ice water. Let cool for 5 minutes, then drain and refrigerate for 1 hour (or up to 2 days).
3. Peel the eggs, rinse, and pat dry. Put in a bowl and refrigerate while you make the biscuit dough.
4. Preheat the oven to 400°F/205°C with a rack in the center. Line a baking sheet with parchment paper.
5. Roughly tear the herb, including the stems, and place in the bowl of a food processor. Pulse until the herbs are finely chopped. Scrape the bowl well, then add the flour, sugar, baking powder, salt, and pepper and pulse until uniformly combined. Add the butter and pulse until the mixture resembles coarse meal—the butter should be in very small pieces.
6. Transfer the mixture to a medium bowl and stir in the diced ham. Make a well in the center and add the buttermilk and egg to the well. Use a small whisk or fork to break up the egg, then mix the batter with a spatula until it's evenly combined, and the flour is uniformly hydrated. Turn the dough out and divide it into 6 equal portions (about 110 g / 3/4 cup each—or use a #6 scoop).
7. Working with one piece of dough at a time, break off about one third of each one and form it into a 3inch/8 cm round on the prepared baking sheet, leaving at least 2 inches /5 cm between the rounds.
8. Place an egg in the center of each circle of dough. One at a time, gently press the remaining pieces of dough over and around the eggs, using your fingers to seal the seam at the base.
9. Bake until the biscuits are lightly browned and spring back slightly when touched in the center, 16 to 19 minutes. Cool for at least 5 minutes
_____________________________________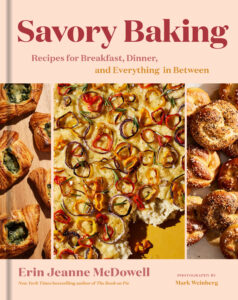 Excerpted from Savory Baking: Recipes for Breakfast, Dinner, and Everything in Between by Erin Jeanne McDowell. Copyright © 2022. Photography © 2022 by Mark Weinberg. Reproduced by permission of Harvest, an imprint of HarperCollins Publishers.
---