The Primordial Pull of the Truffle, That "Holy of Holies"
Rowan Jacobsen on the Ever-Elusive Scent of the Captivating Mushroom
My truffle obsession put me in good company. Truffles have captivated and mystified people since ancient times. What were these extraordinarily smelly things that looked like little hearts? Were they even alive? For a remarkably long time, no one had a clue. Classical and medieval authors fretted over their lack of roots, stems, or other functional parts. (The umbilical cords that connect truffles to their mother fungus are too tiny to see.) They just thought of them as something the earth spontaneously gave birth to.
The Greeks were among many cultures who believed truffles were born in "thundery weather" when a lightning bolt struck a tree and snaked through the roots. In Table-Talk, his account of awesome dinner party conversations, Plutarch recounts a first-century symposium in which huge truffles were served, and a debate began. Some argued that truffles were created by lightning. Others maintained that the lightning simply opened up cracks that gave the truffles somewhere to grow. Nah, Plutarch countered, it's the rains that accompany the thunder. The lightning takes away the burning part of the energy, making the rains that fall especially gentle and generative, "with a great deal of warmth and spirit." When those generous rains soak the earth, he argued, they create a truffle—which, he pointed out, is not like a plant, having neither roots nor sprouts, but is "a being in itself, having the consistency of earth that has been slightly altered."
Close enough. Truffles do require abundant summer rain—they come after the thundery weather—and they are, in a sense, the earth come to life, fungal golems.
Whatever they were, they were always rare, expensive, and noteworthy. Truffles featured in luxurious banquets in Greek and Roman times, and played the same role in the 1500s, when Catherine de' Medici introduced them to the French court. There are no records of the lower classes consuming them, but that probably had to do with who was keeping records. We know that in the 1400s trained pigs were being used to hunt for truffles in Norcia (now Umbria, still a truffle hot spot), which was considered the source of the best. People with pigs must have always known the deal. I wouldn't be surprised if the Gauls had a healthy truffle habit long before Caesar arrived.
Truffles have captivated and mystified people since ancient times. What were these extraordinarily smelly things that looked like little hearts?
None of the ancient authors pointed out the captivating scent. They knew only desert truffles, which are mild. (They also did terrible things to truffles, involving hours of boiling.) The first raves arrive in the 1700s and 1800s, when Europe's culinary eyes were opened, and many gazes fell upon the truffle. The Italian composer Rossini called it "the Mozart of mushrooms." It was "the diamond of the kitchen" to proto-foodie Jean Anthelme Brillat-Savarin. "Whosoever says truffle," he wrote in 1825, "utters a grand word, which awakens erotic and gastronomic ideas."
To Alexandre Dumas, it was simply "the holy of holies."
To the French novelist and feminist George Sand, the "black magic apple of love."
But writers have always struggled to describe that crazy fragrance. William Thackeray gave it a shot: "Something musky, fiery, savoury, mysterious—a hot drowsy smell that lulls the senses, and yet enflames them."
Diane Ackerman worked much the same territory in A Natural History of the Senses, comparing the scent of the truffle to "the muskiness of a rumpled bed after an afternoon of love in the tropics."
The aphrodisiac thing comes up again and again, ever since Aristotle, though it has always been in dispute. Brillat-Savarin valiantly attempted to answer the question by surveying all the women he could, but gave up because "all the replies I received were ironical or evasive."
In reality, of course, no foods are true aphrodisiacs. The best they can do is set the mood, and here truffles excel. You might even say they are more mood than food. For this reason, the best accounts of first-truffle experiences focus on feelings. Alice Waters considered her first encounter with white truffles—in a rustic trattoria in northern Italy in the 1970s—one of the formative moments of her career. "I remember having someone come to the table and shave white truffles on top of a wide noodle pasta I had ordered," she recalled in the magazine First We Feast in 2015. "And I was struck with the thought that it was maybe the best thing I'd ever had in my whole life . . . After I ate it I kept pondering, why was that so good, what was that? I almost couldn't imagine that that sort of fragrance and taste could exist."
I began to wonder if they were more like little Trojan horses, wheeled into the finest dining rooms in the world, only to discharge a scent that mocked civilization and its trappings.
In The Cooking of Southwest France, Paula Wolfert described her first tryst with a black truffle in similar ways: "I felt at one with nature, that my mouth was filled with the taste of the earth. There was a ripeness, a naughtiness, something beyond description."
Even better: Sally Schneider, writing in Saveur about the time when she was a young chef, and someone slipped a black truffle into her pocket as she worked. As the heat of her body warmed the truffle, its scent enveloped her. "It was intoxicating—a smell I knew intimately, yet had no conscious memory of, triggering a flood of elusive associations, like flashbacks into some amnesiac period of my life, or some prenatal memory."
Prenatal memories and musky love beds are not generally the kind of thing one pays to have grated over one's pasta in Michelin-starred restaurants. The more I reflected on what others had written about truffles, as well as my own response, the more I began to suspect that centuries of snobbery had got truffles all wrong. High-end chefs and promoters had convinced us that they were the ultimate luxuries of civilization, fancy food to be savored in black tie, but I began to wonder if they were more like little Trojan horses, wheeled into the finest dining rooms in the world, only to discharge a scent that mocked civilization and its trappings.
And I was ready for it. To be honest, I needed it. After years of culinary writing, I'd been fortunate enough to experience many of the world's most wonderful foods and drinks. But no matter how delicious, how artfully created, after a while you notice that most share a certain sameness, as if all our gastronomic poetry is written with the same small set of words. This was something different, a chthonic yawp from a different kingdom of life. I didn't know this story.
As it turns out, it's a story that often circles around yearning and disappointment—lost youth and old love affairs, as Josh Ozersky so insightfully put it. The truffle is a bit of a trickster, always promising gratification, only to stay just out of your grasp. You can't find it, or you can't afford it, or you spring for one and the smell is inescapable right up to the point that you grate it over your food, when it suddenly disappears, like a dim star in the night sky when you try to stare right at it. If the core emotion of the truffle dynamic is love, all too often it's unrequited love.
To wit: Carlo and I get skunked that night. Niente. Four hours of bombing through the woods, dodging eye-gouging twigs and ankle-flipping snags, mud-splattered and soaked, all for nothing. We dig a small crater where Emi indicates, but no truffle, just loose dirt. Somebody has been there before us. Emi has caught the last lingering scent of loss.
Sometime in the wee hours, Carlo drops me back at my hotel and I collapse on my bed, no longer feeling so high and mighty about visceral wisdom. I'm just another tourist junkie. I have two days before I have to fly back to the States, and I desperately need another fix. And I know what that means. I'm going to have to reach for my wallet and throw myself on the mercy of the marketplace.
_______________________________________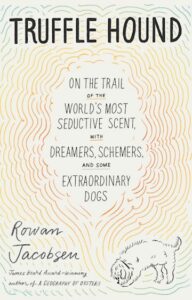 Excerpted from Truffle Hound: On the Trail of the World's Most Seductive Scent With Dreamers, Schemers, and Some Extraordinary Dogs by Rowan Jacobsen. Reprinted with permission of the publisher, Bloomsbury Publishing. Copyright © 2021 by Rowan Jacobsen. 
---