The Perpetual Timeliness of Tess of the D'Urbervilles
Janet Beard on Reading and Rereading the Thomas Hardy Classic
Certain reading experiences remain vivid in my memory years and even decades later. I was assigned Thomas Hardy's Tess of the D'urbervilles as summer reading before my senior year of high school. I knew nothing about the book before I began, other than that it was old and English and, judging by the title and generic cover art on the worn paperback I had bought at the used bookstore, about a young woman. But immediately I was drawn into Tess's world, worried for her, hopeful for her, and ultimately despairing for her. I remember the desperate need to find out what would happen to her next as I sat beside a lake on a sunny July afternoon, and later, lay on my stomach on the green carpet in my bedroom, devouring the novel's final section. I underlined my favorite passages in pen: "He won't hurt me. He's not in love with me."
Those memories came back to me 20 years later, when I was in the thick of writing my third novel, The Ballad of Laurel Springs. I had spent much time immersed in Appalachian history and folklore to research the book, which tells the story of seven generations of women in an East Tennessee mountain community. The characters pass traditional folksongs from one generation to the next, along with a legacy of both violence and resilience. Naturally, my head was filled with Appalachian music and stories. But when images of the English countryside kept intruding, I knew I needed to revisit the Hardy novel.
It's always a little frightening to return the beloved works of art from your youth and risk disappointment, or worse, shame for your earlier devotion. I was relieved to read without a hint of either emotion but rather amazement at how fresh and timely the book still felt. My maturation had only deepened my appreciation. So much of what Tess goes through had gone from being theoretical for my teenage self to all too recognizable for the adult me. Issues of gender, class, and poverty all continued to resonate, as well as the novel's most powerful point about what a woman has to fear from the men who love her.
At times the book feels as though it were written in direct response to our current moment, though of course that's just a depressing reflection of how little has changed in the past 130 years of current moments. Thomas Hardy couldn't have known in 1891 that he was writing the ultimate #MeToo novel. First, Tess experiences workplace sexual harassment, made all the more difficult by the class difference between herself and her employer. For a long time, critics debated whether she was "seduced" (ugh) by Alec D'urberville or raped, though hopefully it is obvious to any contemporary reader that Tess repeatedly and explicitly does not consent, despite the vagueness Hardy was forced to use in his descriptions in order to appease Victorian sensibilities. To use our contemporary parlance, Tess goes on to be brutally slut-shamed by her new husband on her wedding night. Ultimately, she engages in a consensual relationship with her rapist out of financial necessity, again illustrating a nasty predicament that many women still find themselves pressured into.
Certain reading experiences remain vivid in my memory years and even decades later.
My own book is about women facing variations of these same struggles. I took inspiration from Appalachian folk songs, in particular murder ballads, songs that memorialize violent acts usually against a young woman, almost always perpetrated by a man who has been romantically involved with her. The songs are both salacious and cautionary, and I wanted to write a story about how the violence they describe might have actually happened, as well as how the story of that violence as transmitted through the songs might affect future generations.
Even though it is an ocean away from Appalachia the world of Tess feels close to the world of these old ballads. It isn't hard to imagine Tess singing one of these songs as she labors on the farm or a murder ballad being written to immortalize her own tale. Tess's world is rural, agrarian, and relatively isolated. A strong hint of a pagan past exists in the novel alongside the Christianity which dictates morals and social standing. All of which is also true of the corner of Appalachia I write about in The Ballad of Laurel Springs.
Hardy subtitled the book "A Pure Woman Faithfully Presented," probably in an effort to ward off the inevitable moral handwringing that he knew his novel would elicit. Tess begins the book with the heavy symbolic weight of that purity already on her shoulders, but Hardy instills in her real humanity. She is bright and as the novel unfolds, increasingly aware of the trap society has laid for her. By the end, she sees the men around her clearly for what they are. When her employer, a harsh but ultimately non-threatening farmer, scolds Tess for staying too long away from her work, Alec, the man who has previously harassed, raped, and abandoned her, jumps to her defense. Tess tells him, not for the first time, to go away. She says she has nothing to fear from the farmer: "He won't hurt me. He's not in love with me."
Tess has figured out what anyone who's listened to a few true crime podcasts or watched an episode or two of Law and Order knows: it's always the husband (or boyfriend or other intimate acquaintance). Yet the terrible fact that the perpetrators of sexual abuse and violence are most often close to their victims is still too often neglected in our culture, in favor of easier stories with simpler villains. Tess knows the truth, though, as do the anonymous ballad writers of history, memorializing the murdered girls killed by their lovers, at times with the implication that murder might be a convenient way for the men to end an unwanted pregnancy. Of course, (spoiler alert!) the only murder in Tess is committed by the heroine herself when she finally 'snaps' and kills her abuser. The consequences of living in a misogynistic culture are complicated, which is another subject I explore in The Ballad of Laurel Springs. Often women are victims of violence, but sometimes that violence ricochets outward.
The terrible fact that the perpetrators of sexual abuse and violence are most often close to their victims is still too often neglected in our culture, in favor of easier stories with simpler villains.
When you love a work of art, especially as a young person, no doubt some part of it is absorbed into you and becomes part of the DNA of your own work. I had already planned for part of my novel to take place in a high school English class, so I decided to give my fictional students the same summer reading assignment from my own senior year, in order for the class to discuss Tess. And only after I'd completed my first draft, did I realize that the story of my novel begins the very year Tess of the D'urbervilles was first published, 1891. It felt like a perfect coincidence, as though my own book could trace its roots back to Hardy's novel.
What scandalized Victorian readers about the book is of course what makes it seem so modern: the acknowledgement of how a woman is judged by society after being the victim of sexual assault or violence and the assertion that the awful effects of poverty are not moral failings but rather the cruel consequences of circumstance. One hundred and thirty years later, our society still too often flinches from accepting these truths. I hope that one day I can reread Tess again simply for the pleasure of Hardy's story and prose and no longer for the timeliness of the subject matter.
_______________________________________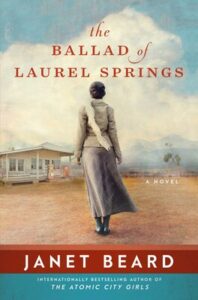 The Ballad of Laurel Springs by Janet Beard is available now from Gallery Books. 
---