The Operatic Rise and Fall of Tiger Woods
Michael Bamberger on the Power and Scandal Around
One of the World's Great Athletes
Greg Norman was the best player in the world when Tiger Woods turned pro, and no player had more power or charisma. Norman first met Tiger in the early 1990s, when Tiger was 14 or 15. Hughes Norton of IMG, which represented Norman and had designs on Tiger, had arranged for them to play together at Old Marsh Golf Club, a development course in Palm Beach Gardens. They played nine holes, just the two of them, walking.
Tiger was inquisitive and better than any junior golfer Norman had ever seen, and he told IMG how impressed he was. He remembers Tiger asking, "Why do you play so aggressively?" By 1993, Tiger had begun working with Butch Harmon, Norman's teacher, but Norman and Tiger never saw each other. In 1995, when Woods played in his first Masters, Norman played a Tuesday practice round with him.
Norman remembers Tiger asking a litany of specific questions about how to play the course, and Norman answered them as best he could while still preparing for the tournament himself. But Earl Woods, Tiger's father, felt Norman hadn't shown Tiger enough respect. That was one of Earl's moves. He liked to stir the pot. He liked the idea of us against the world. 
Norman wasn't alone. There was something awkward about Tiger's relationships, early in his pro career, with Tom Watson and Nick Faldo, among others. Curtis Strange made some critical remarks about Tiger no-showing at a college awards dinner, and Earl never forgot that. Even Arnold Palmer said that Tiger was being talked about with too much awe. Faldo and Norman and a hundred other guys were trying to beat Tiger. They saw no reason to coddle him. 
Various golf reporters, present company included, were doing enough coddling for everybody. Golf Channel began broadcasting in 1995, the year before Tiger turned pro. Golf websites were becoming popular for the first time. There was suddenly so much space to fill, and along came a player to fill it. Tiger was the game's first great Cablinasian player (his term for being white, black, Indian, and Asian) and the first golfer since Bobby Jones to win USGA titles in six consecutive years as an amateur.
Tiger, aided and abetted by Steinberg, had a knack for turning the most mundane request into a show of power.
Interest in him was almost insatiable even before he collected his first Tour check. Tiger and especially Earl had the power, and they were taking names. If you dared to say that Tiger would have been wise to return to Stanford for his last two years instead of turning pro, your name went on a list. Sandy Tatum, the former USGA president and a legendary Stanford golfer in the early 1940s, found that out. The power of the traditional golf establishment has been in decline ever since. 
Tatum was close to another Stanford golfer, Tom Watson, who turned pro after getting his degree in psychology. Watson and Woods have always been a curious pair, linked by far more than their initials. They have major areas of overlap—Stanford, U.S. Open wins at Pebble Beach, a knack for links golf—but they have never been close. 
Watson was the captain of the U.S. Ryder Cup team in 2014, a year in which Tiger was feuding with his back. In the months leading up to the Ryder Cup, there was an ongoing debate (among people who clearly had too much time on their hands) about whether Tiger would play on Watson's team. They weren't talking. Mark Steinberg, Tiger's agent, said to one of Watson's confidantes, "Have your guy call my guy." It was the old thing, the caller loses. Tiger, aided and abetted by Steinberg, had a knack for turning the most mundane request into a show of power. You see it in every walk of life. For some people, it's a way to feel alive. 
Things changed after Thanksgiving 2009, the starting date of the Tiger Woods sex scandal, which turned various lives upside down. It also empowered a disparate group of people. The editors at the New York Post. Matt Lauer. Tiger's wife, Elin Nordegren. Tom Watson. Newspaper columnists. It was absolute hysteria there for a while, at the end of 2009 and the beginning of 2010. The Stiletto Parade was in full swing, with a long series of Tiger's alleged lady friends offering their rendezvous histories.
You would have thought Tiger was a United States senator, the way his infidelity was being covered. But he wasn't an elected official, a clergyman, a university president. He was just an exceptional athlete making millions on the side by selling a false version of himself in the name of Buick and American Express. The National Enquirer was treating him as if he were Gary Hart seeking the presidency. As the Miami Herald spied on Gary Hart, the Enquirer spied on Woods. 
This wasn't MeToo before the movement existed. Yes, there were mighty gaps between Tiger and the women, in wealth and fame and power. But none of the women even implied that the relationships were anything other than consensual. Still, people were going crazy. Arnold Palmer did what he wanted, and nobody wrote about it. 
Thirty years later, Michael Jordan did what he wanted, and there was no public shaming of him. But the rules were changing, and maybe Woods, had he been more aware, could have seen the pattern. Or maybe arrogance got the better of him. In any event, he was exposed. No star had ever fallen so far and so fast. His rise had been steady. It took decades. His fall took three days. 
The tabloid covers, the Saturday Night Live skits, the Conan and Letterman stand-up bits, the Radar Online updates. Who could possibly withstand all that intact?
All those hiked-skirt, in-the-parking-lot revelations cost Woods his marriage, his image, a chunk of his money. And that was when the long road to his fifth Masters victory began, in the aftermath of Thanksgiving 2009 when he ran over a fire hydrant in his front yard in a development near Orlando called Isleworth, and all hell broke loose. This is painful: We were surely culpable in his fall. We bought the tabloids. We clicked on TMZ. We judged. The ripples of Woods's affairs went far. 
His fall had to be a staggering blow to his psyche, no matter how it came about. Whatever mind-games training Tiger got as a junior golfer from Jay Brunza, a navy psychologist, it could not have prepared him for the daily assault he was getting at the hands of TMZ. Can you imagine the impact it would have on you—you, me, Tiger, anyone—if your sexual life were exposed for the world to see?
For your friends, your colleagues, your parents, your spouse, and your children to read about? Imagine just one itty-bitty leaked text about a private fantasy, online and available for anybody to read. Can you imagine the stress that would bring? The anger and the confusion? It would be impossible for your mental health not to take a hit.
And sooner or later your mental health is going to show up in your physical health. This is not New Age crazy talk. It's René Descartes, Norman Cousins, Dr. Bob Jones IV, clinical psychologist and grandson of Bobby. "In many instances, if not most, there's a biological connection to stress," Jones told me. "If you're prone to spinal issues, and then you endure great stress, your spinal issues will likely get worse. It's to be expected." 
Yes, Tiger Woods hit a million golf balls, and that's the starting point of his back problems. But Jamie Jungers, one of the women in the parade, talking about Tiger on the Today show surely didn't help. Neither did the 20 straight days when Tiger appeared on the cover of the New York Post. The headline on the fourth day wasn't artful, but it did its job: 2 MORE SEXY GALS COME OUT OF THE WOODSWORK WITH THEIR STEAMY TALES.
The tabloid covers, the Saturday Night Live skits, the Conan and Letterman stand-up bits, the Radar Online updates. Who could possibly withstand all that intact? Where a human being once stood for millions to see and admire, there was now a cardboard cutout, like Keanu Reeves as John Wick, greeting you at your AMC 20. Say whatever you want about that cutout, step on it if it falls over, it doesn't matter—it's not Keanu Reeves or even John Wick. It's just a piece of cardboard. 
__________________________________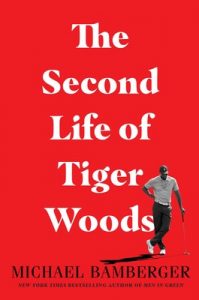 From The Second Life of Tiger Woods by Michael Bamberger. Copyright © 2020 by Michael Bamberger. Reprinted by permission of Avid Reader Press, an Imprint of Simon & Schuster, Inc.
---