It's not a particularly hopeful time for literally anyone right now (unless maybe you're getting a $1.7 million tax break?) but that doesn't mean we should stop trying to help people whenever we can.
I'm getting pretty tired of washing my clothes in the bathtub and have been sorely tempted to just order new socks and underwear on the internet… But instead of doing that, maybe I'll just order some bookstore t-shirts as a way to funnel my money toward things I care about. The two that have caught my eye in the last couple of days are from East Bay Booksellers and The Bookstore at the End of the World, respectively.
Mincing no words, the EBB tee (below) declares There is Value in Struggle (amen), Indie Forever (yes), Plot is Fascist (okaaay), and generously asks that Australia receive healthcare. This shirt is rad and you should all buy one.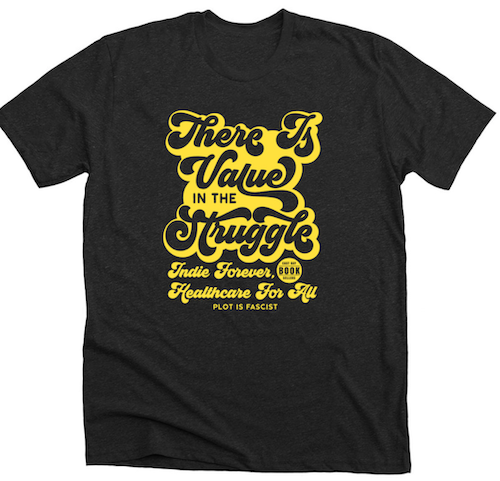 The BATEOTW tee, (brought to you by a collective of laid-off booksellers, who you can also support here), is a bit simpler, but also really cool, and you should spend your Monthly Government T-Shirt Ration Chit on one of these ones, too.