The Oldest American Picture Book Still in Print is Obviously About Cats
Ahem: Millions of Cats
Today, March 11, is the anniversary of the birth of Wanda Gág (I know what you're thinking, but it rhymes with "jog"). For the uninitiated, Gág was a celebrated artist and lithographer in the Greenwich Village-centric Modernist art scene in the 1920s, a free-thinking, sex-positive leftist who also designed her own clothes and translated fairy tales. When Gág was just 15, her artist father died of tuberculosis, and his last words to his daughter were: "What Papa couldn't do, Wanda will have to finish."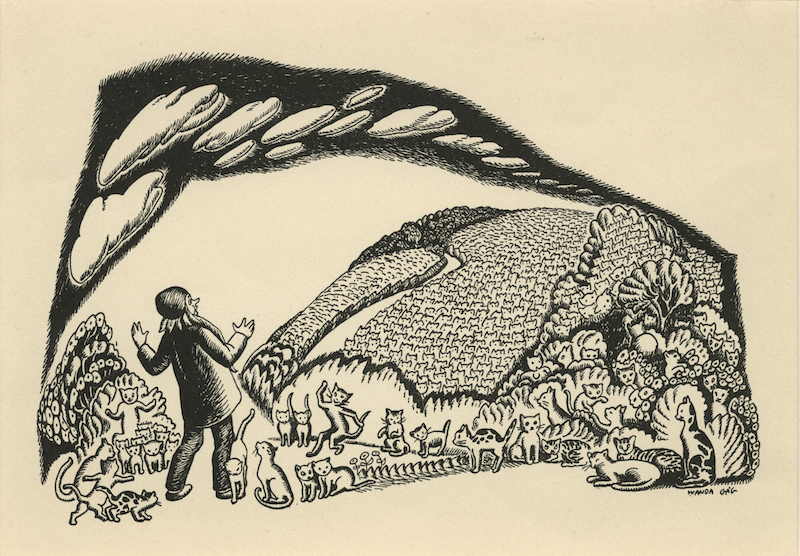 I don't know if art is ever really finished, but Gág certainly continued his work, becoming a prominent artist and illustrator. Then, in 1928, Gág published her first book, Millions of Cats, which was adapted from a story she had made up to entertain her friends' children. Written and illustrated by Gág, it also featured hand-lettered text (created by her brother) and something brand new for picture books: the illustrated double-page spread.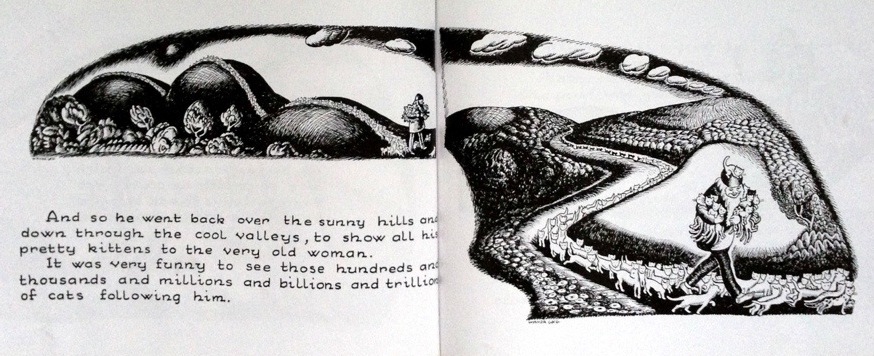 Here's the story: a very old man and a very old woman live together in a house surrounded by flowers. The only thing missing in their lives is "a sweet little fluffy cat" (the cats in question were modeled after Gág's own, Noopy), and so the very old man goes off to search for one. But instead of one, he finds "hundreds of cats, thousands of cats, millions and billions and trillions of cats." Obviously, he has to bring them all home. Which causes some problems! In the end, they all eat each other (that's right), leaving only the homeliest cat—who only needs some love and milk to become beautiful.

Her editor, Ernestine Evans, wrote in the Nation:
Millions of Cats is as important as the librarians say it is. Not only does it bring to book-making one of the most talented and original of American lithographers, an artist who has a following both here and abroad, but it is a marriage of picture and tale that is perfectly balanced. And the story pattern, so cunningly devised with such hearty and moral simplicity, is told in a prose as skillful as jingle.
It was an instant hit, and remains the oldest American picture book still in print. In fact, some would call it the oldest American picture book, period—at that time most illustrated books in circulation in America were British.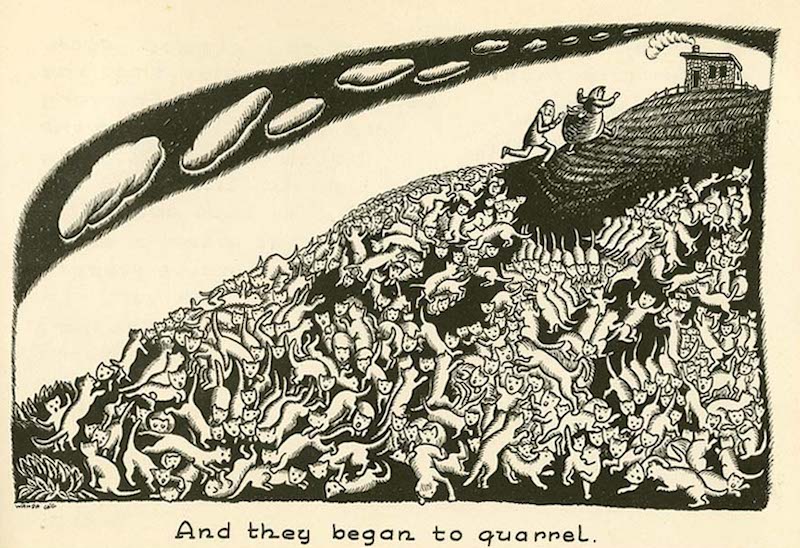 Millions of Cats won a Newbery Honor in 1929, making it one of very few picture books to do so (the Caldecott medal had not yet been created), and continues to be ranked among the best American children's books—by those who remember it, at least. For the rest, it's ripe for rediscovery. After all, look at all the cats!
---