The New Center for Fiction Is Opening in Brooklyn
A One-Stop Spot for All Your Literary Needs
In 2017 I asked Lit Hub readers—could there be a space in the United States like Oslo's Litteraturhuset that provides writers, translators, critics, playwrights, illustrators, readers, children, scholars, activists, and the inquisitive a place to meet, write, debate, read, and discuss writing, ideas, and politics over food and drinks, all with the mission of promoting the greater good of art and literature? It seemed an impossible fantasy.
While specialized organizations exist in the US like the 92nd Street Y in New York or the Commonwealth Club in San Francisco, they don't shepherd a wide spectrum of literary genres under one roof, let alone with tealights on tabletops, afternoon espressos, or free programs for 250,000 visitors, as they do in Oslo.
Noreen Tomassi, Executive Director of the Center for Fiction, responded in kind, proclaiming in the comments of my article that "New York City will have a space almost exactly like Oslo's Litteraturhuset" when the new and improved Center for Fiction opens in Brooklyn. That day has come.
The Center for Fiction was founded in 1821 as the Mercantile Library and its mission was to "educate young men for success in the mercantile trade" but from the start, fiction (or "works of fancy" as their 1825 Annual Report called fiction) colonized the collection. By 1870 it was the largest lending library in the United States. As the decades whooshed by, the Center kept up with the demands of its members and its audiences: fiction . . . and the belief that fiction opens new worlds. The old Center, it seems, simply ran out of breath (and perhaps space) so once again, the Center adapted.
*
Kerri Arsenault: How do you see the new Center coming together in Brooklyn?
Noreen Tomassi: First, we'll have much more space, but the key thing about being in Brooklyn is that it will be a space where the reading and writing of fiction is supported all the way throughout the process, beginning with our KidsRead and KidsWrite programs with NYC schools to wiring workshops on site and online, then support for emerging writers, our onsite writers' studio, the First Novel Prize, and the sale of the finished product in our bookstore. After that, we are on to engaging the readers through events and reading groups. We want to create a home for the complete experience.
KA: Is that the dream, a kindergartener sitting in one of your classes and then one day you sell a published book by that same kindergartener?
NT: Yes, that is very important to us, fostering that love of reading and writing in kids. Also, one of the things we combat—not combat, that's too strong a word, because all of this is valuable—is the tendency to engage only online about books. We're trying to hold on to the notion of physical space where people can meet and talk about books. We're redesigning our website and hope to have a very lively presence there, but we seem to be increasingly losing spaces in America, everywhere, of real personal encounter, where people can sit and talk about books or writing in person with people who share a love of those things.
We want people who love to read, walk through the door and feel, oh here's my tribe. I'm at home here.
It was important to create a space that's not only a bookstore, not only an auditorium, not only a writers' studio, not only a place where you can have a drink and sit on the terrace, but a space where you can do all of those things so it's an integrated experience centered around their love of fiction. People need spaces like that, public spaces. That's why houses of literature in Europe are so important. I just went to one in Rome, and I was knocked out by it, because people are there writing, there are books to read, there's a library, there's an incredible festival every year and it's a place where like-minded people feel at home.
KA: A home for writing and writers.
NT: And readers! We have reading groups, which attract a lot of people who are retired or older and need some social space to talk about books in. We want people who love to read, walk through the door and feel, oh here's my tribe. I'm at home here.
KA: Do you think this space is going to allow you to do this better than your former building?
NT: Yes. We'll have three times the space for writing workshops, and reading groups. We'll have a completely state-of-the-art auditorium that seats 150 people; a beautiful upstairs reading room where we can host intimate readings and gatherings; a space in the bookstore for readings; and a cafe and a liquor license. You can come on a summer evening buy a book, go to an event, and wander onto the terrace and have a drink.
KA: It's new for America, for sure. What other literature houses have you been to in Europe? Have you been used them to inspire this new space?
NT: I've had mostly correspondence with them. I went to one in Amsterdam, a while ago and back and forth with the House of Literature in Rome because I live part time in Rome, so that was a real model for me. The architect and I both did a lot of thinking and reading about the various spaces for literature in Europe, about libraries, about public spaces of encounter because we wanted to create, in bricks and mortar, something very special. People always say "Write the book you'd like to read." This has been about creating the space I would love to be in as a reader and lover of fiction.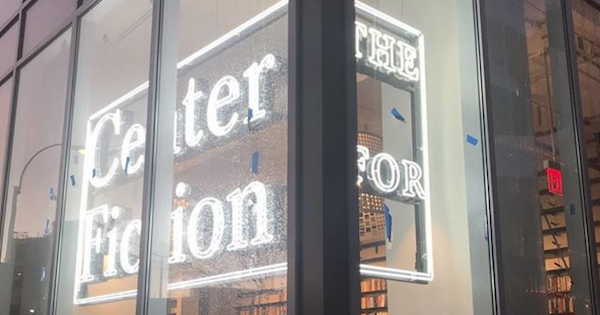 KA: In my Litteraturhuset piece, I suggest the biggest problem seemed to be one of funding in the United States. I'm curious about how you're funding such a giant project.
NT: Since 1830 we've owned our buildings. When we sold the building on East 47th Street, we used a lot of the money from its sale to build the new space in Brooklyn. We made a conscious decision to be an owner there, too, not to rent a space somewhere else, even with a very long-term lease. We went in on the project with a developer early on, before the building was even built, and that was important to us, to be a full partner in the construction of the building and of our space. This was made much easier for us because we got the space very cheaply through a NYC program that helps developers to include cultural organizations in new development at very low cost. We are raising money from individuals, of course, and that's crucial for our long-term success.
KA: People working together is a good thing too, and that's what it sounds like your building is going to do.
NT: We get our funding from the usual mix of foundations and individuals, too, some government. There are some modest programs at the state level we'll apply for, for enhancements to the space. We're lucky enough to have the basic funding from the sale of the old building, which is not to say that we don't need more money. We're actually in the beginnings of a campaign to ensure long-term stability called the Third Century Fund, because 2020 marks the beginning of our third century in existence.
KA: Tell me about your library. Can the public borrow books? Do you have to pay to be a member?
NT: Yes. You have to pay $150 to be a member, and that entitles you to borrow books from our library collections and receive discounts in our bookstore, our cafe, and on ticketed events. We're committed to keeping the library because it's a great library. It has so many wonderful books.
KA: I didn't know you lent books. Is there something the Center for Fiction provides that the New York Public Library can't or doesn't?
NT: We're focused only on fiction, so we're able to buy deeply into fiction for the library. We don't weed in the same way that public libraries do either. For example, if we have a full run of Cormac McCarthy, we'll keep the full run of Cormac McCarthy on the library shelves, whether anyone checks them out or not. 
One of the other things that we do a lot of, and want to do even more of, is support emerging, early-career writers.
We have a crime fiction collection in our library that goes back to the beginning of the 20th century with some work in it from the late 19th century and it's been used by crime fiction scholars and writers. We'll keep that intact in its own special room, so that's a valuable resource. Crime fiction, as you probably know since you're on the board of a library, is one of the things that's most weeded—and probably right after that, romance—so it's hard to find a library that has a whole run of an author writing mysteries early in the 20th century, for example.
KA: Do you have to live in New York City to be a member or to borrow from your library?
NT: No, we have mail memberships, so you can live anywhere in the country and borrow. The only thing you can't do is borrow a rare book; you'll have to come in to read those.
One of the other things that we do a lot of, and want to do even more of, is support emerging, early-career writers. Our emerging writers' program is important to us, and we're hoping once we're in Brooklyn, we'll be able to expand that and do more for emerging writers. We also want to begin to work with younger writers—high school and middle-school writers. We're happy to have more space to have more workshops and to be able to operate year-round. At the new Center, we'll have events seven days a week. We'll have children's events on Saturday afternoons, after-school programs, and . . .
KA: You'll have to hire a lot more people.
NT: Yes, we will! We'll have a fully functioning bookstore devoted to fiction and related nonfiction with an emphasis on independent presses and works in translation as well.
KA: Will you be doing any live broadcasting of events?
NT: We'll have an audio studio to do podcasts out of, and we can livestream everything that's in the auditorium. For example, the entire back wall of the stage is an LED screen, so that gives you a sense of the high-tech capabilities for video arts. The wall can be split into sections and you can use a part of the screen and move parts around. For example, a writer could be reading in her native language and the translation in English could scroll down the screen next to her as she reads. One of the things that aggravated me so much about 47th Street—and I loved that building so much but—we'd have events there, and you know how it was, one microphone wouldn't work, and people in the back would say, I can't hear! And half the time people in the back couldn't see the speakers. It was infuriating. And it'll be so nice to have a beautiful space where everyone can have a great sightline and everyone could be heard.
---