The Mystery of the Indestructible Beetle
Lulu Miller on Its Lessons in Self-Protection
Jesus Rivera liked to scan Craigslist for crashed motorcycles. The first one he ever took home was a totaled green Suzuki GSX-R. It took him about a year, tinkering with wires, cutting metal, and forging new parts in the subterranean machine shop of the engineering building at UC Irvine, but he and a small group of fellow grad students in the materials science program eventually turned the motorcycle into a Formula One–style race car.
He was a guy who liked grease. He was known for being particularly skilled at working with carbon fiber. He restored arcade games for fun. He didn't think his life would have anything to do with bugs.
But one day, he took the elevator up from the machine shop to a classroom on the second floor to begin a class on biomimetics—a field of study that looks to nature for design inspiration. "We looked at the mantis shrimp that could punch as fast as a 22-caliber bullet," Rivera told me. "We also studied these marine mollusks that have the hardest biomineral teeth in the animal kingdom. They basically grind through rocks."
The class ground through the carbon fiber vision for his life. He began looking at nature differently, hungrily. He could hear the rev beneath the leaves and limbs, the potential for modifying vehicles for greater speed and strength. He was somewhat interested in spiders—"spider silk," he assured me, "is incredibly fascinating. If scientists can figure out how to manufacture silk, I think it will basically replace Kevlar." But his life was forever changed when, according to him, his adviser casually tossed out a suggestion as he was running from one meeting to another. Why didn't Rivera look into beetles?
So he did. He started reading up on various kinds of beetles. The shiny ones, the fly-y ones, the ones that eat garbage, the ones that shoot poison. And, at some point, he landed on a gloomy gray beetle that people claimed was invincible.
*
The first rule of nature writing is do not use the organisms as your mirror. Do not do as the poets do, or the Bible does, or Aesop did. Do not ransack the crittery crunch of the forest floor for lessons. Don't behave like Jesus Rivera either, like engineers everywhere, who rip off designs from bugs—solar panels modeled on a butterfly's wing, military tank tires on the bee's honeycomb. Don't behave like the bioprospectors who squeeze bugs for drugs or pigments or shellac. Do not do as the scientists do—at the expense of how many trillion Drosophila have we learned about heredity, immunity, oncology? The nature writer, supposedly, is to stand apart as a kind of sentinel, keeping close watch over the natural world and reporting back with clear eyes on only what is there.
The thing was a walking bunker. A tank. Entomologists called it "the uncrushable beetle."
The reader, however, may do as she pleases. Bless that one freedom left intact, untouchable, unthreatened by the law: freedom of thought. In the pages that follow, some of our planet's finest writers cast their eyes on some of our planet's finest specimens. There are butterflies ahead—indigo swallowtails and pearly white Apollos; there are apple green moths and licorice black scorpions; there are pill bugs and bagworms and deer ticks and coffin flies and ants and spiderlings and caterpillars and quite a few honeybees, and you may think whatever you want to think about each and every one. You may observe them as the foreign, separate beings that they are, or you can root around in their exoskeletons for meaning, for metaphor, for some silky strand of resonance, for some kernel with which to recalibrate your compass.
It's the nature writer's job, only, to not do that. To not be so hungry, so lost and dented up that she needs the organisms to offer some new guidance on how to mend her life.
*
The first eerie thing Rivera read about the diabolical ironclad beetle, or Phloeodes diabolicus, was the pushpin thing. Scientists who first discovered the bug in the 1800s claimed that when they tried to push steel pins into the beetle to mount it for display, the pins would bend. Try as hard as they could, they could not pierce its gnarled gray shell. When Rivera checked the claim with contemporary entomologists, they confirmed it. They told him that the only way to puncture its exoskeleton was to use a power drill.
The thing was a walking bunker. A tank. Entomologists called it "the uncrushable beetle." Bird beaks were unable to peck through it. Equally useless were rodent teeth, fox claws, snake fangs, wasp stingers loaded with poison. Scientists speculated that dinosaurs wouldn't have been able to stomp it to death.
As a guy interested in strength, in toughness, in building machines that could withstand high-impact crashes, Rivera was sold. He wanted to look deeper into the beetle, into the structures that made up its armor, to understand it. He looked up where the beetle lived, and was delighted to discover that, apparently, it resided alongside him on UCI's campus!
He found them under rocks and logs and the bark of oak trees; he found them all over. Little gray impossibilities beside him all along. He took them back to his lab; he placed handfuls of them in a terrarium. He marveled at how docile they were, how they'd peacefully scoot along his palm and between his fingers like tiny puppies. He came to think the name "diabolical" was unfitting for their personalities. Not once, he said, even with ten of them crowded into a small glass cage, did they ever try to harm or attack one another.
Using tiny rulers and metal probes, Rivera took measurements of their backs, their thoraxes, their six spindly legs. Some of the beetles, he dissected; he examined the designs of their exoskeletons—the arrangement of the chitin plates, the glues and guts that bound the plates to one another. Then, using a powerful microscope, he looked even deeper at the armor's nanostructures, the tough polysaccharide complex sugars and sticky protein matrices, trying to understand how everything fit together to forge such an indestructible being.
He began giving talks about the beetle. He'd often leave out the word diabolical when he spoke about it, calling it simply "the ironclad beetle." He'd bring live ones to outreach events and hand them out for kids to hold. He'd tell them they didn't really need to be too careful, because there was probably nothing they could do to kill the bugs. He'd take questions. He'd talk about how docile they were, how they never caused infestations, how they actually kept the oak trees healthy by feeding on fungus that accumulated under the bark.
Inevitably, Rivera told me, someone would ask if the beetle was really indestructible. He remembers one time "one of the little girls, her dad was this huge bodybuilder guy, and he was like, 'What can this beetle do? I don't believe it.' And he grabbed it and squeezed it between his fingers as hard as he could. Finally, he was like, 'Okay, I believe it.'"
At some point in his research, Rivera heard the rumor about the car. That the ironclad beetle could even survive being run over by a car.
And like that, Rivera's two passions—beetles and high-speed vehicles—had just collided into the perfect experiment. Using his lab mate's gray Toyota Camry, he placed one unlucky beetle on the road. A colleague buckled into the driver's seat. Rivera crouched on the road, video camera in hand. The car lurched forward, its tire crunching over the beetle. Then, just to be scientifically rigorous, the tire rolled over the beetle again. More crunches.
The camera jostles toward the beetle. It is a little wad of iron chewing gum on the road. "No fracture," Rivera says.
Still, the wad does not move. "It's playing dead," Rivera whispers, doubt gusting through his voice.
A long time goes by. Gray on gray on gray. The gray of the beetle, the gray of the road, the distant gray of the Camry, of its smog. Slowly, the beetle rises, sniffs its little mandibles around, and walks away.
"Still alive!" Rivera cheers.
*
It would take Rivera another five years of careful research before discovering how the beetle does it. But I'm not sure you're ready to know. It's a trick that you could adapt too, a trick that could protect you from any future hurt. But it comes at no small price, and I'm not sure I am cruel enough to give you the option.
How's this for a deal?
I'll stall for a while, give you a bit more time to decide if you really want to know.
I'll tell you one more thing about the beetle and one more thing about myself.
Me first: I talked to Rivera in the bleakness of a February in Chicago. I was nearing my fortieth birthday. Things were strained with certain members of my family. I'm not sure they even knew things were strained, which was part of the problem. I've lived a life of keeping people at bay, surrounding myself in a shield of sweetness to try to keep attacks from coming my way. I rarely tell people when they piss me off; instead, I tend to write you off. I smile and crack jokes with you and draw a circle around my heart and vow to never let you inside again. I show less and less of myself so there is less of me to pick at. I keep you comfortable to keep me comfortable. It worked fine for a darn long time, I thought.
Now, the beetle. It's so frickin' docile it will let you turn it into jewelry. The ironclad beetle is worn as "living jewelry" in certain parts of the world. Stroll the Yucátan Peninsula, for example, and you'll see bins of them being sold on the street. Crawling around slowly, bedazzled in gemstones or rhinestones or pearls. Each one with a tiny golden leash that you can pin to your lapel and wear as a brooch. They'll crawl around a bit, in the small radius that the leash permits, along your coat collar or silk scarf. They make for quite the conversation piece. Leave a bit of fungus in your jewelry box and supposedly they will serve as your brooch for up to three years.
*
Alright. You've earned it. If you are still here despite the warnings, you deserve to know.
The beetle's impenetrable strength comes from its elytra.
Elytra: Wings that, due to circumstance, have hardened into shields.
If this were a radio piece, I'd add about ten seconds of silence to make you sit with that definition. Instead, I'll just do this:
Wings that, due to circumstance, have hardened into shields.
__________________________________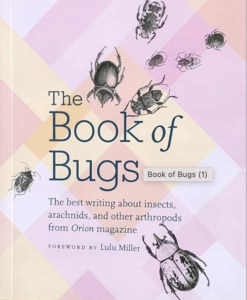 Excerpted from The Book of Bugs: The best writing about insects, arachnids, and other arthropods from Orion magazine, available via Orion Magazine.
---