The other day, I was walking down the street and I ran into my favorite high school English teacher. It was delightful! And it was very strange to realize that I hadn't seen her in over a decade, since she has had such a huge impact on the trajectory of my life. (Ms. Donovan, if you're reading this, hello and thank you.) What I'm saying is: where would we be without English teachers—the people who breathe life into words and then send us into the world, changed? And because the kids are going back to school, I thought it'd be fun to rank the most memorable English teachers on TV. (Note: movies not included! That would be a whole other ordeal with Robin Williams as John Keating in Dead Poets Society at #1, obviously.) The teachers on this list are fictional, but take this as a sign to send an apple to your real-life favorite.
*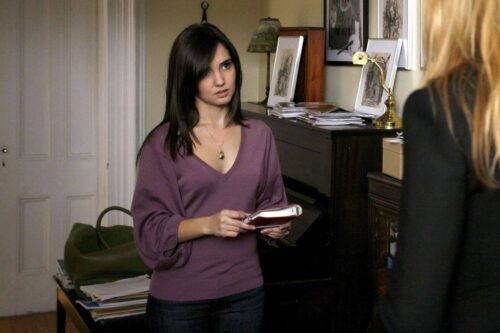 #7: Rachel Carr, Gossip Girl
She's the worst. The absolute worst! Maybe it's because I just watched this hot mess unfold for the first time, but I simply cannot get over how terrible Ms. Carr is on the original Gossip Girl. She's only here for like a minute, but she sure does a lot of damage! Let's recap: She inappropriately hangs out with teenagers and justifies it to herself because she's new in town. She gets Blair's acceptance to Yale rescinded. She betrays Serena (who she claims is her favorite student!) and steals her boyfriend. And, yeah, she sleeps with a student on school grounds during a play. The drama! Sheesh, were you trying to teach Shakespeare or reenact it?!
#6: Jessica Day, New Girl
Look, I love New Girl and I love Jess, but she was not a great teacher. I mean, she cared a lot. For the majority of the show, she was a general junior high teacher, working through a variety of subjects. (Remember when she broke a girl's science fair project in a fit of rage? Good times.) For a brief stint, she teaches adults creative writing, which totally qualifies her to be on this list. Unfortunately, she was awful at that job. She was eager to be a mentor for this one student, but then she let her friends convince her that he was a murderer. She even went so far as to break into his home to find evidence of his murderous desires. Not great, Jess. Not great.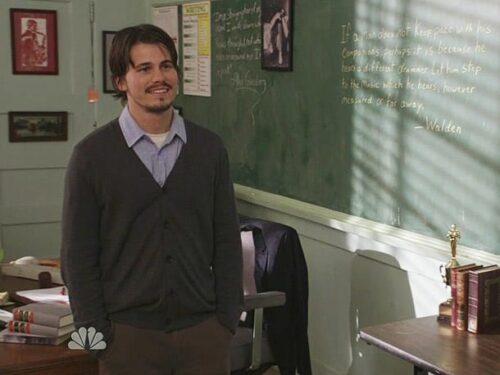 #5: Mark Cyr, Parenthood
What is it about English teachers? And why does Lauren Graham always date her daughter's? (Just kidding; we know why. Look at him!) Mark Cyr did almost everything right. He was a patient and kind teacher. He cared about his students. He encouraged Amber when no one else would. (Although he couldn't tell that the paper she turned in was actually her mother's homework assignment on the same book from several decades ago.)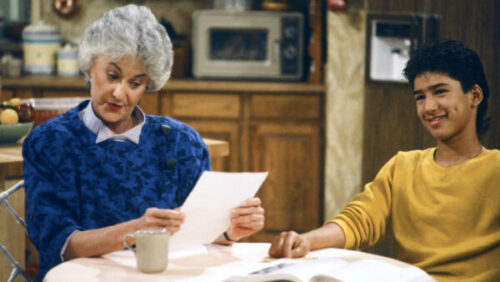 #4: Dorothy Zbornak, Golden Girls
It's only mentioned here and there throughout the show, but Dorothy Zbornak served as a substitute history and English teacher for most of her life. She also teaches a night class for adults. In one of the most heartbreaking episodes of Golden Girls, she becomes a tutor for a young boy (Mario Lopez, pre-Saved By the Bell!) and encourages him to submit his story to a contest. Surprise, surprise: he wins! Devastatingly, his award draws the attention of Immigration Services and ultimately leads to his deportation, which breaks Dorothy's heart. Still, we can't fault her for the flaws in the system. She tries her best to help him, even accompanying him to court. She may be sarcastic and wry on the outside, but on the inside, she's got a heart of, well, gold.
# 3: Richard Katimski, My So-Called Life
Richard Katimski is a real MVP. He carried the English department and brought back the drama program. He helped students realize they're in love through the power of the Bard. And he was openly gay (a big moment for the 1990s!) and provided students with a safe haven. He even once took in a student who had been kicked out of his home.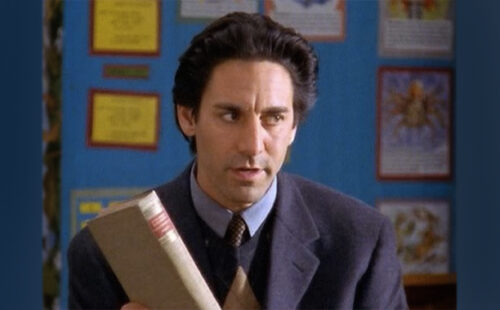 #2: Max Medina, Gilmore Girls
Max Medina. Maaaax Medina. He's one of the greats. He's one of those rare high school English teachers who knows his teachings go beyond the words on the page. Who could forget what he says when he proposes to Lorelai? "I have studied and taught the great literature all my life, and those stories are replete with characters that let opportunities slip by. But what I teach is more than just literature. It's lessons in life. If I don't follow the tenets of those lessons, I'm not the man I thought I was, the man I want to be." Minus points because he decided to date a student's mom and make it awkward for everyone, but come on! He talks so good!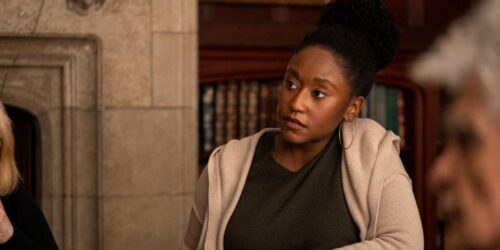 #1: Yaz McKay, The Chair
Unless you've been living under a rock, you know that The Chair is the hot new Netflix show that takes Hollywood's portrayal of academia to task. Yaz McKay is one of two women of color in the failing English department at a middling university. She's trying to get tenured, but she's met with an egregious amount of resistance, ignorance, and general whiteness. But in the moments that we see her in the classroom, she is on fire—exactly the kind of lit professor I wish I'd had in college. She encourages her students to find creative ways into old material; the musical interpretation of Moby-Dick comes to mind! And even though she's stuck teaching the class with an out-of-touch dinosaur, she assures her students that they will get into more feminist readings of the text in her part of the class. A godsend! The only glaring thing is that we do not know anything about Yaz outside of the school. Literally, we did not get one scene of her as a human being. (Even the dinosaur teacher gets a moment with his wife!) They did her dirty there, but maybe they will rectify this if there's a second season? Or maybe the real lesson is that, unlike everyone else on this list, she has healthy boundaries.