The More Personal the Joke, the Bigger the Laugh (and More Lessons from a Career in Cartoons)
David Sipress on Comic Timing on the Stage and the Page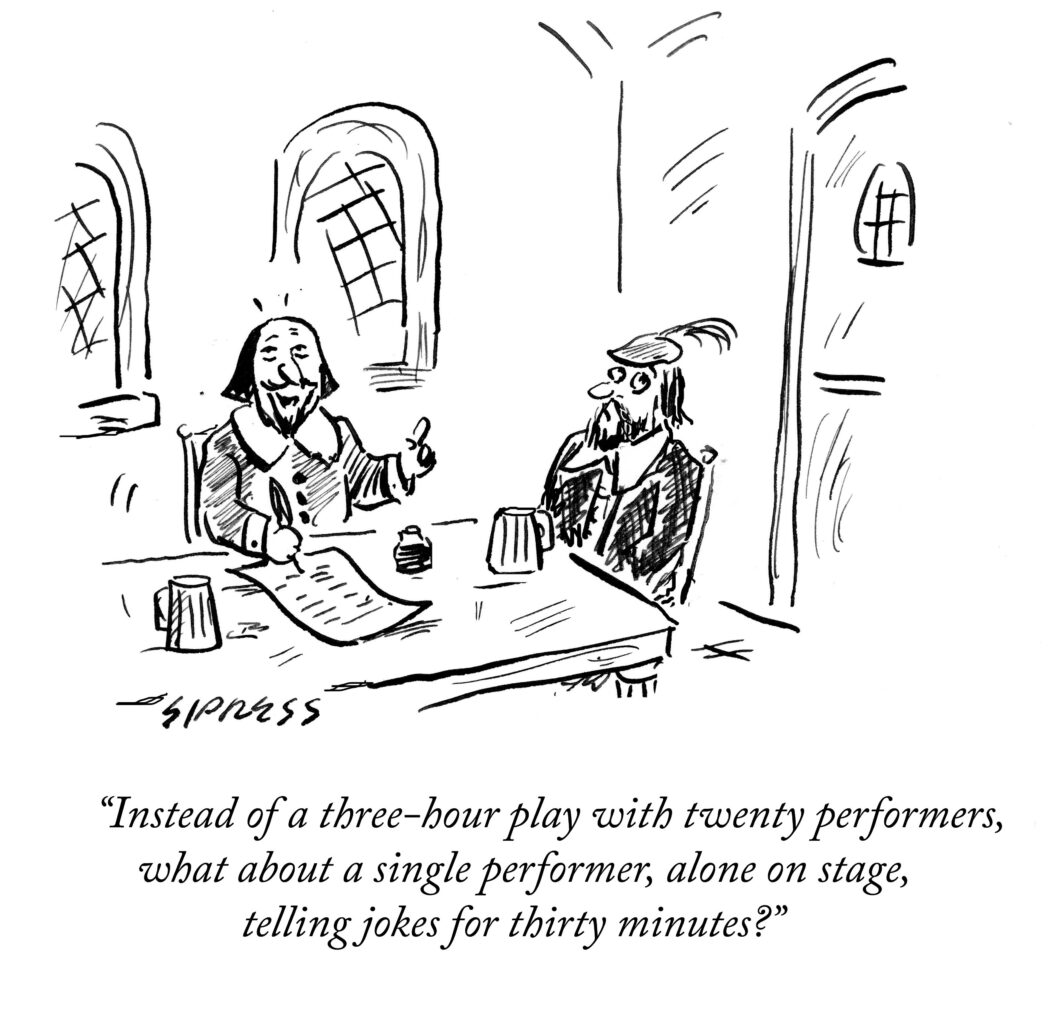 It's my junior year at Horace Mann. I have just walked out onto the stage at the weekly all-school assembly. I am about to embark on my first and, as it happens, last attempt at stand-up comedy. In my right hand, cover facing out so everyone can see, is a copy of Moby Dick, required reading for every one of my fellow eleventh graders. There is a small table in the center of the stage, and on it sits a red rotary phone. I place Moby Dick down next to the phone. Then, I begin pacing around and around the table, growing more and more agitated, now and then stopping to glare at the phone; each time I stop, random nervous chuckles break out at various locations around the auditorium. Now I stand perfectly still, facing the audience, arms held stiffly at my sides, my fists clenched, eyes squeezed shut, my face a frozen, frustrated grimace. I wait. I can feel the audience's anticipation, and this excites me no end. I feel powerful and in control, the way I felt in the days I sported a pair of six-guns, only better—I'm holding an entire auditorium of boys in the palm of my hand.
Finally, I think, finally… everyone is paying attention to me.
I make the wait last and last, drawing it out until I sense the time is just right, which is when I open my eyes, gaze up at the ceiling, then down at the phone, stamp my foot on the floor boards and scream…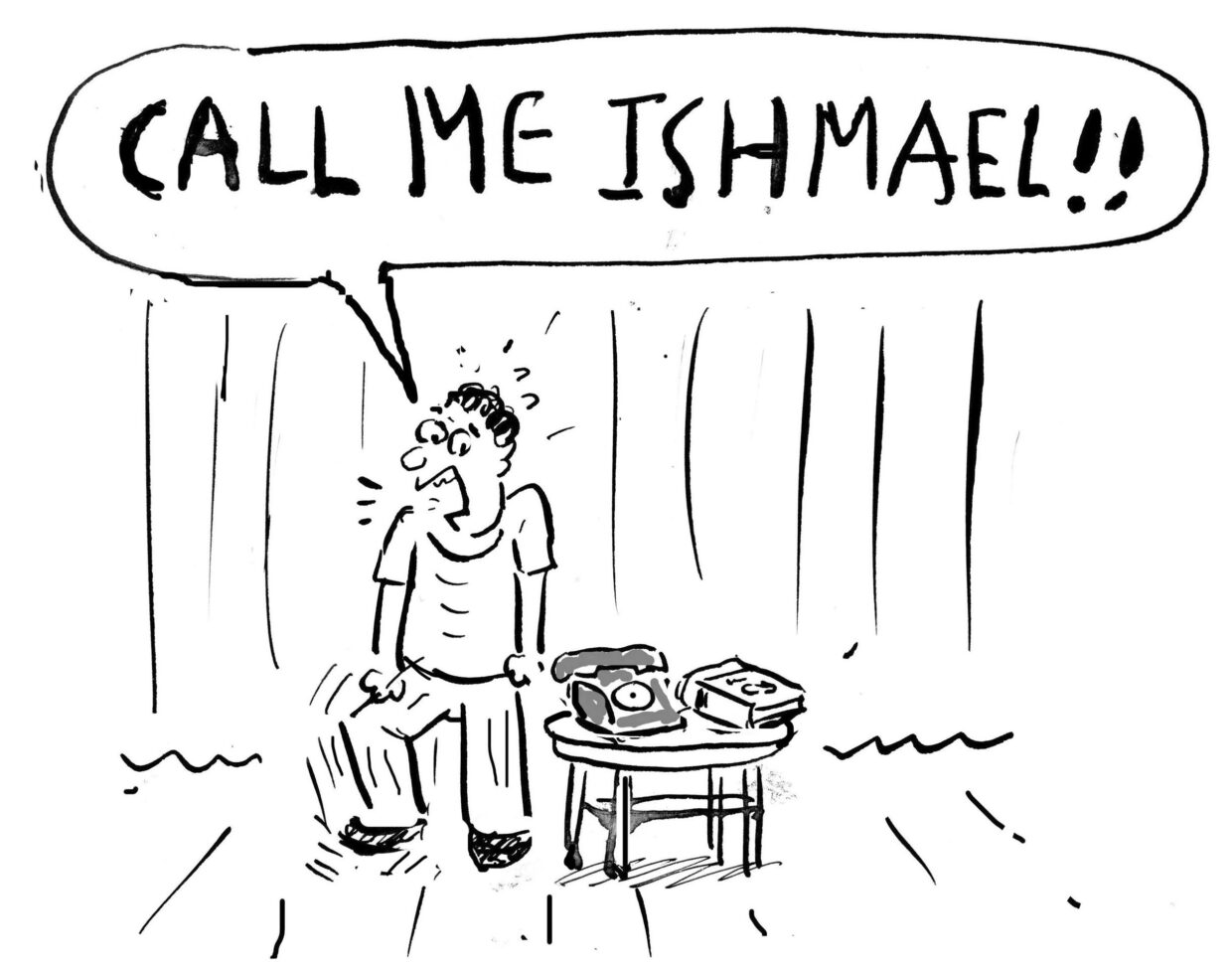 The auditorium explodes. Everyone is laughing, even the teachers standing at the back, and everyone goes on laughing as I smile and nod. I'm as happy as I've ever been.
Comic timing, I had just discovered, is a powerful tool that can take an audience where you want it to go. My stand-up career would be short-lived, but in my future career as a cartoonist, this lesson would be equally relevant. On the page, like on the stage, comic timing is intrinsic to the work. It lives in the space between the caption and the drawing. The reader cannot look at the drawing and the caption at the same time; the first choice is almost always the drawing. The eyes take in the image and register it. For a tiny beat, the brain asks itself, "What's coming next?" Then, the eyes lower and read the caption, and what comes after that, the cartoonist hopes, is a smile or, best case, an out-loud guffaw.
Voilà! Comic timing.
I am often asked which comes first, the caption or the image? Sometimes it's one, sometimes it's the other, and sometimes they happen simultaneously. But when the drawing comes first, the cartoon tends to unfold for the cartoonist much the same way it will eventually unfold for the reader—it just takes a little longer. For example, several years ago, I sat down at my desk one day and drew this: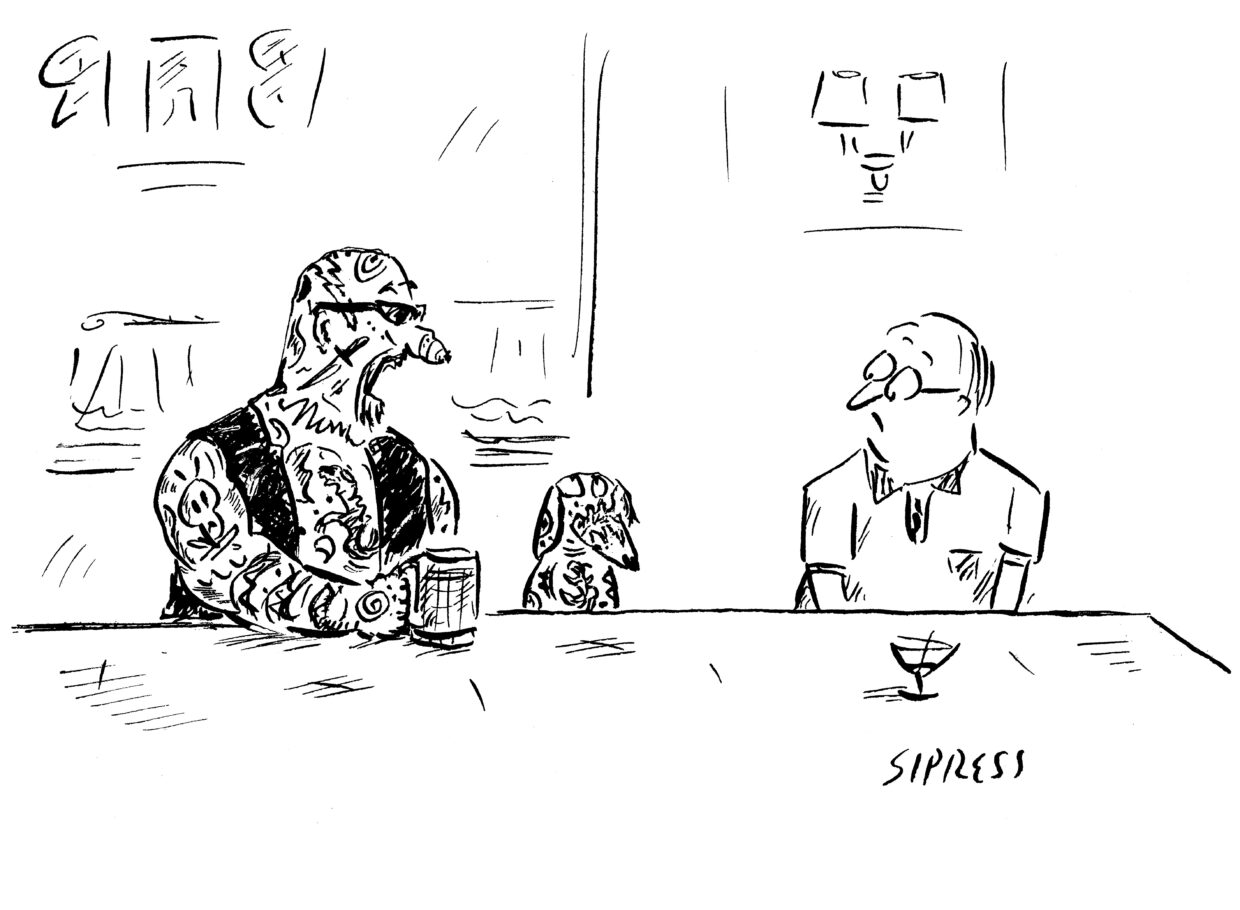 I tacked the drawing to my bulletin board and stared at it all morning. I knew there was a joke in the drawing, but for the life of me, I couldn't figure out what it was. I took a break, went out for coffee, returned, looked at the drawing for a while, looked away, and then… bam! I had the caption: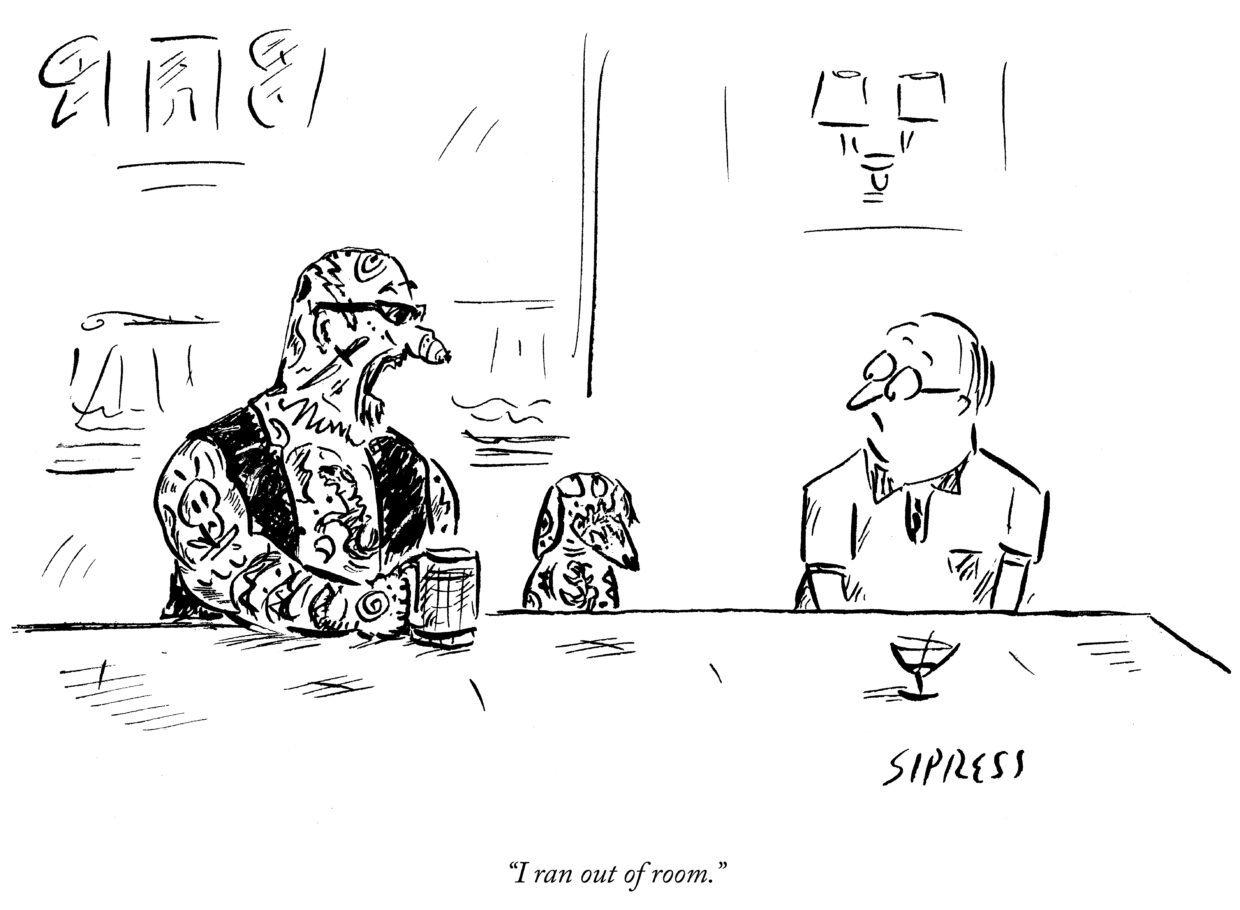 And, as has been the case with many other cartoons that developed in this two-part, time-delayed, surprise-ending fashion, "I ran out of room" made me laugh, almost as if the cartoon wasn't my doing at all, as if it had thought itself up. A second lesson I learned during my stand-up gig was about the source of the jokes themselves. That morning I told jokes about going to an all-boys school and being scared of girls; about how many members of our football team were out for the year due to nose jobs; about the mother who wouldn't permit her son to wear tab collars or tapered pants because he would look like a hood; about the mother who always seemed to know who had done better than her son on a final exam, and also precisely what the other boys' grades were; about the father who tried to tell his son about the birds and the bees years after the boy had learned all he needed to know from informed sources at the playground. All this came from my own, lived experience—from a very personal, even private, place inside me; and yet, to my amazement, hundreds of boys laughed at the jokes—really laughed. I suddenly understood what was happening: They recognized themselves in me, and that recognition was what made them laugh. All I would ever have to do to come up with funny ideas was to look in the mirror—laugh at myself. In fact, I now had my own golden rule: the more personal the joke, the bigger the laugh.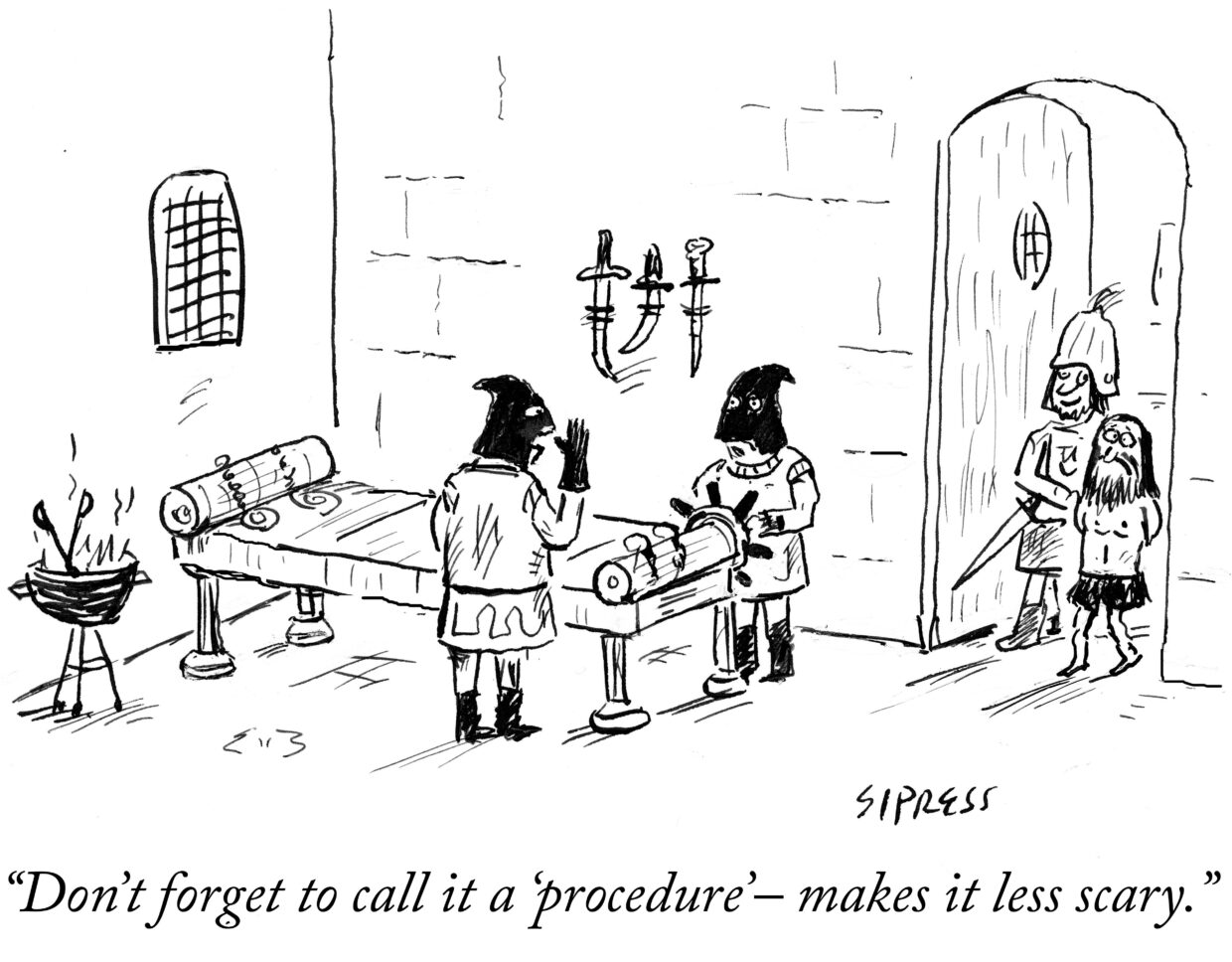 It's always been a huge relief to know that the only place I need to search for ideas when I sit down at my desk is my personal reservoir of thoughts and feelings. I draw and write about what makes me mad, what I think is stupid, what confuses me, frustrates me, worries me, and above all, what makes me anxious. It's a weird kind of sharing, to use that awful word, but it's worked for me from my eleventh-grade stand-up routine until now.
In 2018, Ginny and I decided that we would try meditation to manage our anxiety—but in my case I hoped not too much, my anxiety being my most dependable source of ideas. I hadn't needed to worry—even as I sat meditating, the cartoons were inappropriately flooding my chronically un-centered brain: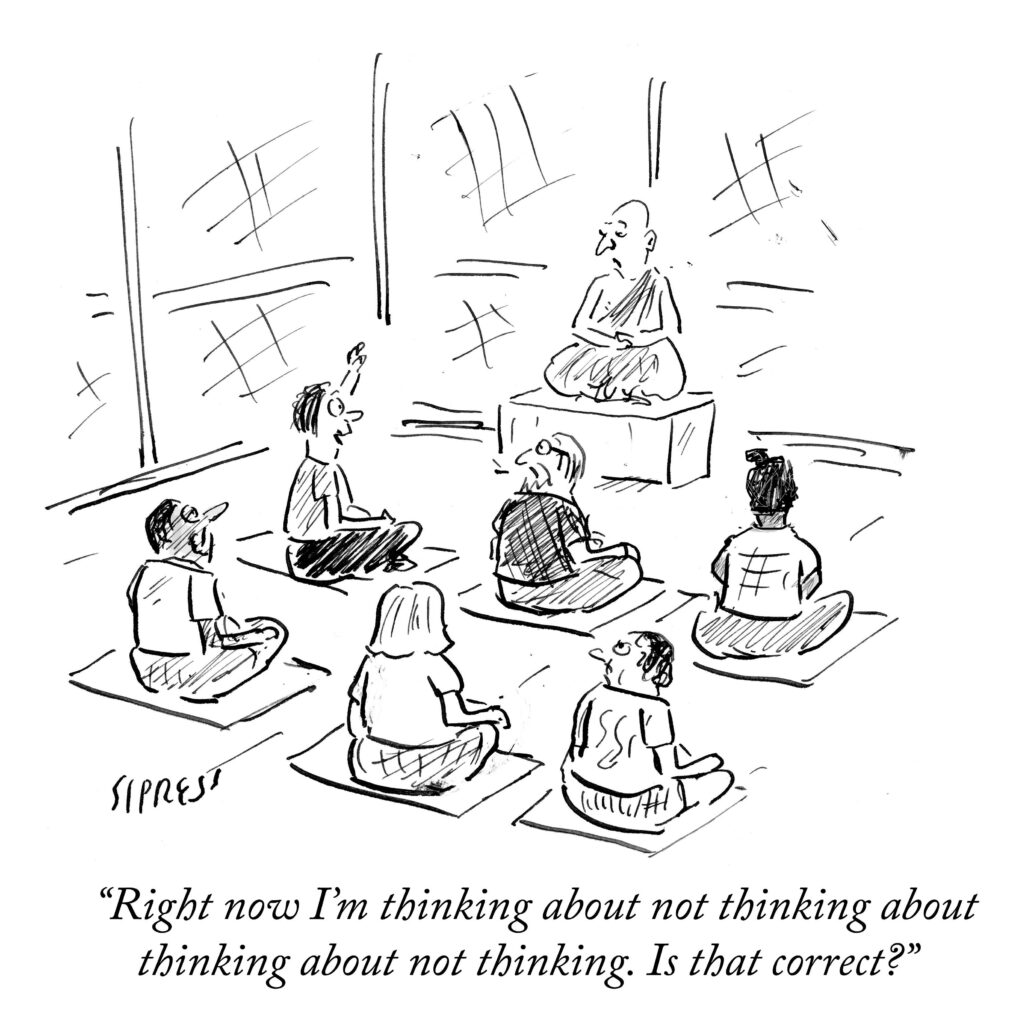 And that, for better or worse, seems to be the way I like it.
___________________________________________________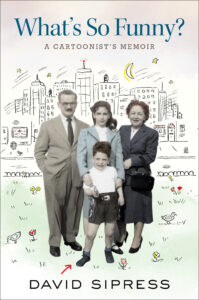 Text and cartoons excerpted from WHAT'S SO FUNNY? by David Sipress. Copyright © 2022 by David Sipress. Reprinted by permission of Mariner Books, an imprint of HarperCollins LLC. All rights reserved.
---