The Mistake No Dialogue Writer Should Ever Make
Dan O'Brien Has Some Thoughts on the Way Characters Should Talk
Almost every first draft (and third, and fifth) is overwritten. Maybe too much is happening, but usually it's all the talk that bloats and clogs. Too much of anything at the outset can be helpful, though; every tailor knows it's easier to cut cloth than to adhere it. But there is an art to cutting.
I spend many of my days at my desk deleting dialogue. Because I am inveterately cautious I like to bracket first by hand, then strikethrough, then remove words when I am sure; and by decluttering my speech of the words that don't need to be spoken—that cannot be spoken—I find I am loosing, if you will, a more living speech. Actors in rehearsal may help a new play along with, "Can I cut this line and instead be it or do it? If I step from Line A to Line C, or leap to D or F, without these intermediate and preparatory words and phrases, will the speech still make sense? Will it make more sense? Will the speech—will I, the actor—come alive?"
A living speech infused with the unspeakable will sound naturalistic. Neither expressive nor impressive, naturalism is the illusion of life and still the style of the popular, unpretentious play.
But even naturalistic plays arrive at moments of clarity in which characters say exactly what they mean. If these words are earned—fomented in crisis and issued without thinking—then the audience will feel pierced by truth. If unearned then they will feel cheated; such speech sounds too perfect, that is to say "on the nose"—like a punch on the nose, its canniness offends.
What of speech without the unspeakable? Flesh without soul? Is it truly such a sin? Like lust it is tempting and dangerous. In melodrama, and melodrama's laughing shadow farce, speech is too good to be true—yet satisfyingly so, when it's written well. A bargain has been struck: the audience foregoes intrigue for the spectacle of opera or slapstick. And yet a spectacle must beguile consistently, in exponential permutations of pathos or amusement, or we will quickly grow tired of life lived against the flats.
Let us now look more closely at the surface of the page:
Speech is speakable. Actors call these lines "actable." The words sound right because they feel right in the mouth and lungs (to say nothing of other body parts).
Creative spelling and compounding and capitalization for effect have been known to occur. Italics are most common for emphasis, but overemphasizing too frequently can read as amateurish or domineering. Some playwrights underline these words, perhaps in homage to that relic, the typewriter, and a few renegades are bold enough to boldface. Speech in ALL CAPS will read like a shout or scream or shriek and is best reserved for wacky comedies and Grand Guignol.
Pity the poor souls who, like me, choose to write their plays in verse.
The comma is special. We playwrights must forget what we've been taught because speech is far from prose. Which is not to say that commas in scripts mean less—they mean more: rhythm, rest, hesitation, breath. And what the breath reveals.
(Our freewheeling use of commas is one of many reasons why writers of other genres look at us, and what we write, with both admiration and distrust.)
Parentheticals in dialogue are unusual, but some playwrights use them anyway, to suggest what a character is about to say or wants to say but can't.
Semicolons are literary; but, curiously, colons can be conversational: they seem to say, Wait till you hear this! Exclamation points should be used reasonably unless the speaker is feeling unreasonably.
Ellipses and em dashes are indispensable, if too convenient. They're the wider cracks in speech where the subtext streams out. Ellipses sink our speakers' words and thoughts . . . inward; em dashes imply thought and speech casting out—reaching—racing toward meaning. Em dashes—at all costs not to be confused with en dashes or hyphens—can suggest your ums and ers without the need to so crudely spell out these filled micro-pauses. Fragments for the most part play naturalistically. A slash in the line may indicate the point at which the next speaker begins to speak in overlapping dialogue (though we overlap much more in life than we can afford to onstage). Columns are sometimes utilized for extended runs of simultaneous speech for two or three or more characters.
A paragraph break can denote a beat, which is not necessarily the same as paragraphing in prose, but most playwrights eschew paragraphs and simply embed the stage direction "beat" or "pause" or "silence" like rivets in the fabric of speech. A beat isn't always a pause—characters may experience a shift in understanding or desire without taking the time to reflect. And a changeless pause or silence is still dramatic: the tension will vibrate through the absence.
Pity the poor souls who, like me, choose to write their plays in verse. I haven't always done this but I do so now—for selfish reasons mainly. For the focus it affords me, the superstition of syllables, the compression and precision, the unspeakable ironies insinuated almost imperceptibly with the hitch of a line break. I don't care if an audience calls it poetry.
Many playwrights arrange their speech in a kind of free verse, so that patterns on the page might inflect all kinds of intangibles like pace and style of playing, supple fluctuations of character and tone. There is no good reason other than difficulty why this kind of poetic (or "heightened" or "stylized") speech can't be actable.
There are tricks on the surface of the page, of course, regarding speech. Comedy has its catchphrases, for example.
Actors and directors and producers look for "a lot of white" on the page, because brief lines of dialogue consisting of sentence fragments and words— toppling through blank negative space—promise to play quickly, thrillingly, while paragraphs of dialogue are typically hard to perform, and harder to sit through. Audiences take pleasure in talk that plays like tennis—at least at first; extended volleys can grow tedious and vacuous. And occasionally a dense play is terrific. These rare wordy scripts may appear impenetrable on the page, but in their playing their speech becomes porous, riven with tantalizing gaps that provide actor and audience alike with electrifying glimpses of the inarticulate.
There are tricks on the surface of the page, of course, regarding speech. Comedy has its catchphrases, for example. If you are new to playwriting you will find yourself developing a retentive ear; dining alone in restaurants, eavesdropping remorselessly, sifting conversation for the tics and tells that give us all away. The grosser of these verbal mannerisms transcribed on the page and reproduced onstage will elicit easy recognition—Yes, I know who that is. The man of a certain age who habitually responds, "Actually . . . " The woman of a certain age fond of euphemistically "cutting the umbilical cord." (Many years ago while teaching I noticed how I would automatically preface the explication of some element of craft with the phrase, "There's a way in which . . . " Evidently I wanted to evade responsibility for what is, after all, mostly taste and bias.) These artifacts of speech may help locate your characters in history, region, or culture. I avoid writing in "dialect," speech rendered phonetically on the page, because I don't wish to reduce my characters to caricature or worse. I try to set down the right words, correctly spelled, in their authentic order.
A few other practical suggestions: pronouns in naturalistic speech are often implied; relatedly, don't fake urgency by stating a character's name repeatedly; try to make your wells and you knows mean something; never echo a line or phrase at the end of a scene for dramatic effect.
I'll repeat that: Never echo a line or phrase at the end of a scene for dramatic effect. It's cheap.
As for the problem of speeches, the secret about writing a monologue is that there is no secret: a monologue is simply a dialogue when one character won't shut up. Can't shut up. But the listener is still present in the page. The listener interrupts repeatedly, albeit wordlessly. The listener is an equal partner in the moment-to-moment story of the speech.
Some find it useful to separate monologue into three kinds: (1) the conventional monologue, when a character speaks to another character (even if the listener is invisible to the audience, or exists only in the speaker's imagination); (2) the soliloquy, when the listener happens to be also the speaker; and (3) direct audience address, which is pretty much what it says it is. But a vital play is multifarious; these categories, if they exist at all, co-mingle.
The conventional monologue is easiest to write and to perform. These are the speeches actors prefer to use for auditions because they are comparatively straightforward. The soliloquy is seldom seen and heard in modern plays because it's not naturalistic, except under extreme circumstances of psychic pressure.
In direct address, the speaker essentially narrates and, like voiceover in film, a little narration goes a long way. It may help the audience imprint, if you will, on the narrator as the protagonist, particularly in a memory play. Longer, recurring speeches delivered to the audience are confiding, confessional. This kind of monologue is prevalent these days, despite its usual lack of dramatic friction, and can impart a slack theatricality to an otherwise televisual play. Still, an exciting direct address is conflicted.
Stand-up comedy, where the comic strives to "kill" without "dying" onstage, is a useful example of the entertaining danger of direct address.
Let us imagine I am reading these words, performing, as one does, in front of an audience. I must earn your attention with the potency of my ideas and language and storytelling. Inject a bit of conflict though, between these words and the listeners, between me and you, and things might get a bit more interesting. A heckler—an estranged and outraged relation?—disrupts us. A medical emergency in the audience or up here at the lectern. Or say you happen to know—or I happen to let slip—that the success or failure of this lecture could cost me my job. Maybe you've heard I need the money for an operation. Somebody of influence clambers noisily for the exit. I veer off script and find myself extemporizing wildly. My performance will come alive.
Or without resorting to such cheap theatrics, all I have to do to make my speech more dangerous is to make it more personal.
________________________________________________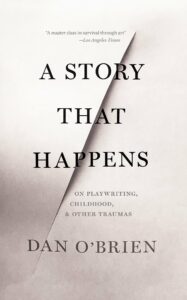 Dan O'Brien's A Story That Happens is available now from Dalkey Archive Press.
---