On October 16th, the Andrew W. Mellon Foundation announced that it would award a $750,000 grant to the Clifton House, an artist and writers workshop designed to honor the legacy of esteemed poet Lucille Clifton.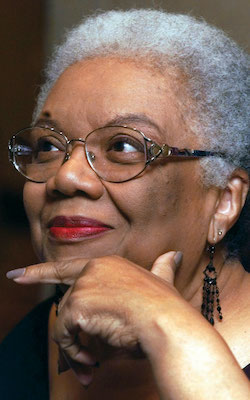 Clifton was born in New York and lived in Baltimore from the late 1960s until her death in 2010. It was in her white-and-blue house on a hill in West Baltimore that Clifton wrote six books of poetry and one memoir. Sidney Clifton, Clifton's daughter said the following:
This generous grant will support development and programming, virtual and in-person poetry readings and workshops, writer and artist residencies, and staffing for this important project. We are thrilled that our vision and efforts are bearing results at this stage in our planning and development.
Clifton won two National Endowment for the Arts fellowships and served as the state of Maryland's poet laureate from 1974 to 1985. A two-time Pulitzer Prize nominee, she received an Emmy Award and a Lannan Literary Award. In 2007, she became the first Black woman to be conferred the Ruth Lilly Poetry Prize, one of the most prestigious honors in poetry.
The Clifton House is scheduled to launch in early 2021.
[h/t WBAL-TV]