The Legends of Sonoma Mountain
From Greg Sarris's Creation Tales of a Land on Fire
Wildfires whipped by hurricane-level winds in Northern California this month destroyed woodlands and homes on Sonoma Mountain, the ancestral land of Coast Miwok and Pomo Indians. As fires and wind blackened slopes and forced evacuations Greg Sarris, award-winning novelist and tribal chair of the Federated Indians of Graton Rancheria, was just publishing his new book, How a Mountain Was Made, inspired by creation tales of his people. There are lessons here for us all from this story for all ages.

This is the story of Sonoma Mountain. It isn't one story; it is many stories that make up the one story. The stories go on and on because the Mountain itself has so many things—rocks and animals; birds and grasses, fish, frogs, springs and creek, trees—and each thing has a story. Many of the stories connect with other stories. This makes sense, because the animals and plants and all other things on Sonoma Mountain connect with one another.
The Mountain has always been a special place for Coast Miwok people. The stories from the Mountain teach important lessons, and many of the songs that Coast Miwok people have sung since the beginning of time are gifts from the Mountain and come from the stories. It is said that Coyote was sitting atop Sonoma Mountain when he decided to create the world and people—but that is part of the big story of the Mountain and we are getting ahead of ourselves.
The best way to hear the stories is to listen to Coyote's twin daughters, Answer Woman and Question Woman. Some people say they are a pair of crows that sit on a fence rail partway up the Mountain, near the place folks call Gravity Hill. Other people swear Answer Woman and Question Woman are humans; these people claim to have seen the twins, two identical-looking women with long dark hair, leaning against the same fence rail, talking. In any event, Answer Woman and Question Woman have been on Sonoma Mountain a long time—they are the daughters of Coyote, after all. They know all the stories. But this is their predicament: Answer Woman knows all the answers but she cannot think of them unless she is asked; Question Woman, on the other hand, cannot remember a single answer, not one story, and she must always ask her questions in order to hear the answer again.
Yesterday I stopped and listened to them talking. Question Woman asked Answer Woman. "What is Water Bug's story?"
"It's the story of how Water Bug stole Water."
"Water is a creature, too? A spirit like the others?"
"Oh, yes," answered Answer Woman. "Water is a most important spirit. Listen to the story."
Water Bug Walks Away with Copeland Creek
This happened at the big village near the headwaters of Copeland Creek. Water Bug lived there with his many grandchildren, and years before his old wife had left him. He was a stout little old man with skinny short legs. Though he worked hard and helped his many grandchildren, he was often irritable, and people usually tried to avoid him. It wasn't just because he was old that he was irritable; he had been a rather unpleasant character all of his life. Some people said he went around mad because he was born short and had skinny legs. Other people said it was just his nature to be hotheaded. One morning after he complained unmercifully about the pinole his old wife had served him for breakfast, she stood by the Creek and said aloud to the open sky, "How long do I have to put up with him?" And in that moment she rose into the sky and became an eagle, the greatest of soaring birds.
Many miracles happened there at the water's edge. Once a plain-looking lizard found himself with a blue tail there, and that is how Blue-Tailed Skink was born. And it was at the Creek's edge that Spider taught the people to weave beautiful baskets after a girl had gone to the Creek to fetch water for her sick grandmother. "I have no way to pack water back to my sick grandmother but with my cupped hands," the girl said. Spider stepped forth from the willows and said, "Don't cry young girl. I will teach you to weave a basket so tight you will be able to pack water with it to your grandmother."
So the Creek was sacred to the villagers. Its water taught people many lessons about life, reminded people of many important stories, least of which that every living creature needed water and thus was united by the Creek. Everyone needed water. Each morning people cleansed themselves in the Creek, starting the day with the water's blessings. They offered scraps of food to the water as well as songs and prayers in gratitude for the water's many gifts. They didn't want the beautiful flowing Creek to forget them.
One late fall day, before the rains, when the hills were very dry, Water Bug spied a woman bend down and drink from the Creek with her lips. It was Deer, and she was an attractive woman. Water Bug was resting under a good-sized bay laurel tree there. As he sat, he noticed that many people came and drank water, bending down and taking the water with their mouths. Of course this was not unusual, for he too often drank water from the Creek in this fashion. But he had never paid such close attention before; he had never sat so long watching others. He was amazed at how each person came and bent down and kissed the water. If only I could be Water, then everyone would kiss me, a crabby stout man with skinny legs, he thought. The idea was crazy and it made no sense—and Water Bug knew it. But when he saw Quail, the most beautiful woman of all, stoop and kiss the water, he lost his mind, for he could not stop thinking about her lovely soft lips on the water.
He stood up then and went to the Creek's edge and spoke thus: "Oh, I do not want to know all of your secrets, but only your song that enchants all to kiss you. I am an irritable old man with no wife, and I am short and stout with skinny legs. Certainly no one will kiss me without your song."
The Creek did not answer him.
Again he said, "Oh, I do not want to know all of your secrets, but only your song that enchants all to kiss you. I am an irritable old man with no wife, and I am short and stout with skinny legs. If I could just borrow your song for a while, I would be able to get someone to kiss me."
Still the Creek did not answer him.
"All right, have it your way, you old thing with moss on your edges," Water Bug said with utmost bitterness.
He walked off, but, as you might imagine, he was not satisfied. He kept thinking about Quail's lips, and he was determined to get the Creek's song. "I know what I'll do," he said to himself. "I'll kidnap the Creek and force him to give me his song. I'll hide him in a secret cave and starve him until he gives me his song."
Which is just what Water Bug did, but not until he had made careful plans. He had to make sure that no one saw him kidnap the Creek and that he had plenty of time to get to the far side of the Mountain with his prisoner. Since night was the best time to do this deed, Water Bug figured he would only have to worry about the folks who traveled about after dark, such as Raccoon, Bobcat, and Owl. An expert fire maker, Water Bug called these night creatures together and offered to teach them how to make an enormous bonfire. Thus, while teaching these night fellows, Water Bug made an enormous bonfire around which the night fellows immediately began relaxing and telling one another stories.
Then Water Bug hurried off to the Creek. He built a dam and then pushed the dam closer and closer to the Creek's headwaters until he was able to fit all of the Creek's water in a carrying basket. Thus, with the water in his basket, he trudged to a secret cave on the far side of the Mountain.
"Now, will you give me your song that enchants all to kiss you?" he asked the water trapped in his basket.
Water said nothing.
"All right, have it your way," Water Bug said angrily. "No one will find you here and you will starve and die."
In the morning, the villages were alarmed to find that the Creek was gone. All that was left was a trail of sand and dry rocks.
"What has happened?" the villagers cried. "Have we offended our beloved Creek in some way?"
Days and nights went by and still the water did not return. The villagers stood on the dry sand and prayed. They offered good pinole and fine baskets and necklaces, and still there was no Water. "What are we going to do?" they wondered aloud. "We will die of thirst, each and every one of us, and the Mountain will turn to stone."
Meanwhile, Water Bug hiked to the secret cave each night and asked Water for his song. Water, trapped inside Water Bug's basket, was growing smaller. Soon there would be nothing left of him. He would starve and die, just as Water Bug had said. He figured he had to give Water Bug his song, for if he did not, he would surely die, and then there would be no chance of him ever making it back to the village again.
"All right," he said at last, "I will teach you my song," and he sang thus:
Bending to me,
You see your love
Bending to me,
You see your wide open eyes
Everywhere I go,
Everywhere I go,
Like that
Like that
Hey Hey Hey Hey
Then off went Water Bug with the song. However, nothing in the village changed. But then why would it? Water Bug had left Water trapped in that secret cave and forgot about him there. Soon it was winter and still there was no water in the Creek. It rained but the Creek remained a trail of sand and dry rocks, unable to collect the water that fell from the sky. The salmon hovered at the Creek's dry mouth near the Laguna de Santa Rosa, unable to make their way up the Creek to the village.
"I am starving," said Bear. "I have no salmon to eat."
"I am starving," said Blue Jay. "I have no nuts to eat. The acorn trees are drying up."
"I am starving," said Sparrow. "I have no seeds to eat. The grasses are all dried up."
"We are all starving," the villagers cried. "We are all starving, and we are dying of thirst."
They continued to pray and sing songs and make offerings to the Creek but to no avail. Each night Raccoon, Bobcat, and Owl made a big bonfire in the manner Water Bug had taught them, and everyone in the village gathered around the fire to discuss what they might do in order to bring Copeland Creek back. At one point, Raccoon remembered that the night before the Creek disappeared, Water Bug had offered to teach him and Bobcat and Owl how to build a huge bonfire.
"We have been tricked," Raccoon said.
"Yes," Bobcat said, "Water Bug kept us busy so that we would not see what he was doing."
"Certainly Water Bug walked away with Copeland Creek," Owl said.
Water Bug, sitting with the others by the fire, denied any wrongdoing. "Why would I want to kidnap the Creek?" he asked.
At that point, Quail stood up. "I'll tell you why you wanted to kidnap the Creek," she said. "So you could kiss me each morning, you terrible old man." Quail was furious, for each morning she had been enchanted by Water Bug.
Now Water Bug knew his secret was out. "All right," he said, "I will bring Water back to the Creek." When Water Bug got to the secret cave he looked inside the basket and found that there was only a single drop of water left. Hurrying with the basket, he ran to the creek. But, alas, when he emptied the single drop of water into the dry creek bed, nothing happened. The single drop of water rested in the tiny crevice of a rock.
"The Creek is so offended it won't flow," cried Quail.
But it was Eagle, Water Bug's former wife, who swooped down and said, "Remember, each spirit on this earth has a special song that gives it life and power. I bet that miserable old man Water Bug, my stout, skinny-legged ex-husband, has Creek's song."
"I do not have Creek's song," Water Bug said.
But Eagle would not believe him. She clutched him in her sharp talons and lifted him straight into the sky, so high that Water Bug not only saw his village far below but also the great length of Copeland Creek where the trees and grasses had turned yellow and brown and where villagers up and down the dry creek bed were starving and dying of thirst.
"Spit out the song," demanded Eagle. "Spit it out!"
Water Bug still denied he had water's song. He was still thinking of Quail's lips touching his.
"I have no patience with you," Eagle said, at which point she let go of Water Bug with one of her talons, causing him to gasp, expelling Water's song, which fell to earth as a single drop of water. That drop of water fell into the tiny crevice where Water Bug left Water after he dropped him out of the basket. That way, the two drops of water, one being Water and the other being Water's song, began to grow, and Copeland Creek flowed once more.
Meanwhile, Water Bug was still dangling from a single talon. Before Eagle was all the way back to earth, Water Bug fell, causing both of his skinny legs to bend so that his feet were pointing backwards.
The people of the village took no pity on him. Coyote, the chief, came forward, saying, "I think the proper punishment for Water Bug would be to feed him to the hungry salmon making their way back to our village right now."
And it was then that the Creek spoke to Coyote and all the people of the village.
"No, if you do that, if you kill Water Bug, you will forget what happened here. Better to forgive him and give him a job cleaning the water and guarding the Creek on late fall days when the water is low and someone might attempt to steal it away."
The people of the village agreed and thanked the Creek for the good advice. Water Bug went to the water then, and that is why in late summer and early fall you find him keeping watch over the Creek, gliding over the water's smooth surface, gliding backwards because his feet are still pointing in the opposite direction.
__________________________________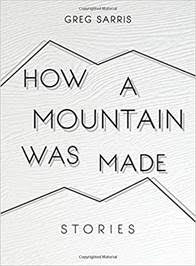 Excerpted with permission from How a Mountain Was Made: Stories, by Greg Sarris, copyright c 2017 by Greg Sarris, published by Heyday Books.
---