There's a new trailer for the highly anticipated film adaptation of Joan Didion's 1996 novel The Last Thing He Wanted, starring Anne Hathaway as a Wants-to-Do-Right reporter who, in the course of investigating a story, becomes entangled in an international arms deal that involves her maybe-shady dad. Who among us?
The trailer features a truly Didion-esque headscarf and sunglasses combo (fan service!), Ben Affleck saying "she's sourced up" in a very official-sounding way, and a lot of anxious-journalist sweating. Also, a moment of spot-on tortured acting as Hathaway gazes at her maybe-shady dad: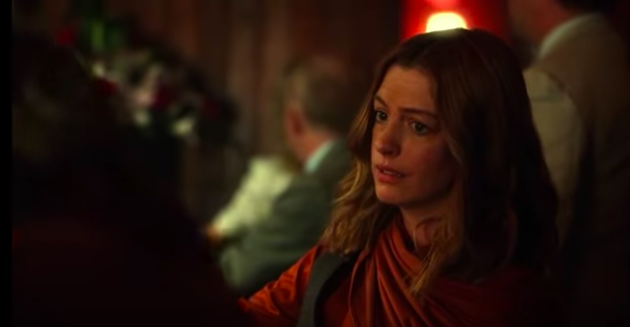 The film, directed by Dee Rees and also featuring Willem Dafoe and Rosie Perez, will premiere at the Sundance Film Festival next week.
Here's the official synopsis: "Adapted from the Joan Didion novel of the same title, 'The Last Thing He Wanted' is set against the nebulous milieu of the Iran-Contra scandal. Veteran D.C. journalist Elena McMahon (Hathaway) abandons the 1984 campaign trail out of a misguided sense of duty to her father, Dick McMahon (Willem Dafoe). Guilted into running a dangerous fool's errand on his behalf, Elena leverages the moment to pursue her own investigation but instead gets tipped into the confounding center of the very intrigue she's trying to expose. Answers turn into questions and wrong turns lead to dead ends in this stylish political thriller as Elena becomes increasingly lost on a map of someone else's making and the possibility of return — to home and to herself — slowly narrows."
Watch the full trailer:
Sidebar: Lit Hub's own Katie Yee points out that Rachel has been waiting for this since Season 3 of Friends: