The Italian Women Who Resisted the Nazis with Stones and Willpower
Caroline Moorehead on an Untold Story of the Second World War
Saturday, Sept. 11, 1943, was, in the words of the Piedmontese diarist Carlo Chevallard, a "day of humiliation and shame." Chevallard, of French-Swiss descent, was the director of a metal factory and a cool observer of daily events. The streets of Turin were eerily quiet, except for the sounds of sporadic gunfire. There were no newspapers and the radio was silent. The few people who ventured onto the streets wandered about like "lost souls" trying to find out what was happening. Calls for volunteers to resist the German occupation went unheeded. Italy was now cut in two, the south in the hands of the Allies, the centre and the north occupied by the Germans, and communication between the two virtually ceased. For Ada and the anti-Fascists across Piedmont, Liguria and Emilia-Romagna in the north, it was a question of how to react, what to do next, how to tell friends from enemies and how best to navigate the coming months.
Rommel had been brought back from Salonika to command Armed Group B in northern Italy. He was both feared and disliked by the Italians, who held him responsible for the loss of their colonies; for his part, he did little to conceal his contempt for them. He now dispatched his men, who had been arriving over the last few days from France and the Eastern Front, to Turin, to disarm the Italian soldiers, most of whom were hanging forlornly about their barracks, in Levi's words, "like a defeated flock of sheep." Soon, these men were being marched off along the avenues to the trains waiting at Porto Nuova to carry them to a transit camp at Mantova, then on to Germany. Watching these sad, uncertain men, Ada began to cry.
As the barracks emptied, so the looters arrived. In need of almost everything, hungry and angry, the people of Turin bore away flour, salt, blankets, shoes, sheets and pistols, which would soon prove useful, descending on military warehouses like armies of ants, bringing with them wheelbarrows and prams on which to load their loot. Vehicles were dismantled and stripped down to the chassis. At midday, the looting reached a point of frenzy at the main military storeroom on Corso Regina Margherita. But by now the Germans had got wind of what was happening and the soldiers sent to investigate began to shoot. A fire broke out; people ran. When the firemen arrived they found a scene of horror: 17 dead, their bodies scattered among piles of clothing and torn sacks of wheat.
"It was thus," wrote one woman later, "that our war began."
Then, something extraordinary happened. The 2,000 men of the Nizza Cavalleria regiment stationed in Turin had been ordered by their confused officers to remain in their barracks. German soldiers arrived in tanks, surrounded the building, disarmed the men and lined them up to march to the station. Five hundred of them were told to mount their horses and follow behind. Outside, however, hundreds of women of all ages had gathered, holding stones. As the back half of the mounted troop was suddenly cut off from the front by a passing tram on Corso Sommeiller, these women surged forward shouting: "Escape!" They pelted the riders in front with the stones, to make the horses panic. The Germans opened fire with machine guns. Chaos followed. Men were pulled or jumped off their horses and were hastily spirited into doorways or down alleyways. The avenues were now full of frantic riderless horses, soon shot dead by the Germans and as soon butchered and picked clean down to their carcasses by Turin's famished citizens.
Later, having been taken in by families, hidden and given civilian clothes, the soldiers were taken to the railway station, walking arm in arm with young women and posing as their fiancés, and put onto local trains heading out of the city in the rainy autumn twilight. Five young women collected five English soldiers who had escaped from their prisoner-of-war camps and were now in hiding, and led them to the station, where they handed them over to two other waiting women. In the countryside, train drivers slowed down to allow wandering soldiers to escape. That day, dozens of young girls, whose Saturdays had been spent singing hymns to the Duce in their neat uniforms, shed their unquestioning obedience to Fascism and were busy pretending to be girlfriends to total strangers. These scenes, in different forms, were taking place all over occupied Italy. "It was thus," wrote one woman later, "that our war began."
Within Turin itself, the day grew more violent. The looting of other military storerooms, which drew Germans quickly to each scene, left more piles of bodies, including that of a 14-year-old girl. At seven in the evening, women and children were shot dead at the abandoned air-force barracks. Another of the dead was a 71-year-old woman, crushed by an armored car as she pushed home a wheelbarrow full of wood. The killings only served to reinforce a feeling of revulsion towards the Germans, made worse when a rumor went round that their soldiers were cutting off people's arms to steal their watches. The day was not, however, without absurdity: in the afternoon, an open lorry was spotted racing past the Court of Appeal. At the wheel was a young soldier, a huge black iron chest by his side. Behind him sat an Italian general, clasping half a frozen cow.
What was completely unexpected was that this initiative to save the soldiers had come largely from women.
All through the day, various divisions of Italy's 4th Army, recalled from France in the wake of the armistice, had been arriving in Piedmont, and some 1,500 of these men were quartered at Pinerolo, a town to the west of Turin. Their orders were muddled and contradictory and as the level of uncertainty grew, officers and men decided to slip away. The commanding of officer appeared so preoccupied with saving his stamp collection that he took no action. By the time a German column arrived in Pinerolo, they found just one junior officer and fourteen men. By now, the surrounding valleys and hills were full of young soldiers, dressed or partially dressed in civilian clothes, "looking like a procession of scarecrows." Abandoned weapons, ammunition and vehicles littered the fields and dusty roads. Mules that had belonged to the army wandered free.
What was completely unexpected was that this initiative to save the soldiers had come largely from women. Other acts followed. Across Piedmont and Liguria, 2,600 Allied prisoners of war, who had disobeyed their senior officers and were making their escape, were also taken in and hidden. Very few spoke any Italian, and their situation was perilous. At the Porta Nuova station, Lisetta was with a group of friends watching the captives being loaded onto trains, shouted at and bullied by German soldiers with Alsatians. They saw slips of paper being pushed out of windows and through slats, and when the trains pulled out, they gathered them up and made sure they reached their destinations. A few onlookers whistled and jeered at the Germans; machine guns opened fire.
As night fell on the 11th, Rommel's headquarters announced that the Germans were in control of most of northern Italy. However, some 100,000 "sbanditi," disbanded soldiers, had got away and were making their way up into the mountains. Simultaneously, without anyone ordering them to do so, without central coordination of any kind, their years of passivity abandoned with astonishing speed, women were taking their first steps into resistance. A group in Modena, covering their faces with scented handkerchiefs, guided a group of young men to safety through the sewers. In just a very few hours, Fascism's mantra–Credere, Obbedire, Combattere–had become a thing of the past. As Natalia Ginzburg wrote, "the 'small virtues' of women–their skills at caring for others, their instant responsiveness–were suddenly becoming 'big.'"
__________________________________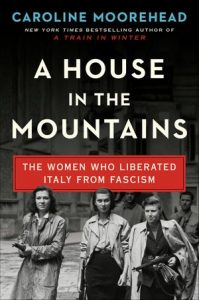 From the book A House in the Mountains by Caroline Moorehead. Copyright © 2020 by Caroline Moorehead. Reprinted courtesy of Harper, an imprint of HarperCollins Publishers.
---